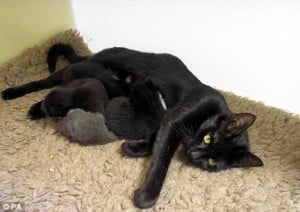 Cats can do some pretty amazing things. We saw that in last week's story of the "supermom" cat who escaped from a stone-weighted box and then went back to save her kitten just as the boulder fell and almost killed them both.
They're also a heck of a lot more intelligent and intuitive than many people give them credit for. I saw that firsthand when, in my early 20s, I decided I wanted to get close to a place on my family's property where a flock of turkeys was nesting. My cat, Iris, clearly sensed what I was doing and literally led the way through the woods to the turkeys' nesting site. I kid you not. In fact, I actually wrote about it in an article that was published in Animal Wellness magazine. I retyped the story and shared it on my website, if you're interested in checking it out.
Having had this experience, I wasn't the least bit surprised to read a story about a cat who led a rescuer to her kittens.
A couple of weeks ago, some "people" driving down a road in Cambridgeshire, England, threw a pregnant cat out of their car. Fortunately, someone saw it happen and decided to take action to help the cruelly abandoned feline.
After two weeks, the cat let herself be coaxed into that person's greenhouse and taken to a veterinarian to have her injuries treated. At the clinic, the staff saw right away that she'd recently had kittens — and knew that the only way to save those babies was to bring mama-cat back to her temporary home and see if she would lead the rescuers to her litter.
So that's exactly what they did.
RSPCA investigator Jon Knight took the cat, now named Jolie, back to the scene of the crime, where she started meowing loudly and didn't stop until he began following her.
After a trip through a backyard and a field and into a farmyard, Jolie finally led Knight to an old barn and her four kittens.
"I try not to humanize animals," he said, "but Jolie wanted me to follow her."
But it wasn't exactly a direct journey. "She led me a merry dance to get there."
Iris led me on a long and winding trek through the woods to get to the turkey nests, too. Maybe that's just something cats do.
The thing that amazes me the most about this story is not that she led someone to her kittens, but that even after such cruel treatment by humans, Jolie still trusted people enough to ask them for help. Somehow she must have known or sensed that those individuals were safe and wanted her and her little family to be okay.
Mother and babies are now doing well, safely in the custody of the local RSPCA shelter, and will be available for adoption once the kittens have been weaned.
Have you had any amazing experiences like this? I'd love to know I'm not the only one (well, aside from Inspector Knight) who's been fortunate enough to have a cat guide them somewhere they wanted to go.