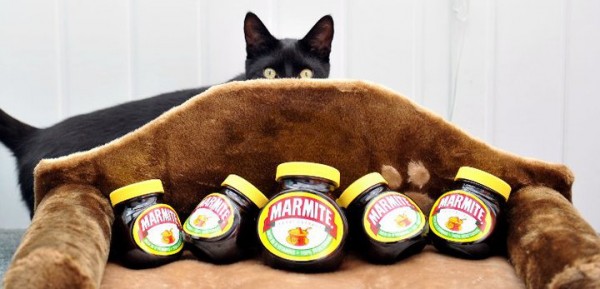 Marmite pays honor to the Worlds first moggy midwife
The makers of Marmite
have acknowledged a heroic pet cat named Marmite, following his triumph at the prestigious 2010 Rescue Cat Awards ceremony held recently in London. Marmite was crowned Most Incredible Story and Rescue Cat of the Year 2010, in recognition of his lion-hearted efforts helping his pregnant owner when she went into labor.
The makers of the yeast extract presented the magnificent moggy and his owners Lindsey and Huw Davies, 21, and 25, from Portsmouth, with a bespoke luxurious Marmite branded cat throne, Marmite ceramic drinking bowl and a lifetime supply of the yeasty stuff. They also donated 1,000 to Cat Protection, who organized the awards.
When Lindsey Davies suddenly went into labor alone, she was terrified until Marmite the Cat stepped in as an emergency midwife and didnt leave her side for two hours as she waited for her partner to arrive home and helped keep the mum-to-be calm and relaxed. Marmite was also a constant support to Lindsey who suffered painful conditions of pre-eclampsia and anemia during a difficult pregnancy. He was thrilled when baby Ruby arrived safe and well, and is just as protective of the new arrival.
Lindsey Davies, Marmites owner commented: Marmite followed me around everywhere during my pregnancy and stayed by my side like a birthing partner. He wouldnt leave me and kept cuddling me when he knew I was in more pain. My husband and I both love Marmite, which is why we named him that in the first place! She tells the story in the following video:
In a reader?
Click here to watch video.
Tom Denyard, Marketing Manager added: We were touched when we heard about Marmites remarkable story, so it felt only right to mark his achievement. We hope he enjoys his new one-of-its-kind Marmite throne and bowl.
The Rescue Cat Awards, organized by Cats Protection and sponsored by Purina PetCare, are designed to celebrate the real-life stories of heroism, bravery and survival in the cat world. For more information visit "cats.org.uk."

Live in the U.K.? Click here to find out more about adopting one of the 7,000 rescue cats currently in the care of Cats Protection.

For keep up to date with the latest Marmite news visit www.facebook.com/marmite.
.