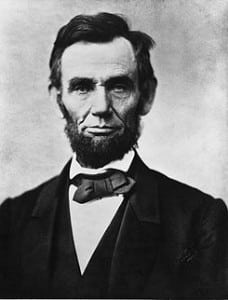 Last May, an elderly cat wandering the streets of Gilroy, Calif., caught a lucky break when an animal shelter volunteer noticed her and brought her to a safe space. And now, she's returning the favor for her elderly human companion.
Maddie has helped 85-year-old Vi Taylor rediscover her joy in life and reduced the isolation she had been feeling since becoming more or less homebound by a disability.
When a friend brought Maddie to meet Taylor, the Gilroy woman was struck by the fur under the cat's chin — a black patch that looked like a famous historical figure's beard.
"That cat reminds me of Abraham Lincoln," Taylor told her friend.
And the 16th president probably would have considered that a great compliment. Along with his famed leadership of the country through the tragedy of the Civil War, Lincoln was a well-known cat lover.
When asked by one reporter what Lincoln's hobby was, his wife, Mary Todd, said: "Cats." The president brought in the White House's first pet cat, Tabby, and he was known to play with his cats for hours.
"I can't tell you what joy this cat has brought to this older lady," says Cheryl McElroy, one of several members of Gilroy United Methodist Church who visit Taylor — and now Maddie, too — every day to make sure they're okay.
"Maddie rules the roost. You couldn't have a better cat situation," McElroy said.
Volunteers with the Friends of the San Martin Animal Shelter worked hard to get Maddie ready for a new home. At first she was scared and shy and didn't get along with either people or other cats. Thanks to their loving attention, Maddie gradually began to feel safe and became more friendly.
But Maddie was at least 7 years old, older than many cats at the shelter. As is the case with many adult cats, kitten after kitten went out the door and Maddie rarely got a second glance.
After about a year and a half, shelter staff and friends became very attached to Maddie and really wanted to make sure she got her perfect "forever home."
They decided to have her featured as one of the pets of the week in the San Jose Mercury News.
McElroy had been looking for a feline companion for Taylor, but she hadn't seen the photo or even heard about Maddie when she stopped in at the San Martin Animal Shelter. She was just looking for an older cat who could be a good companion for her elderly friend.
Shelter staff directed McElroy to some suitable cats, and that was when she spotted the little Lincoln look-alike. "Lo and behold, there was this cat they'd had trouble placing," she says.
And it turns out, the cat was just what the doctor ordered.
"Maddie has performed a little miracle with Taylor," she says. "She's made such a difference in her quality of life."
For decades, Taylor had been one of the most active members of Gilroy United Methodist Church, McElroy says, checking on people who were ill or had suffered a loss, always sending a pot of soup to those who needed it.
As she became more and more restricted to her home, Taylor began feeling depressed and lonely because she couldn't get out the way she once did.
"Now, Maddie has added a whole new dimension to Vi's life," her friend says. "There is so little bother for what Maddie gives."
Besides loving to curl up on Taylor's feet, Maddie "is very affectionate once you get past her security sensors," McElroy says. "She just seems to know."
The cat has even taken on a role as a home physical therapy assistant. Taylor's mobility has increased because she needs to be sure Maddie's food and water dishes are full. Her son and visitors from the church pitch in to keep the litter box clean. "It's kind of a community thing," McElroy says.
Placing an older cat with an older person was a perfect match.
"What a wonderful solution to an older person's loneliness," McElroy says. "These older animals add so much, and they're grateful beyond measure to have a home."
"This little kitty got lucky."
And somewhere, this reporter imagines, a president is smiling.
[Source: San Jose Mercury News]