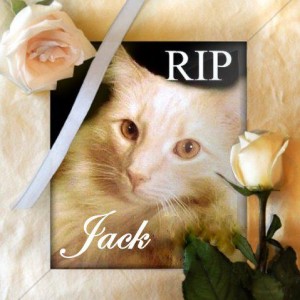 The beautiful land on the other side of the Rainbow Bridge has a new resident.
At 7:30 last night, Jack the cat was released from what would almost certainly have been a short life full of suffering and pain. He spent his last moments bathed in love, in his mama's arms.
"My God, what happened?" I asked myself. Even though the gorgeous cream-colored kitty was still in a fragile state, the updates on his Facebook page seemed to indicate that he was getting better. He was gradually recovering from the case of hepatic lipidosis he developed as a result of being starved for weeks. His blood pressure was improving. He was starting to eat on his own. He even stood up once or twice.
But while we were celebrating Jack's heroic battle with fatty liver disease, and his 26,000-plus Facebook fans were cheering him on as he slowly recovered, something else was going on.
Although Jack's vets had said he was fighting a potentially life-threatening infection and gave him 50-50 odds for survival, I know I hadn't paid as much attention to that as I had to the good news coming out of the vet hospital. Maybe I was in denial, or maybe I just had no idea just how serious that infection was.
Karen Pascoe, Jack's caretaker, came to New York and visited with him yesterday. His condition was getting worse. The cat had extensive and grave wounds on his back, and because he had been so severely malnourished, the wounds were unable to heal.
Jack's Facebook page reported that "despite antibiotics, the infections were worsening, and his skin was continuing to deteriorate. He needed surgery to treat the wounds, but there was not enough available skin to close the wounds after the surgery. The vet compared his skin condition to having severe burns over 50-60 percent of his body."
When Karen and her sister, Mary Beth Melchior, talked with Jack's vet, they found out that she had talked with many of her colleagues, hoping to find ways to treat the cat's grievous condition. Unfortunately, none of them offered a decent chance of survival and all would have involved suffering.
With great courage, Karen decided that the most loving and compassionate thing she could do for Jack was to let him go.
I remember making the same decision about my beloved cat, Castor, who was so ill from complications of FIV that he had no quality of life and no future that involved anything but pain and suffering. I cried for at least half an hour after I went to the vet's office for his final visit. My heart breaks every time I hear about a cat guardian who has to make the most difficult decision any of us will face.
I salute you, Karen, for your courage and love, and I offer you this video tribute I made to another one of my beloved cats who died entirely too soon. You are not alone in your grief.

(In a reader? Watch the video here.)