To the general surprise of nobody at all, Friday, April 13, was a bright and sunny day in Cave Creek, Arizona.
Bucky Marshall was hanging out at his home that day when he noticed something unusual: A bobcat, strolling across his patio.
Marshall does live right at the edge of the Spur Cross Ranch Conservation Area, more than 2,100 acres that range from arid landscapes to riparian creeks, so I imagine wildlife is pretty common in his neck of the — um, desert. And apparently he's sensible enough to know that means it's a very good idea to keep his cats indoors.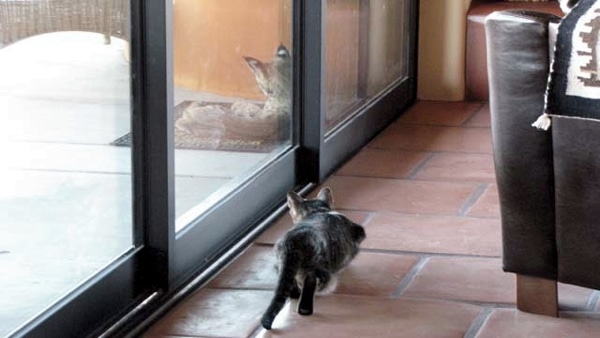 You'd think a bobcat that found itself on someone's back porch would just go on about its business and try to avoid being noticed. But not this bobcat: He just sat down, as pretty as you please, to take a shade break on a mat by Marshall's sliding glass doors.
Marshall's cats, Pima and Mogie, certainly didn't expect their favorite "cat TV" channel to come so close to their home. But when they saw the bobcat, they jumped into action. Pima, a tabby, started pawing at the window to get its attention.
Marshall started taking pictures.
At first the bobcat didn't seem too interested. But then, something changed.
"The bobcat kind of looked at them and they looked back, and the bobcat reached a paw up and Pima reached a paw up, and I managed to just catch it with the camera," Marshall said.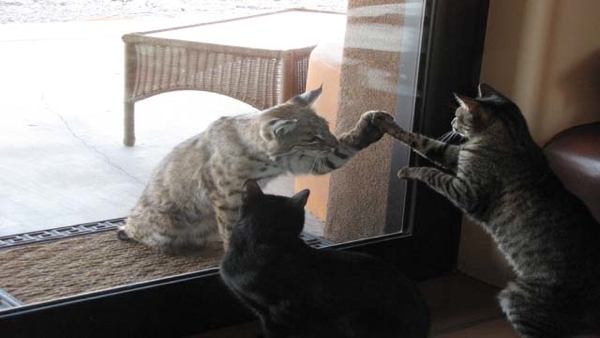 Marshall must have had a smartphone, because he was videoing as he was taking photos. You can check out that video here; it's an incredible sight.
Speaking of bobcats — a couple of years ago I reported about bobcat fever, a deadly disease which had been spreading across the United States as the Lone Star Tick has migrated beyond its former range. Just last week, University of Missouri veterinarian Leah Cohn, a small animal disease expert, and Adam Birkenheuer from North Carolina State University, announced that they'd found an effective treatment for bobcat fever.
It's not a cure, they say. In fact, it only increases the previously dismal survival rate of less than 25 percent of affected cats to about 60 percent — but it still allows a lot more hope for recovery from the disease, which Cohn characterizes as "Ebola virus for cats" due to the quick and painful death it causes.
And speaking of ticks, it's shaping up to be a very bad year, particularly in the eastern U.S., so if your cats do go outdoors, please be sure to use appropriate flea and tick prevention and check yourself, your family, and your animal companions for ticks every day. Even if you live in a city or suburb, this is really important, because ticks transmit a whole host of nasty diseases, including Lyme disease.