If you think Hello Kitty is just some silly character for kids, think again. The cat with no mouth, who's enjoyed decades of fame and success, has become the first cartoon kitty to go to space. And she did it all with the help of seventh-grader Lauren Rojas.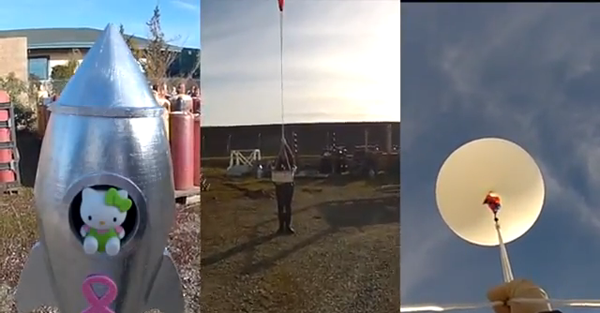 Putting our simple middle-school science projects to shame, 13-year-old Rojas endeavored to launch a weather balloon and rocket into the stratosphere outfitted with a GoPro camera to collect footage from space. Admittedly, back in our day, there were no GoPro cameras, but there was Hello Kitty.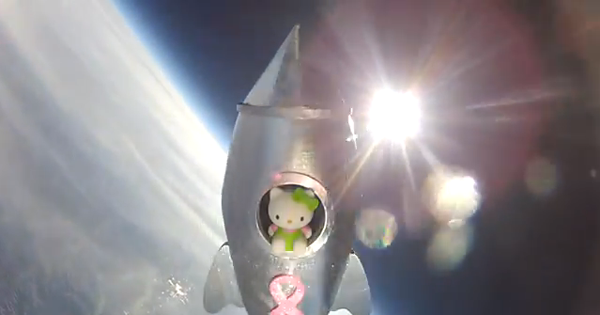 After gathering all the necessary materials, Rojas had one more stroke of genius: Hello Kitty should man the rocket into space. After all, Rojas has been a fan of the little white cat since she was a little girl.
We suppose we'll read the write up of Rojas' experiment later to find out what she learned about the effects of altitude on air pressure and temperature, but for now, we're just in awe of the video she made of her experiment, which you can check out below.
At her highest point, Hello Kitty was 93,625 feet above the Earth. That's when the balloon burst, after expanding 53 times its original size, and tumbled back to the planet, where Hello Kitty — appropriately — got stuck in a tree.
Here's hoping Rojas gets an A+ on her project and that when she grows older and finds herself bombarded by media telling her women can't be smart, she remembers Hello Kitty and her trip to outer space.
Via Daily News