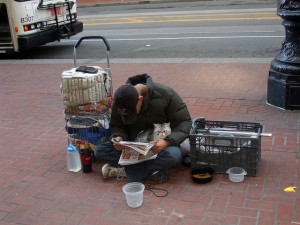 On a recent visit to Seattle, I met a homeless man near a QFC supermarket on Capitol Hill. He was selling copies of Real Change, a newspaper by and for the city's homeless community. I noticed that he had a small bag of dog food next to his backpack, but there was no dog to be found.
As we talked, he told me — almost in tears — that someone had stolen (or possibly "rescued") his dog while he was in the store buying that food. My heart broke for this man, who loved his dog so much that he was willing to share what little he had to take good care of his four-legged friend.
A recent story on the Mother Nature Network website cites research indicating that about 5 to 10 percent of America's 3.5 million homeless people own dogs or cats — and in some areas, the number is as high as 24 percent.
Homeless people really aren't so different from pet lovers who are blessed with secure accommodations. They are willing to make huge sacrifices for the sake of their animal companions, sometimes even choosing to stay on the streets with their pets rather than accept a night of safety indoors. Shelters don't typically allow dogs or cats, and many homeless pet owners would rather give up comfort than abandon their animal companions.
Pets for the Homeless is working to raise awareness about the needs of these individuals and their pets. The nonprofit also provides food and veterinary care to homeless people's animal companions, and awards grants to veterinarians willing to volunteer their services for the program and to homeless shelters that allow pets.
For homeless people themselves, Pets for the Homeless maintains a list of pet-friendly homeless shelters, food banks and soup kitchens, and organizes collection sites for donations of pet food and supplies.
This organization is providing an incredibly valuable service to our homeless population, helping them to keep their animal friends alive and healthy and getting them spayed or neutered.
We, too, can help, even on an individual level. First, be compassionate. Regardless of their situation or how they came to be on the streets, homeless people are human beings, too. If you don't want to give them money, at least send out a wish, prayer, or whatever you want to call it, for their eventual healing and security.
If you see a homeless person with a pet, ask them if they need some food for their animal companion. Some will refuse your offer, but some will accept with gratitude.
Look for a pet food pantry in your area. If you find one, make a donation of kibble or canned food (with pull-tab tops, not the kind that requires a can opener).
Maybe you can even support Pets for the Homeless so they can continue their vital work of keeping homeless people's animal companions healthy and advocating for shelters to accept pets as well as people.