While we must keep our pets in mind as we prepare for natural disasters like hurricanes, flooding and tornados, it's also important to realize the dangers that cats encounter after storms or other emergencies. Although destruction and debris are hazardous, cat parents need to be aware of other dangers like infections and diseases. Such examples are plentiful from recent hurricanes like Hurricane Harvey in Texas, Hurricane Irma in Florida and Hurricane Ophelia, which is currently making landfall in Ireland.
Common problems for pets after natural disasters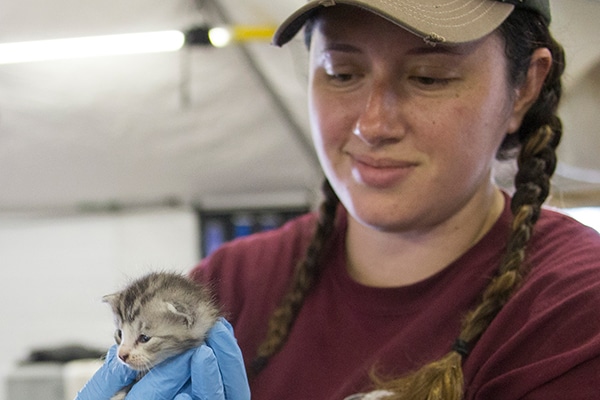 According to Angela G. Clendenin, Ph.D., M.A., an Instructional Assistant Professor of Epidemiology and Biostatistics in the Public Health Department of Texas A&M University, pets commonly have broken bones and lacerations from flying debris, are susceptible to shock from downed power lines and can experience dehydration and even malnutrition if lost or left in homes alone during natural disasters.
Pet owners should take these into account when first venturing out with pets or letting their pets outside after a hurricane or other natural disaster. But it's also paramount to realize the danger from contaminated water as an ongoing threat.
Pets are susceptible to infections from toxic water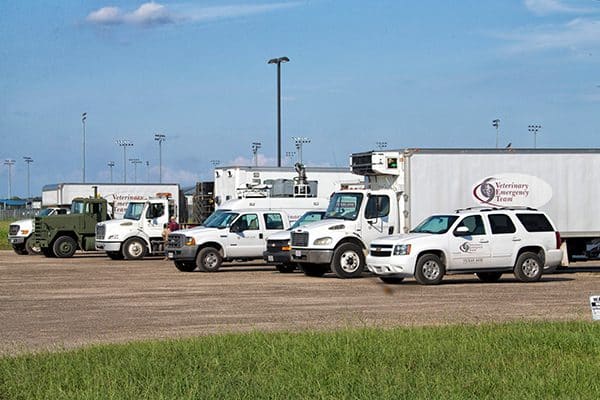 Dr. Clendenin, who, with her team, spent 21 days with Texas Task Force 1 in Houston and the surrounding counties after Hurricane Harvey,  noted that many humans and pets — including pet cats and feral cats — were exposed to more than 15 trillion gallons of rain water. The flood waters eventually mixed with septic and sewer waste, garbage, mold, E. coli from wild and feral animals, chemicals, gasoline, home and building debris and "whatever else was under the kitchen sink" to form a stagnant, toxic stew.
"Pet owners must understand that if their pets were exposed to these toxic floodwaters, they probably inhaled, consumed or had skin contact with the contaminated water," Dr. Clendenin says.
As a result, many pets acquired GI pathogens. Parasitic infections such as Cryptosporidiosis and Giardia cause diarrhea. Bacterial infections from E. coli and Leptospira (which causes leptospirosis) cause vomiting, fever and more. If a pet shows any symptoms, Dr. Clendenin recommends an immediate veterinarian visit armed with a stool sample for a quicker diagnosis. She suggests extreme vigilance because all of these zoonotic infections can pass directly or indirectly between animals and humans.
Furthermore, she noted that as mammals, cats would be prone to the same types of illnesses and infections as other mammals when exposed to contaminated water. Specifically, cat owners should watch for signs of respiratory, gastrointestinal problems, skin rashes or infections.
What are cats susceptible to after a hurricane?
Additionally, the same types of health concerns for cats after Hurricane Harvey will be similar to those after Hurricane Katrina. These includes Mycoplasma haemofelis, a parasitic bacterium, and Bartonellosis, which is popularly known in the United States as Cat Scratch Disease (CSD) — an infectious disease caused by bacteria. However, the types of contaminants in the flood water from Harvey may be different from what was found in Katrina.
"So, while this means the exact diseases may or may not impact the cat population, cat owners with cats that were exposed to the toxic water should be alert to changes in behavior or other symptoms if their cat doesn't feel well," she adds.
Dr. Clendenin reminds us that if a cat shows signs of illness or infection, owners need to visit the veterinarian immediately and let their practitioner know their cat was exposed to flood water.
Lastly, she advised that "the feral cat population is at a greater risk for exposure because they don't have owners to evacuate them or to keep them safe."
How to decontaminate your pet after a natural disaster
Dr. Clendenin emphasized decontaminating cats from flood water residue as soon as possible after natural disasters like Hurricanes Harvey or Irma. She suggests using a common product like Dawn dishwashing soap to strip and break down the chemical components from your pets' fur and skin.
"It works very well, even better than some veterinary products," Dr. Clendenin says. "This is why after oil spills, experts use Dawn on wildlife."
Owners must protect themselves as they decontaminate their cats. Cover your eyes, and do not get water into your mouth. Afterward, bleach the tub you used to clean your pet, clean your clothes and shower immediately.
If owners decontaminate pets outside, dispose of water properly in order to avoid polluting the ground. The local water department can provide tips and techniques.
Cats are at risk for vector-borne diseases, too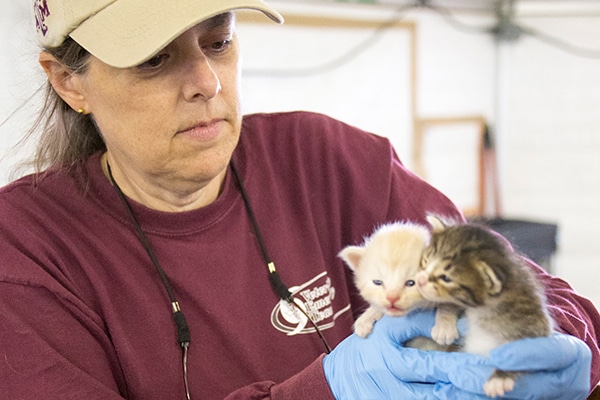 Vector-borne diseases are infections transmitted via bites from infected mosquitoes, ticks, sandflies and others. It is important to know that after Hurricanes Harvey and Irma, the pools of stagnant water are fertile breeding grounds for these flying insects.
According to Terminix (a pest control company), the four major Texas cities rank in the top 20 of the "most infested cities in America," thanks largely to geography. Mild spring and summer temperatures are mosquito-friendly, and Southeast winds carry tropical humidity into the state. The moisture, combined with the warmth, makes it easier for mosquitoes to breed.
Mosquitoes are problematic too in Florida since, from May through October, the rainy season provides frequent downpours that cause rain puddles and standing water where mosquitos breed.
What does that mean for cats and their owners? If your pet is not receiving regular parasite protection, he or she may be at greater risk for mosquito-borne diseases like West Nile virus and heartworm disease, which may be costly to treat.
Additionally, the more time your cats spend outside, the higher their risk for disease. If your cat has an outdoor enclosure, consider adding a layer of mosquito netting to allow your cat to get fresh air safety. Minimize outdoor time at dawn, dusk and evening, when mosquitoes are most active
The best way to avoid illnesses and injuries from natural disasters? Evacuate with your pets!
Like Texas A&M University, The Shelter Medicine Program at the University of Florida is integrated into the state's disaster response system and supports the states 155-plus shelters before and after a storm.
While some of University of Florida team stayed in Gainesville to manage medical needs and the transport and sheltering of pets moving away from Hurricane Irma, others responded to the Florida Division of Emergency Management to assist with animals in the Florida Keys. Lawrence Garcia, MS, D.V.M., Clinical Associate Professor of Shelter Medicine, who also serves as the Medical Director of the Veterinary Emergency Response Team of University of Florida, traveled with his team first to Marathon and then to Key West with the school's self-sufficient medical response trailer.
"Most of the veterinarians evacuated before Irma hit. The damaged infrastructure and unavailability of electricity made it impossible to open a practice," Garcia says. "So, our mobile unit was able to help."
According to Michael Fleck, D.V.M., a veterinarian living along Florida's Gulf Coast, this recent hurricane season emphasized that it's critical to prepare accordingly.
"It is important for pet owners and others who live in evacuation zones to recognize that if you stay and ride out a storm, help may not be available immediately after a natural disaster. You absolutely need to have provisions, not only for yourselves but for your pets."
What happens when you don't evacuate with your pets?
While Dr. Garcia and his team treated pets suffering from lacerations, stress, stomach upsets or diarrhea from eating garbage off the ground or from drinking contaminated ground or tap water, his biggest worry was the pets who were left behind.
Since Hurricane Katrina in 2005, Federal Emergency Management Agency (FEMA) has encouraged pet owners to evacuate with their pets. Unfortunately, some Florida Keys residents did not heed this advice.
One of Dr. Garcia's biggest concerns is that many people in the Florida Keys left their pets behind. Because of damaged infrastructure, limited electricity and building supplies, as well as rationed gas and food, many people would not be able to return for a while and their pets would need help.
"While on deployment, we evaluated and treated several cats who were left behind in dwellings to endure the hurricane," he explains. "In some cases where the dwellings suffered storm damage, the cats escaped and were found wandering the streets and brought in by good samaritans. In the cases where the cats were left behind, most of them were underweight, with minor cuts and scrapes, some were vomiting and had diarrhea with dehydration and others exhibited symptoms of toxin exposures. I expect my team and local vets will see more pets in need of serious medical attention in the days and weeks to come."
Evacuated with your pets? There are still health concerns when you return.  
After floodwaters recede and people and pets return to their homes, human and animal respiratory infections are common. Floodwaters and the mold that quickly grows in warm environments like Texas or Florida can exacerbate asthma or trigger allergies, most commonly presented by itchy, watery eyes in humans and itchy skin in pets.
The Center for Disease Control (CDC) advises people to avoid direct contact with any items that have come into contact with floodwater. That also applies to pets. Throw away all pet items or clean them with bleach. If possible, wash cat toys in a dishwasher or washing machine on the hot water cycle. Dispose of all cat beds or wash them in hot water with droplets of bleach and dry completely. Carpets should be steam-cleaned prior to pets spending time on them.
After a hurricane or any natural disaster, significant pet dangers still lurk inside and outside the home. Pet owners need to prepare, upgrade their disaster kits and rework their disaster plans to accommodate not only their two-legged family members but four-legged loved ones as well.
Thumbnail: A group of VET members, including veterinary technician Megan Hackman, Dr. Laurie Shelton, fourth-year veterinary student Alex Hawthorn and Dr. Jacqueline Davidson examine kittens during intake at the Fort Bend County Fairgrounds. Photography courtesy Texas A & M University.
Support animals affected by Hurricane Harvey and Hurricane Irma right here.