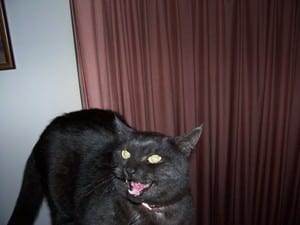 The makers of Arm & Hammer Super Scoop cat litter are hissing mad. So mad, in fact, that they are suing The Clorox Co., makers of Fresh Step cat litter, for false advertising.
Clorox's TV ad campaign shows cats making a beeline for a litter box filled with Fresh Step cat litter while rejecting a similar box filled with Super Scoop, supposedly because the carbon in Fresh Step "is better at eliminating odors."
The lawsuit, filed in Manhattan, N.Y., Federal Court, says the Clorox ads suggest that the judges of whether Fresh Step is superior at eliminating odors are cats, not people.
"But cats do not talk, and it is widely understood in the scientific community that cat perception of malodor is materially different than human perception," the company argues. "It is not possible scientifically to determine whether cats view one substance to be more or less malodorous than another substance."
Church & Dwight also takes on Clorox's claim that the ads are "based on lab tests."
The lawsuit states that the "supposed substantiation" for Clorox's claim came from a "severely flawed" study that involved giving eight cats access to only two litter boxes — and comparing the weight of the waste the cats deposited in the boxes.
"Just as is the case with humans, different cats produce different amount of waste," Church & Dwight says. The company argues that this raises the possibility that "one or just a few cats" could have skewed the results.
In addition, "it is well known that inter-cat behavior can impact cats' use of a particular litter box in ways that have nothing to do with cat preference for or rejection of a particular litter."
As proof, the court papers quote the author of the Clorox study:
"Many toileting issues are secondary to issues with the litter or litter box. But a toileting problem can also stem from factors that are unrelated to the litter or litter box, such as intercat aggression.
"For example, a cat that is frightened of other cats in the home may feel vulnerable accessing or using the litter box and may ultimately select an inappropriate toileting site."
The suit says Church & Dwight also "disproved" the Fresh Step commercials by commissioning an "independent organization" to evaluate the two brands.
The Church & Dwight-sponsored survey, conducted in cat owners' homes, compared how the pets reacted to each litter.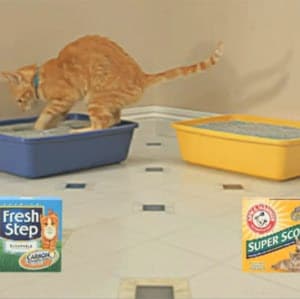 "Of the 158 cats involved . . . only six — or less than 4 percent — rejected their litter box and relieved themselves elsewhere in the home when it was filled with Church & Dwight's Super Scoop," the suit says.
"Eight cats — slightly more than 5 percent — rejected their litter box when it was filled with Clorox's Fresh Step litter."
The suit seeks to stop the commercial, called "Cats Jump into Boxes," and demands an unspecified amount of damages, saying the ad "intentionally misleads, confuses and deceives consumers" and has caused a "loss of confidence in Super Scoop."
"This message is false and deceptive because cats will not reject Super Scoop to any meaningful degree and will do so no more frequently than they will reject Fresh Step."
A Clorox spokeswoman declined to comment.
[Sources: New York Post, New York Daily News, and The Consumerist]