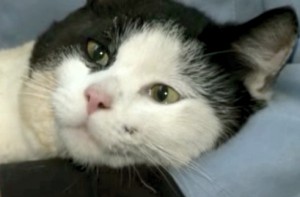 It really should be Cat Lesson #1 — well, okay, maybe Cat Lesson #3, after This Is How You Eat and This Is How You Use The Litterbox — Do Not Climb Under a Car Hood for Shelter. But it seems that Eclipse didn't learn this potentially life-saving lesson at his mama's home-school for four-legged furballs.
Ohio businessman Wayne Polk apparently wasn't in class when the teacher covered that crucial cat-lover lesson, Bang on Your Car Hood Before Starting the Engine, either.
What happened as a result? A week or so ago, the cat accidentally hitched a 200-mile ride down Ohio interstate highways on the engine of Polk's car.
After three hours of driving, Polk pulled into a rest area on I-71 near Medina, Ohio, for a pit stop. When he got out of the car, he noticed a strange burning smell coming from under his hood.
If I got out of my car in the middle of nowhere, on a Sunday, and smelled something burning in my engine compartment, the words I'd utter aren't printable in this G-rated venue. But I'd still open the hood to investigate, hoping I wouldn't find something on fire.
Polk did the same thing — well, at least the opening-the-hood part; I don't know if he did any cussing. About that time, Ohio State Patrol Trooper Aleksander Tot drove into the parking lot. Seeing a motorist in distress, he decided to check out the situation and see if he could help.
What Trooper Tot found was that Polk was not staring at a crippled engine but a fried feline.
Tot and Polk removed the black-and-white cat from the car and realized its body was burned on its right side. Trooper Tot called the Medina SPCA for assistance, and rescue tech Mike Bombaris quickly arrived on the scene with a cat carrier in tow.
Eclipse is making a good recovery at an area veterinary clinic. He'll probably have to undergo several surgeries to remove dead tissue from his burns, but for now, the cat is in good spirits and all signs point to a happy and healthy future.
"He is feeling pretty good, he's really friendly. He loves to play and I think he's going to be fine," said veterinarian Linda Randall, who is treating Eclipse.
I can only imagine how much graver the cat's wounds would have been if Polk hadn't decided to stretch his legs after a couple hundred miles of driving. Worse yet, what would have happened if Eclipse had happened to tumble out of the engine somewhere along the way. It's a minor miracle that Polk stopped and that a state trooper happened along and offered assistance.
As for Eclipse, I hope he's learned his kitty lesson and doesn't climb into car engines anymore. Or, better yet, that the family who adopts him keeps him indoors, safe from mechanical shenanigans and other dangers of street life.
Check out this news video for more details on Eclipse's rescue.

(In a reader? Watch the video here.)