Last week, officials seized 64 cats from the home of an 81-year-old woman in Wittman, Arizona. The cats, including several kittens, were brought to the Maricopa County Sheriff's Department's Animal Safe House. The cats are suffering from stress and a variety of illnesses, and caretakers at the facility are doing their best to get the felines back on their feet.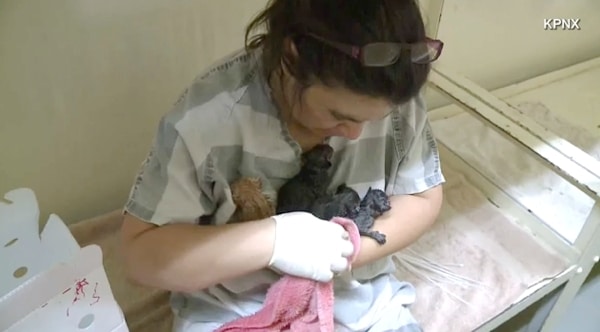 This isn't the first time Lucienne Touboul has run afoul of the law. In 2010, she was arrested for animal cruelty when deputies found 104 cats — including 10 dead cats in the freezer — at her home.
And three years before that, a judge had ordered Touboul to give up all but a few of the cats in her care.
Like most hoarders, Touboul doesn't seem to be able to see how awful things really are. When her cats were seized in 2010, they were extremely underweight with severe respiratory disease, and many had ruptured eyes due to ulcers. Officials had to wear respirators and hazmat suits because the conditions in her home were so dangerous. Unfortunately, most of the cats had to be euthanized because they were simply too ill to treat.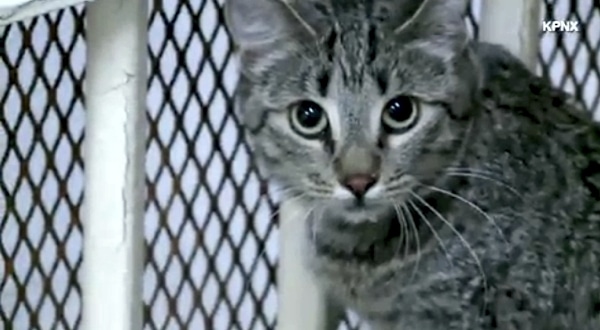 According to The Arizona Republic, the Maricopa County Sheriff's Office notified a number of agencies, including Adult Protective Services, about Touboul's situation, but she refused any help.
Now, two years later, it's the same old story. Touboul's 64 cats are undernourished, dirty, and in poor health, and yet she insists, "I love my animals and I want my animals back."
When Touboul was arrested in 2010, the judge ordered that she was no longer allowed to own animals. Of course, she violated that order.
How could she not? She's a hoarder. Without the proper treatment, she'll never gain the insight she needs to understand her condition. Even with treatment, she may not be able to understand that although she thinks she's doing these cats a favor by taking them in "because nobody wants them," as she told ABC 15 News.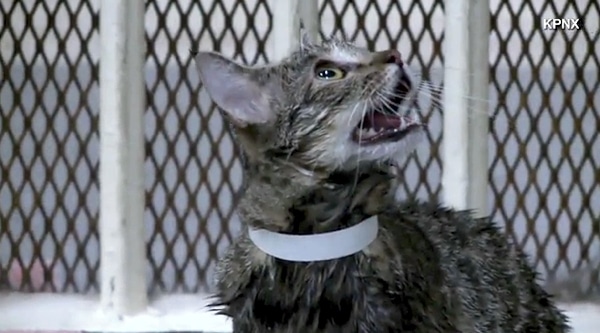 She faces 26 counts of animal neglect and cruelty, but still she insists that it's the Sheriff's Office that's being cruel by taking away her cats and putting them to sleep.
This woman has now had her animals seized three times. Yet she's still hoping that by telling her side of the story to local news stations, she might be able to get her cats (and dog) back.
At some point the authorities will have to do something, not just for the sake of any cats that might have the misfortune of wandering into Touboul's life, but for Touboul herself. She's clearly a very sick woman, and she needs help. Whether she'll accept help, I I don't know. If she doesn't, she'll start collecting cats again, court order or no, unless she's put in jail or checked into a hospital or assisted living facility against her will.
Honestly, what do you do for a hoarder who refuses help? Your guess is as good as mine. It's frustrating and heartbreaking, and I wish to God that I knew how to solve this awful problem and relieve the suffering it causes to all concerned.
(Images: Screen captures from KPNX-TV video)