Two and a half years ago, authorities found an elderly couple living in a truck on a property in Bridgeport Avenue in Shelton, Conn. Judging from the reports, it sounds like it might have been a hoarding situation. Although there was a house on the property, the couple weren't living there: it was vacant and filled with trash … and dozens of cats.
Back then, the city's animal control officer called Compassion for Cats, a Shelton-based rescue group, to help deal with the cats scrounging out an existence there. Irene McCoy was one of the people on the scene: She and a group of volunteers began taking the cats to be spayed or neutered and vaccinated.
Most of the cats were sociable enough to find foster homes and, eventually, loving families to call their own, but a number of them were feral — or, as McCoy refers to them, "very shy." Because the property was their home, they were returned there after they'd been thoroughly vetted.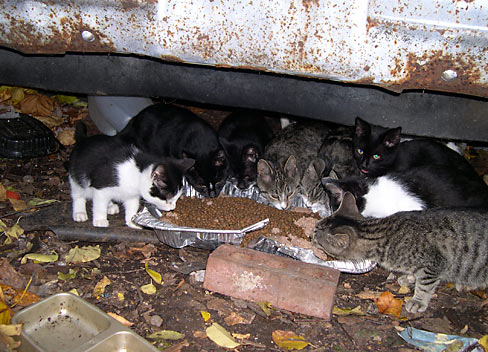 McCoy and another volunteer have been feeding and caring for those cats since 2009 — with the property owner's permission — and they hadn't had any issues.
But a few days ago when they came for a visit, they found that the house and garage had been marked for demolition.
Fearing for the cats' lives, the women have sprung into action. They're busy trying to catch the 10 remaining felines and find them foster or adoptive homes.
It's a tough situation, trying to catch and relocate feral cats, as the folks at CARE Feline TNR could tell you. They've been working to rehome the community cats that had been living on three Loews Hotel properties in Orlando, Florida, since they found out that the hotels' management had decided to evict its cat colonies due to fears (based on scientifically unsound "research," mind you) about the cats' alleged threat to hotel guests.
Anyway, back to Connecticut: McCoy says she is "heartbroken about [the cats'] future ÔǪ My fear is that they will be bulldozed down if they run into the house for shelter."
Compassion for Cats doesn't have room for the cats living on the Sheldon property, and McCoy says the city doesn't take cats.
Maybe we Catsters can help find a place for them to go. If you have any ideas or if you want to know how you can help, call Compassion for Cats at (203) 929-7909.