You know Dasher and Dancer and Prancer and Vixen, Comet and Cupid and Donner and Blitzen … but do you recall the most famous reindeer of all (who also happens to have a deluxe cat scratcher made to look like him)?
It's Rudolph, of course! And Santa Claws knows your kitty would just love to sink her claws into this fabulously festive reindeer-shaped cat scratcher.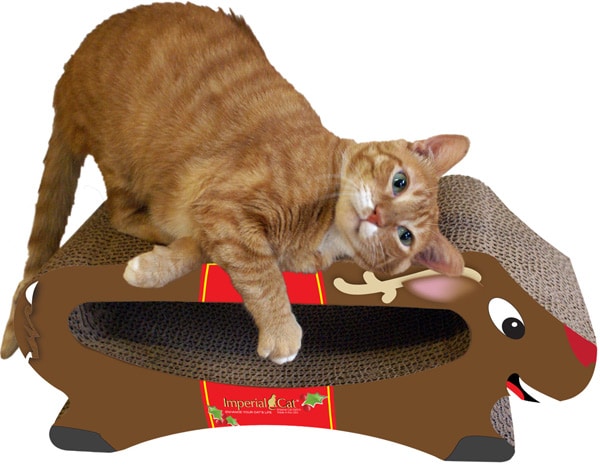 As it does for nearly every holiday, Imperial Cat has launched a line of holiday Scratch and Shapes scratchers! They have great quality and are made from 100 percent recycled cardboard. Plus, they're tougher than regular corrugated cardboard scratchers, so your cat can enjoy her reindeer scratcher even after the holidays.
This fabulous reindeer scratcher measures 21 inches long, so even the longest kitty can lounge on it to her heart's content. Plus, it's super cute. Just look at that red nose!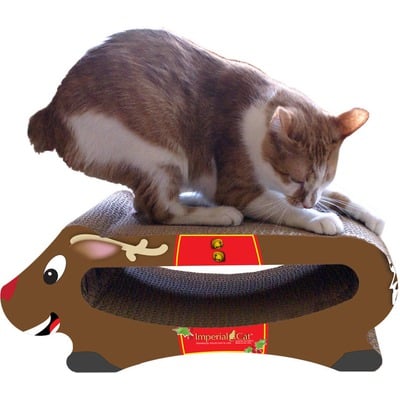 One lucky Catster reader will get to win one of these reindeer cat scratchers for your very own cat. It's the perfect holiday present, and we know your furry son or daughter will love it.
HOW TO ENTER
Simply leave us a comment below letting us know what your kitty wants for Christmas (you never know, Santa might be reading this!). We'll randomly choose a winner and let you know by email.
All entries must be received by Thursday, Dec. 6, at noon PST. Prize can only be shipped to U.S. addresses.
To be eligible for the prize, use your Disqus account to comment below. Creating a profile and avatar takes just a minute, and it is a great way to participate in Catster's community of people who are passionate about cats. (And note that if your Disqus account doesn't contain a valid email address, you can't win because we can't contact you. Boo! So please check your account.) We'll notify the winner by email, and you have two days to respond or we'll pick someone else. That's just how it goes.
Good luck, everyone!