Next to the cereal-aisle psycho ward, the cat-food aisle is one of the scariest places in the supermarket. There's a good reason for this: You rely entirely on cat food labels. You aren't going to eat any of it. You probably could, but that's an article for a different time.
Fancy Feast
Fancy Feast hails from an era when gourmet restaurants required neckties and were all French, Yoplait was the ultimate in breakfast elegance, and the common people only had one font: typewriter.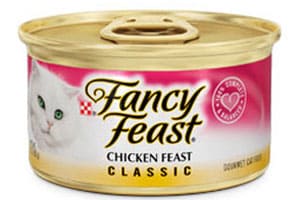 We were easy to fool: For cat food, "gourmet" meant a fancy font and a white puffball chinchilla Persian eating smeared chicken decanted into a crystal bowl. If you still believe any of this is high class, God love you. You can feel like a big shot for less than a buck a can.
Science Diet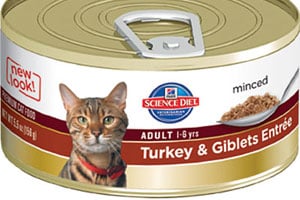 No mixed messages here: The cat is a machine. You need to insert the properly calibrated fuel into its tank to keep it operating at maximum efficiency. Have you ever seen the color blue look so clinical? Is there anything more sad than that "veterinarian recommended" banner? When was the last time you saw a "physician approved" banner under a restaurant? I don't even like to eat at hospital cafeterias because I think the doctors might have had some say in the menu. Buy this, and the only thing your cat is risking is enjoying mealtime.
Tiki Cat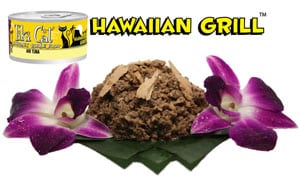 Slathering on Polynesian retro, Tiki Cat is the first hipster cat food. You should make yourself a Bahama Mama or a Tahitian Zombie when you serve this. Hopefully your cat loves Tiki Cat (unlike mine), so you can scatter the pretty cans haphazardly around the house like you're Maui Jim inventorying supplies for a typhoon (I would totally do this). If I'm ever involved in a wager that will result in me eating a can of cat food, please let it be Hawaiian Grill. I can do this. Until then, who's going to start selling white chunk tuna in water with a tiki theme? I'll pay $1.29.
Friskies Grillers Blend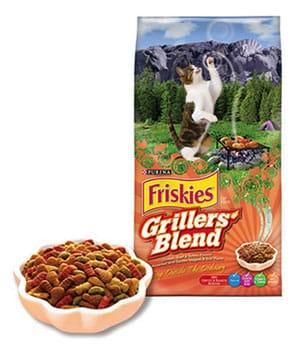 Friskies, betting that you are long divorced from reality, have created the greatest cat food label ever. Your cat is camping? Of course he is. And he's cooking chicken and pawing at the smoke, like an old prospector dying of exposure. This is the kind of thing you dream about when you have heatstroke. And look, behind him, in the rocks; I see a cow, a chicken, and a turkey. That cat is hallucinating a feline Mount Rushmore. Grillers Blend isn't even the most surreal Friskies label: Indoor Delights features a cat hallucinating a waterfall coursing down the middle of a comfy tan chair. This must be some great sh*t.
Max Cat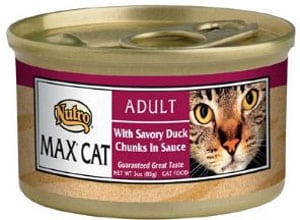 With its odd title, bland design, and intense cat faces, Max Cat seems slightly off, like a microbrew made secretly by a large corporation. For most of us, the word "max" is short for "maximum," which implies big, right? Think Muscle Max or Max Muscle or Max Fuel or Max Protein. I don't want a max cat. I'm afraid of getting a max cat. I think I may already have a max cat. That cat in the picture would kick the crap out of my cat, though, so maybe Max Cat is just the thing for general toning.
Halo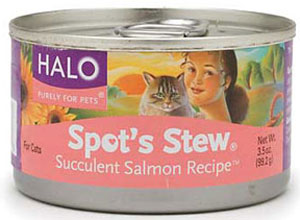 Halo is trying very hard to sell you cat food. Maybe too hard? The company, which is NOT named after the most awesome first-person shooter videogame ever, has upped the ante in the at-one-with-Gaia packaging wars by featuring artwork that was painted by someone who dropped out of a community college class on Diego Rivera after completing several Habitat for Humanity tours in Paraguay while playing Gilberto Gil nonstop and drinking acai extract by the bucketful. Apologies to the real artist. I'm making a dumb point here.
Newman's Own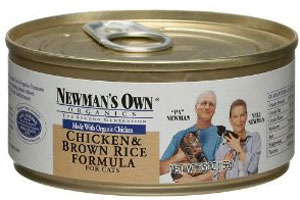 A nice homespun design with a bit of whimsy, Newman's Own perfectly captures the gentle aesthetic of a small, family organic operation, albeit one in which the deceased patriarch has appeared in more than 60 movies and given away $200 million. To be honest, I don't feel all that great eating food that was made by the same people who make stuff for my cat. Nobody can do human and animal food on the exact same level. One of us has to be suffering. I think it's me, due to the bottle of Creamy Caesar that's been sitting in my fridge for so long it's fused to the steak sauce.