The holiday season is in full swing and that means a holiday photo for Mittens and his family. It also means Mittens has to wear some ridiculous reindeer antlers because Mom insists they're "festive." Mitty's ready to do just about anything to retake that photo without the antlers, including riding in a car for several hours. Well, maybe not that.
There's also been a bit of blanket-related drama in Mittens' world. Stumpy's crossed a line by making "biscuits" on Mitty's property, and Mom went and washed the good smells right off his favorite napping blanket. Seriously, what could be worse? Oh, yeah — Drunk Patty and her scoundrel boyfriend made off with all the leftover Thanksgiving gravy. The only good thing that's happened is that his book is finally available to pre-order. That's right! There's a Texts from Mittens book, and it'll be available on March 31, but you can pre-order here, or wherever you buy books!
Now on with the recent atrocities in the life of our pal Mitty.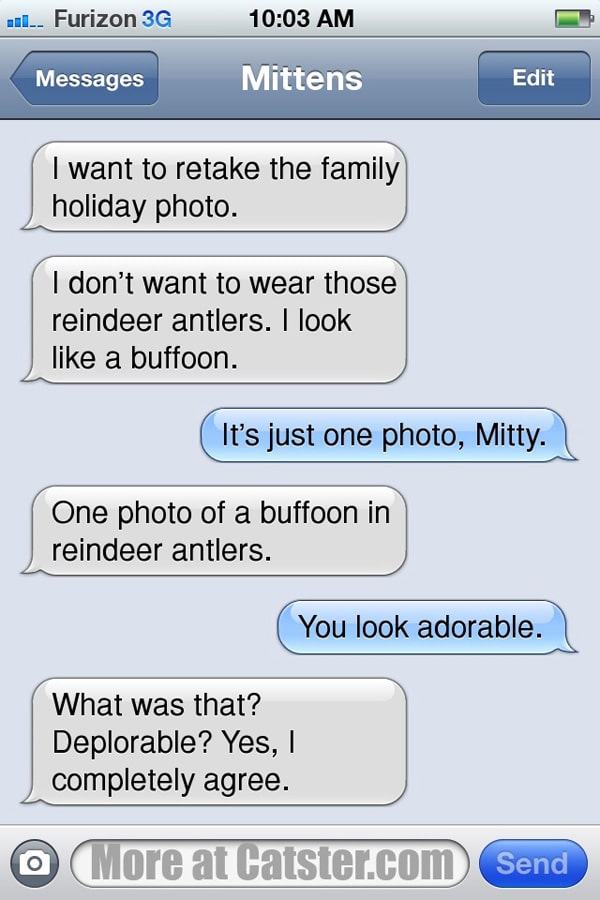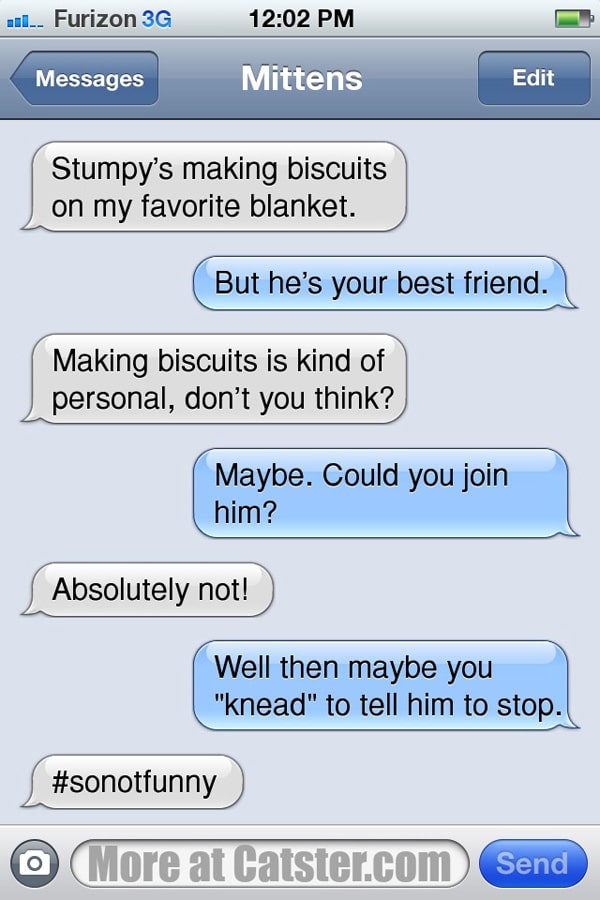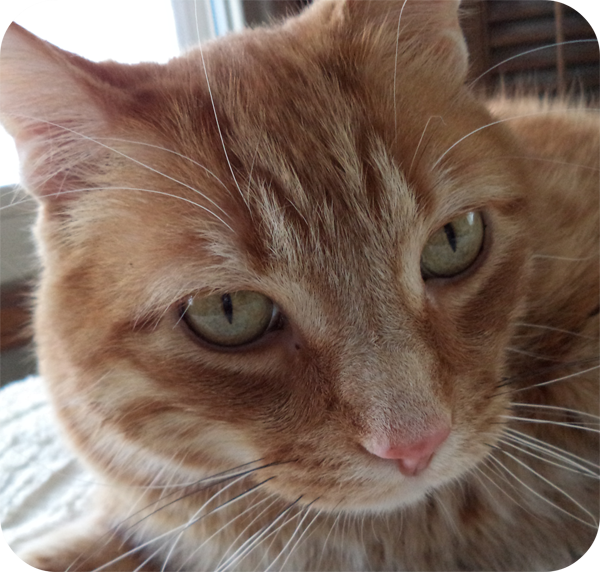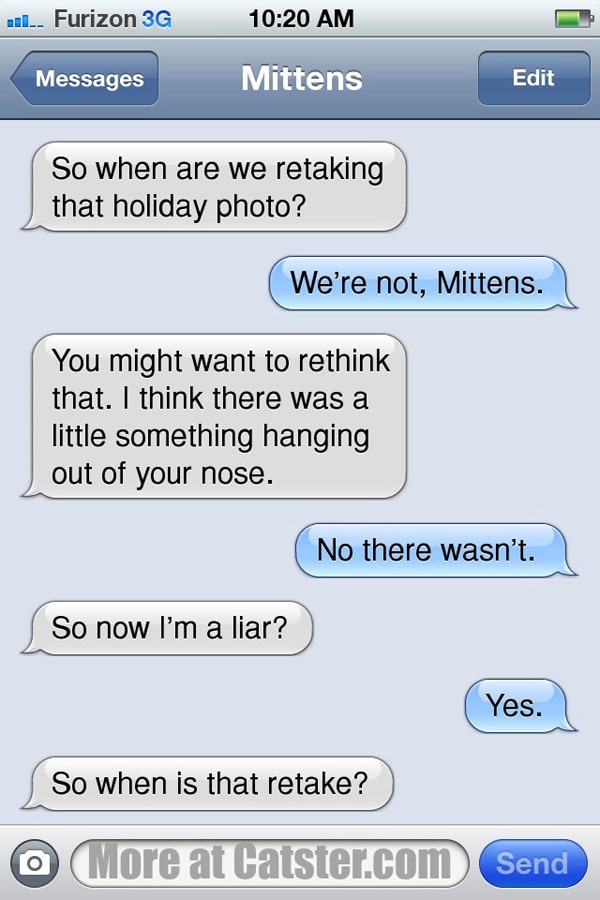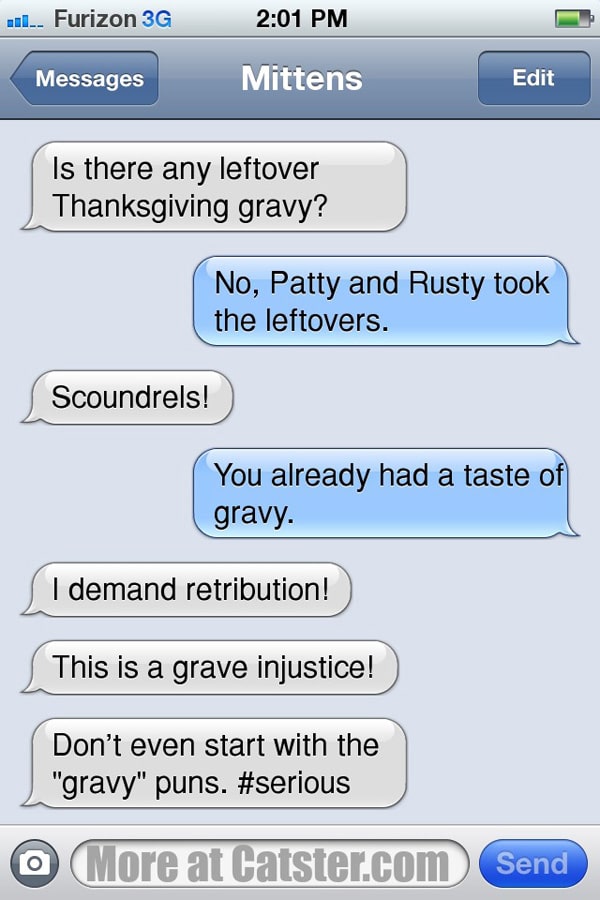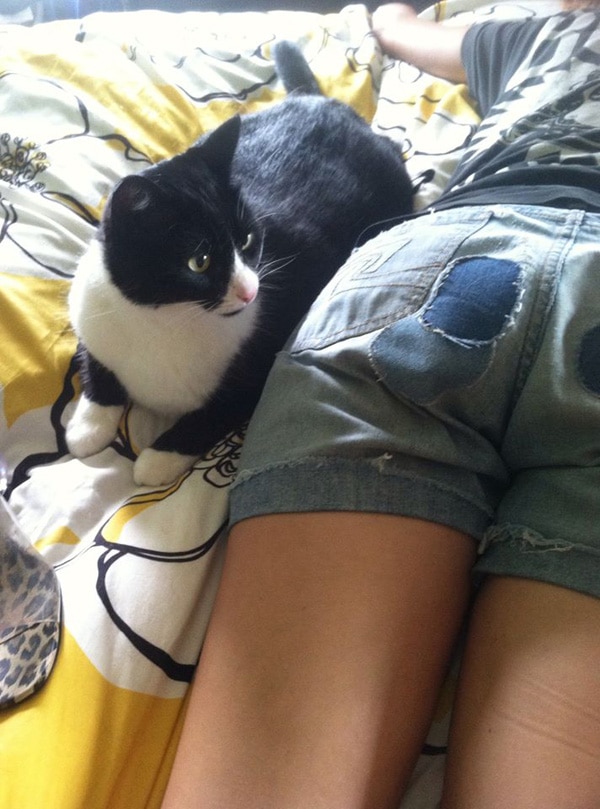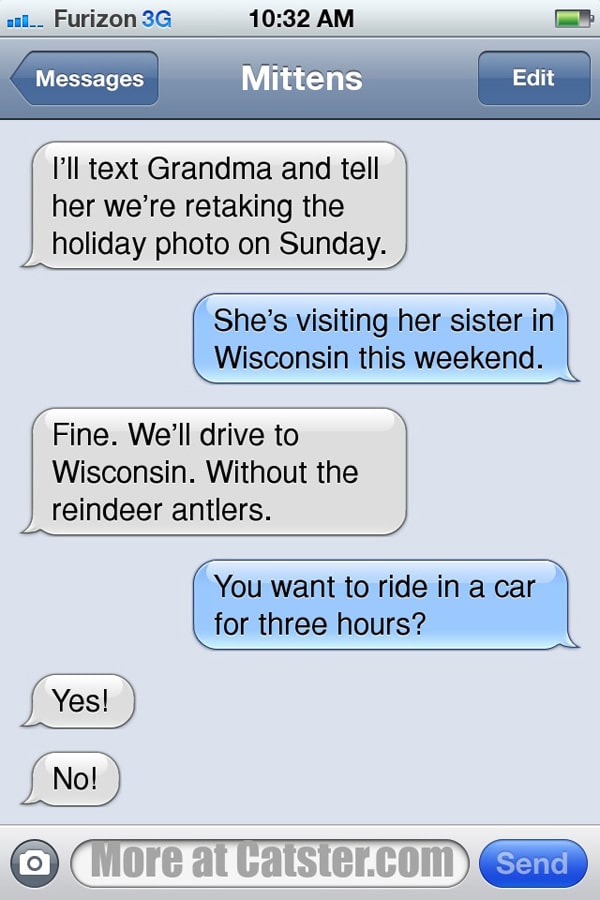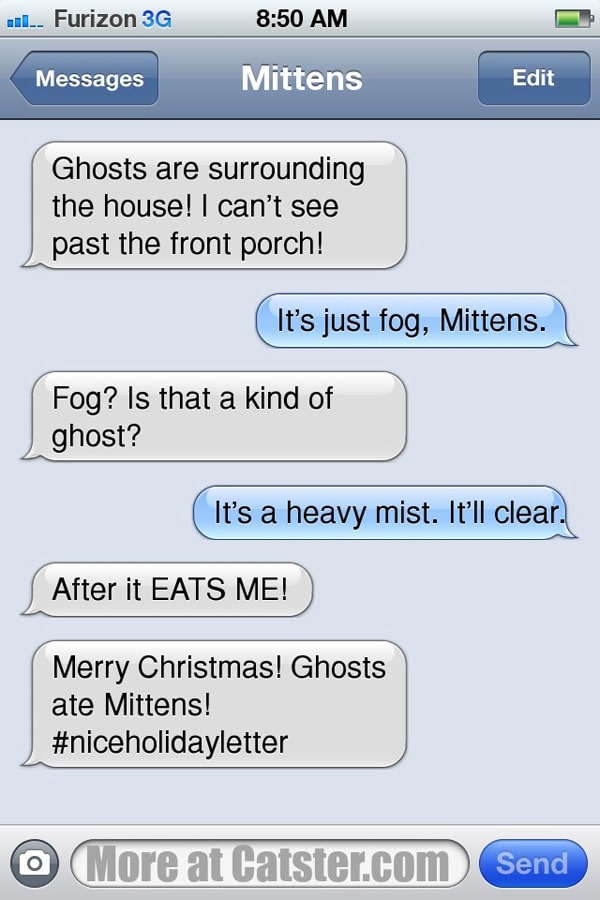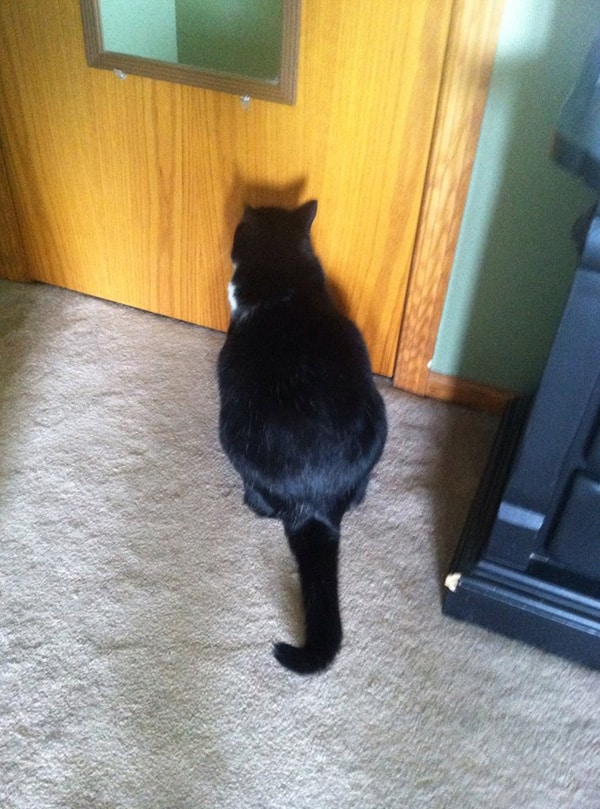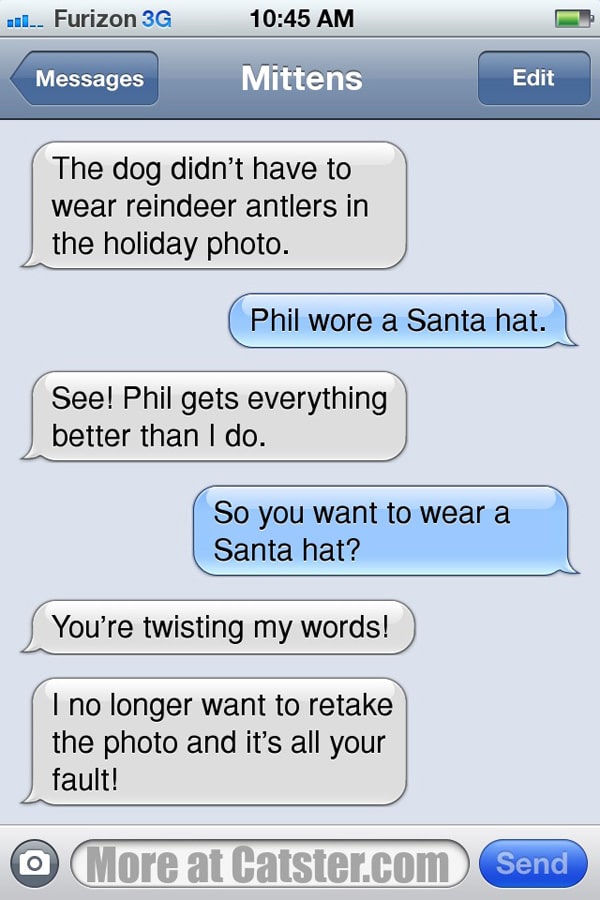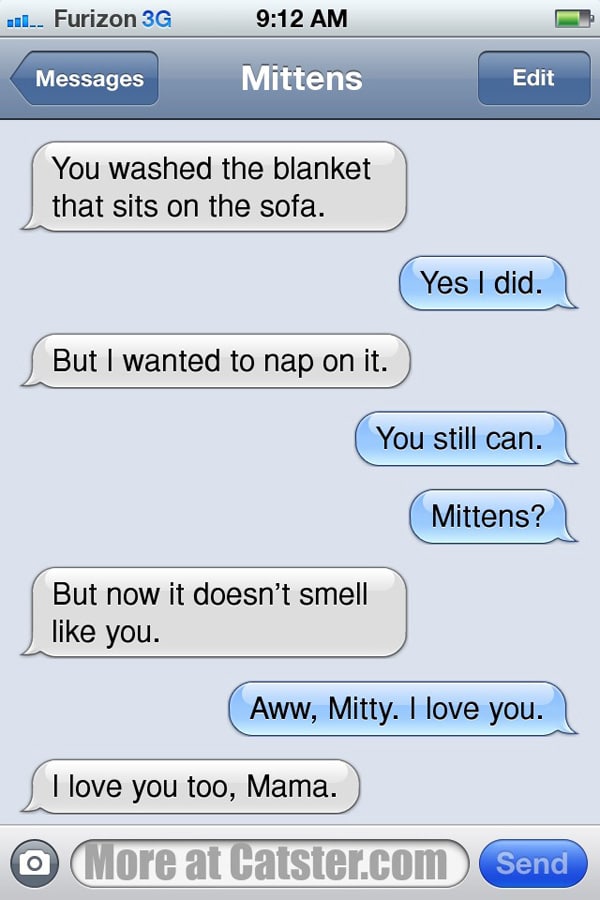 Click here for the entire library of Mittens posts on Catster.
Click here for the Texts from Mittens site.
Click here to follow Mittens on Twitter.
Click here for Mittens merchandise!
Let Catster make you laugh:
Read more by Angie Bailey:
About the Author: Angie Bailey is an eternal optimist with an adoration of all things silly. Loves pre-adolescent boy humor, puns, making up parody songs, thinking about cats doing people things and The Smiths. Writes Catladyland, a cat humor blog, Texts from Mittens (birthed right here on Catster) and authored whiskerslist: the kitty classifieds, a silly book about cats wheeling and dealing online. Partner in a production company and writes and acts in comedy web series that features sketches and mockumentaries. Mother to two humans and three cats, all of which want her to make them food.