You wouldn't know that it's Take Your Dog to Work Day because, duh, this is Catster. Cats don't go anywhere and they especially don't go to work, are you kidding? Unless that work is telling you what to do, then oh boy, are they there, micromanaging every little thing you do and correcting your work. ("Ummm, no," said your cat, "This porcelain figurine does not go on this shelf, how many times do I have to tell you?")
But since some of you are bipetual (heehee), some of you might have taken your dog to work today. If that's the case, then we'd like to invite you to this post over at Dogster.
So while you're busy trying to get anything productive done while your coworkers coo and cuddle your dog, the cats at home are all, "Yes! No dog!"
Here's what your cat is doing while you are at work with your dog:
1. Reorganizing your recycling system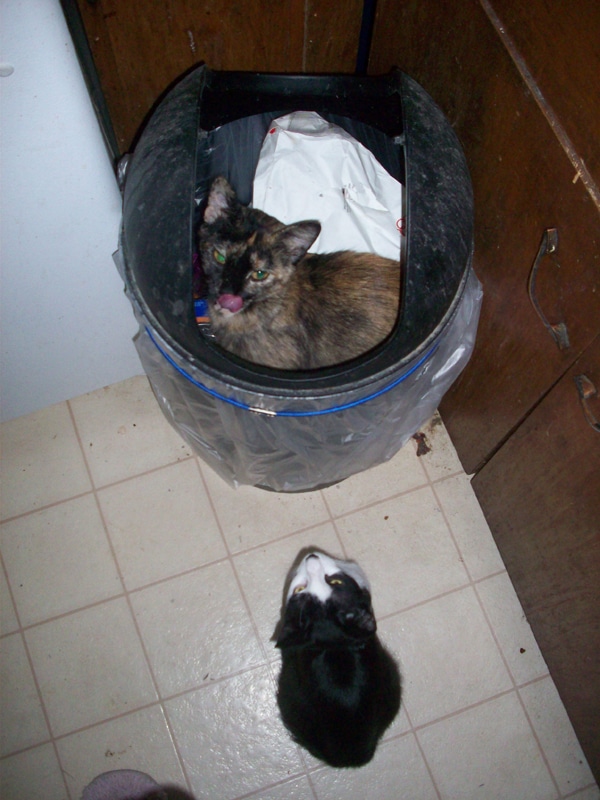 "Ummm, did you know fish bones are not compostable? We also threw away all of the dog's toys."
2. Using up all your tissues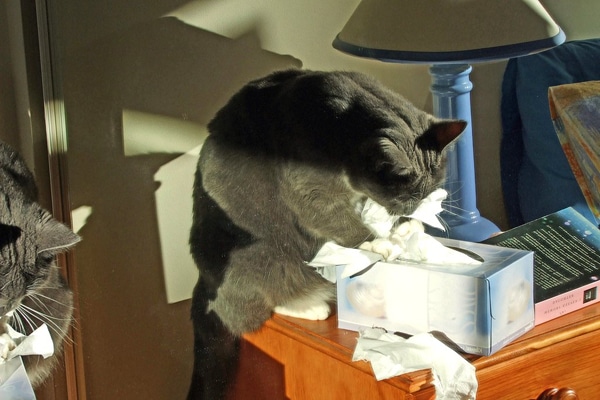 They're secretly hoping you got rid of the dog and are crying tears of joy.
3. Tying all your shoelaces together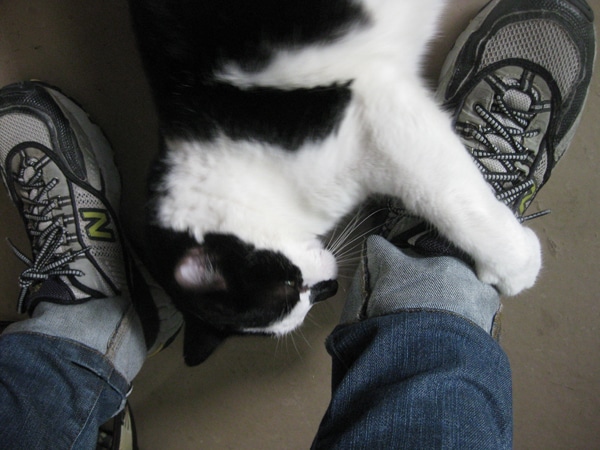 Because it will be fun to nip at your fingers as you desperately try to untie them.
4. Getting out of the bag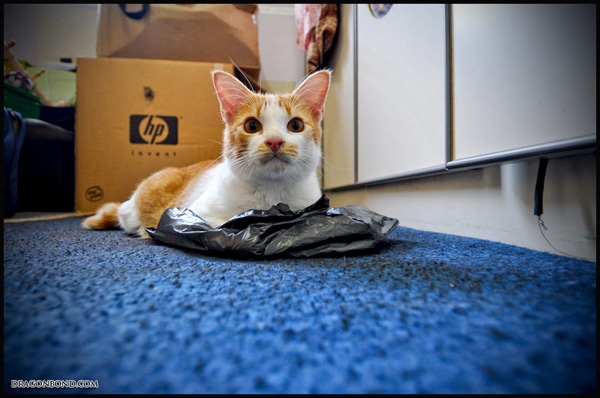 And sitting on it.
5. Farting on the pillow where you place your head at night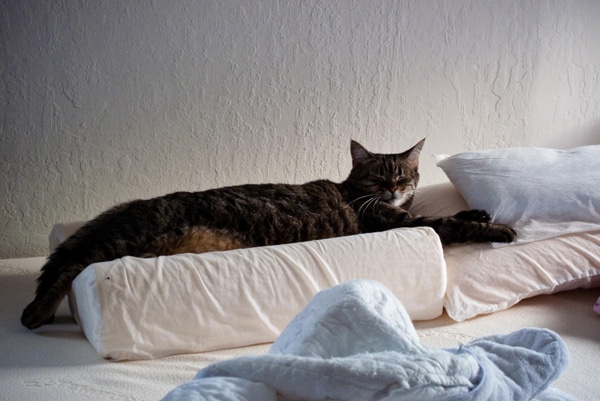 Because they enjoy watching you blame the dog.
6. Inviting all their friends over for a party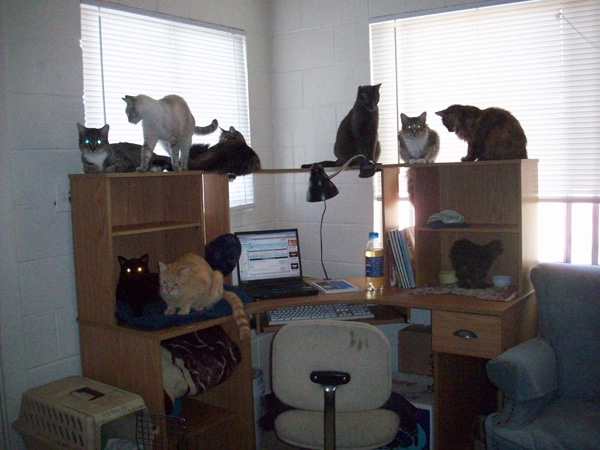 Later you will ask yourself, "Where did all my caviar go?" (Because you always keep some in your fridge, right?)
7. Using up all your paper towels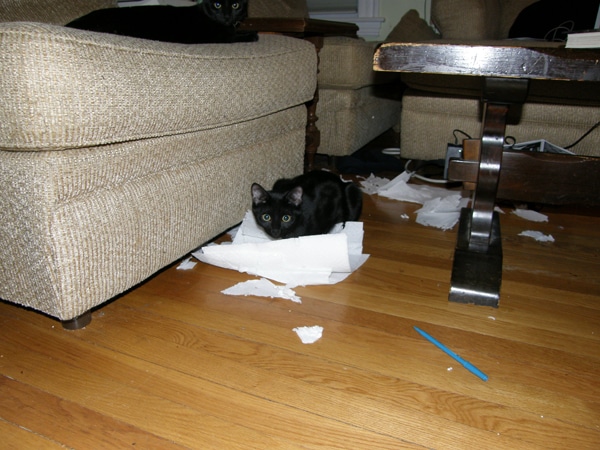 Because you left so many half full glasses of water on the table and you know you're not supposed to leave anything on the table.
8. Pooping in your planters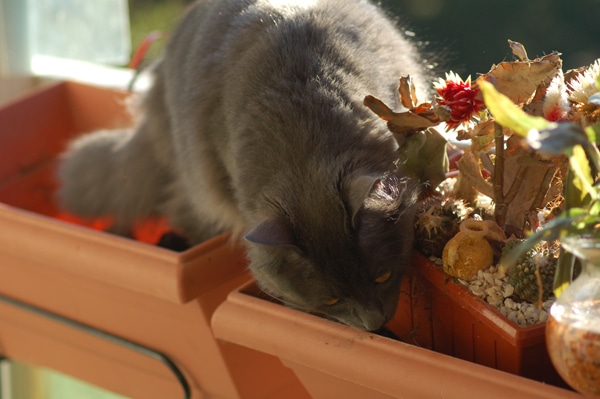 Why are you spending money on fertilizer anyway?
9. Having a little too much of the 'nip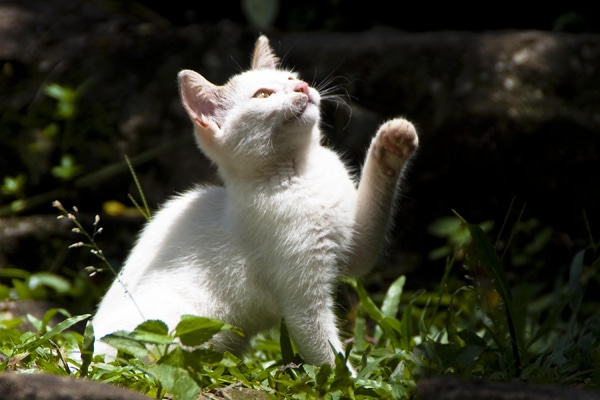 "Dude, are you seeing this?"
10. And, um, this …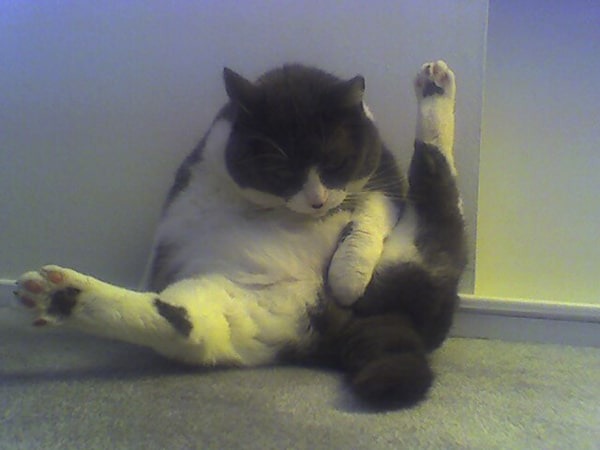 "Don't you ever knock? Do you not understand? You don't get to close doors, but I close doors for a reason!"
What other mischief does your cat get into when the dog is away?
Photo: A cat destroying your blinds with delight by Shutterstock
Read more cat centric humor: