---
The darling little cartoon kitty Simon's Cat is back with a seasonally appropriate video.
In his latest adventure — or misadventure, as is often the case for Simon's cat — the animated feline faces multiple conundrums.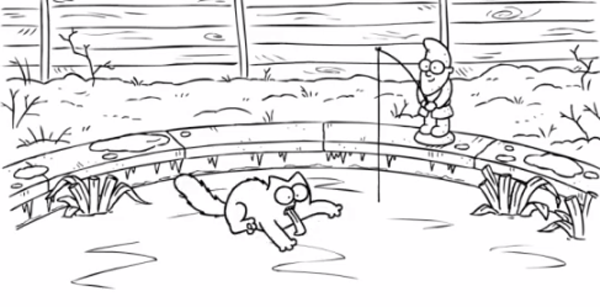 The first puzzling matter is how his favorite watering hole has suddenly turned solid. Cats are famously curious, which means they are actually nature's scientists. One of the most famous cat science discoveries is the "Fits Sits Property," which states that, "If an object can accommodate a cat, a cat will sit in it." Other laws of cat science include the law of cardboard, which states that, "Cats are magnetically attracted to cardboard." Cat science has been known to defy human science — like gravity and time travel.
The point is that Simon's Cat, after testing the ice, decides to try his paw at figure skating, only to discover that his triple Salchow is really a negative Salchow. After tumbling haplessly on the ice, he is joined by a kitten, who shows off not only his superb figure skating skills but his knack for ice fishing.
Will the kitten share his fishy find with Simon's Cat? Or will Simon's Cat be left out in the cold?
Oh, and you know what the ultimate law of cat science is? "Anything with a cat on it or in it is adorable." That would include this video.