Simon's Cat is a mischievous little guy who likes to get into harmless trouble.
Debuting on the Internet in 2008, Simon's Cat is the creation of English animator Simon Tofield, who, in addition to cats, draws inspiration from British wildlife, painting, and the great outdoors. Simon has only one cat in his charming cartoon series, but in real life he is the father of four kitties named Jess, Maisy, High, and Teddy.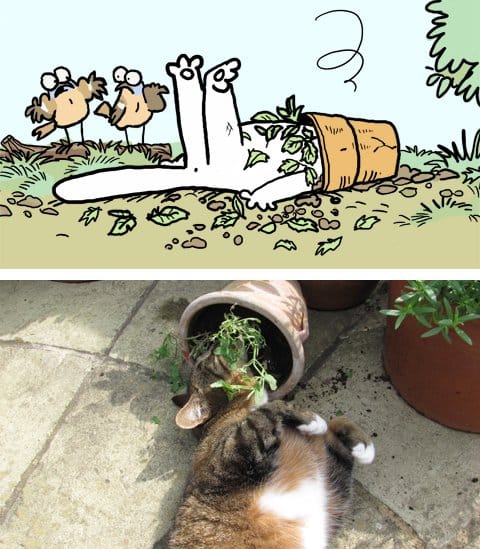 Even though Simon creates his cartoons with the help of his computer, he uses the traditional animation process, drawing each frame by hand. Just one second of a Simon's Cat cartoon requires 15 to 25 drawings — that's a lot of drawing! So it makes sense that it takes Simon a while to create a new film.
But Simon's Cat is back with his latest adventure, and, much like real cats, his "adventure" doesn't involve much more than stalking and pouncing on a garden guest. When Simon's Cat tries to make his guest dinner, however, the joke's on him, and Simon's Cat ends up tongue-tied.
If you love Simon's Cat as much as we do, you can try your paw at drawing him yourself!
Does your cat act like Simon's Cat? What was your cat's latest misadventure?
Images via Simon's Cat's Facebook page.