---
This Automaticly Cleaning Litter Box Even Acts As A Workout Partner For Your Cat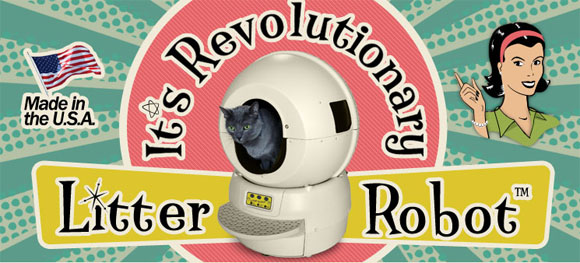 Everyone I know who owns the Litter Robot swears by it. After all, what's not to like? Cool R2D2-esque space age design, compact footprint, and it maintains an always-clean litter box without a cat owner's intervention.
But as an unadvertised benefit, did you know it can also act as a workout partner to keep your cat in fighting shape?
This next video would have benefited from judicious editing. Action comes between :10 and :30
The Litter Robot isn't the only self-cleaning litter box that put cats on the attack:



By the way, Litter-Robot is offering some promotions that include Free Shipping and $20 off*. And, you can order reconditioned units from their site at a significant discount.


[Photo Credit, Litter Robot Graphic: Litter-Robot.com]
Viewing in a reader?
___________________________
* subject to change at any time