Fair warning: Pictures of cats in hats. Very silly hats. Very silly cats. And you can win one of these very silly hats for your very silly cat. Still with me? Okay, yay! Read on! Don't like cats in hats? Probably time to move to the next post …
So, here's the background: A few months ago, I got the idea to go looking for some funky hats for Pimp and Moo, because I thought it would make a great photo session. (And, boy, did it ever!) What I really wanted for Moo was a mohawk — get it, a MOOhawk? — so I fired up my favorite site, Etsy, and did a search.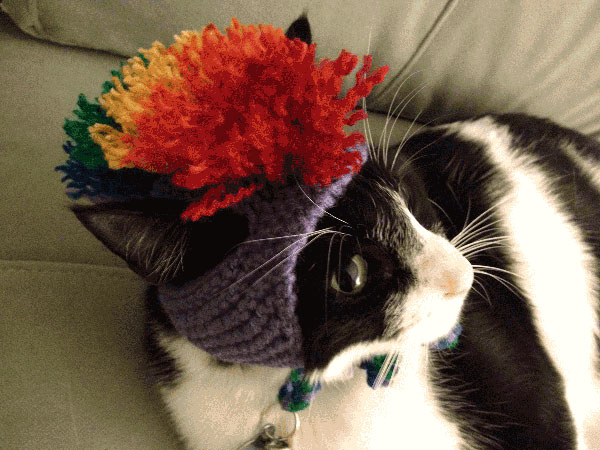 As usual, Etsy never disappoints.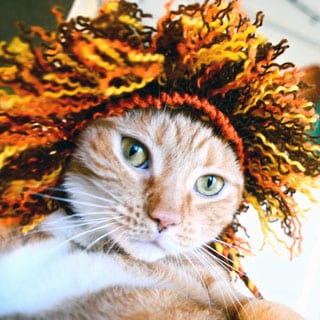 Turns out there's a shop, bitchknits, that makes the most fantastic knit hats for cats — stuff you are just so happy someone thought of because they are so adorable. She makes mohawks in every color of the rainbow, fluffy lion manes, silly pompom knit hats, and even one that has a carrot on top (because what cat doesn't need a carrot sprouting out of his head, right?). Some of the funkiest, most fun ideas I've ever seen!
And guess what? I worked out a deal. TWO lucky readers will get to win any hat they choose from the bitchknits shop! There are pages and pages to choose from, so make sure you click around and find the most purrfect style and color for your funky kitty.
The hats fit an average-sized adult cat. The orange kitty in these pictures is about 10 pounds, and Moo is about 13 pounds (don't tell him I am sharing his weight). They tie at the bottom, so they are really adjustable.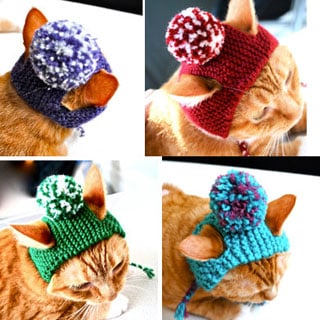 HOW TO ENTER
To enter to win, simply visit the bitchknits shop on Etsy and pick out your favorite cat hat. Then come back here and leave its name in the comments below. Make sure we have a way to reach you. All entries must be received by Thursday, May 24, at noon PST. We'll randomly choose two winners and notify them. Once we do, you have two days to respond or we're picking another winner. Sorry, that's how it's gotta go.
Good luck, everyone!
P.S. Want to get a cute hat for your kitty whether you win or not? Catster readers can use coupon code CATSTER through July to get 10% off their order at the bitchknits shop!
Also, congrats to Tumeria for winning the Andy Warhol-style portrait giveaway last week! We're sure her kitty, Ben, will make a fine piece or art!