Subscription gifts are the best, aren't they? I don't know if any of you are familiar with Birch Box, but it's this thing where once a month you receive a package of beauty samples and products — and each month is something new. And that's just one of many subscription services you can get: Others offer monthly tea samples, some deliver arts and crafts projects, and there's even one where you get different kinds of whiskey in the mail.
KitNipBox is for your feline friend, and they send you a box (exciting, but not even the best part) bursting with kitty treats, products, and accessories. We're having a pretty KitNipBox filled box here at Catster, and this is just one more fun opportunity to win one for your cat friend. (We're also giving one away as our Friday Freebie.) Three randomly selected scavenger hunters will receive one free Catster-themed KitNipBox and a 25 percent-off coupon for a second Happy Cat or Multi-Cat KitNipBox (note: The coupon cannot be applied to the Start KitNipBox).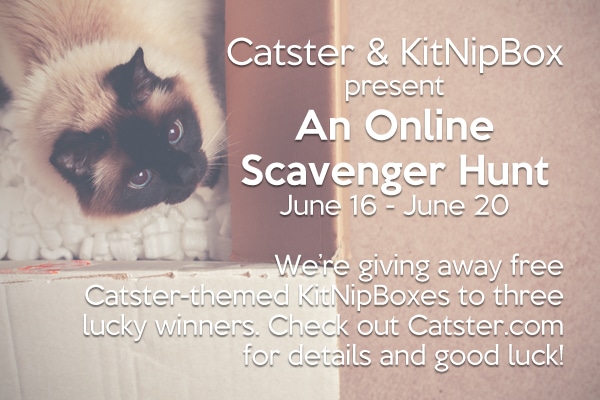 Beginning June 16, we'll hide items in albums on the KitNipBox Facebook page and on the KitNipBox site for you to find in an online scavenger hunt! Here's how it's going to work:
On June 16, 18, and 20, KitNipBox will release the scavenged items. They might be on the company's Facebook page or on its website — we'll make sure to let you know in the clues so pay attention!
Three winners will be randomly selected from the entries who correctly identify all three scavenger hunt items. In order to be part of the drawing, you must correctly identify all three scavenged items via this form.
The absolute deadline to submit your answers is Sunday June 22 at 11:59 PM PST.
Winners will be drawn and notified June 23.
But before we give you the clues, let's go over the rules:
Only addresses within the continental United States are eligible to win.
Only entries that correctly identify the three scavenger hunt items will be eligible for the drawing.
The three winners will be selected randomly from the eligible entries and notified June 23.
Got it? Ready to start hunting?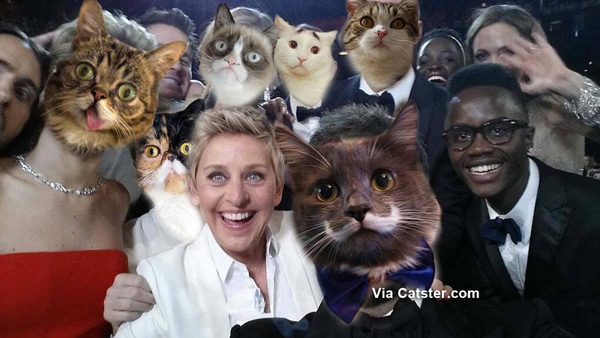 June 16 clue: Name That Celebrikitty!
(This clue is located in a photo album on KitNipBox's Facebook page.)
From Keyboard Cat to Nyan Cat's coat of many colors
cats are taking the Internet all over:
Lil Bub has her own show and Grumpy Cat has a movie,
but there's one cat who's made Internet Awww history
with his cardboard box love in all its glory.
June 18 clue: Which Happy Cat is KitNipBox's CMO?

(This clue is located on the KitNipBox website.)
Every company needs a group of leaders and KitNipBox is no different!
KitNipBox is led by their very own Chief Meow Officer —
he's a black cat who is stylish and smart and confident.
Can you find him among the Happy Cats?
He's wearing something red and his name is Sylvester!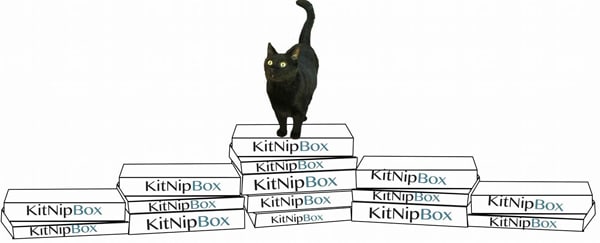 June 20 clue: What's in the Box?!
(This clue is located in a photo album on KitNipBox's Facebook page.)
From Greenies to Curly Mice to Benny Bullys snacks,
there's something in every KitNipBox to charm your cats.
But Sylvester's favorite KitNipBox accessory is all about keeping it Business Catual:
he's wearing a red one in the answer to the June 18 clue,
in this clue, it's white and blue.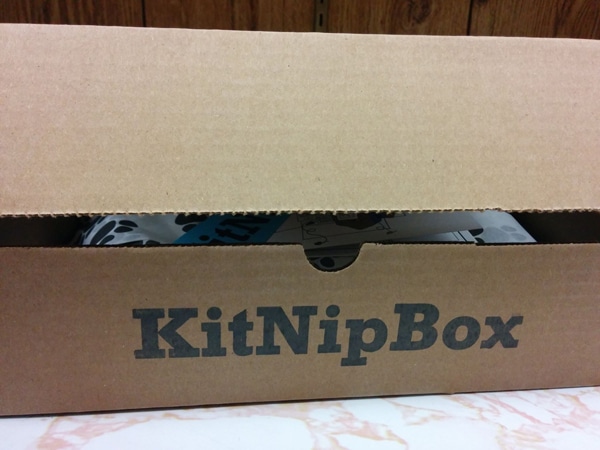 Those are your clues! You can submit your answers three spearate times or all at once — however you decide to do it, you have to use this form.
But wait! That's not all!
For the duration of the scavenger hunt, KitNipBox is offering an exclusive 15-percent off coupon for your first KitNipBox — just use the code CATSTER15 at checkout. Please note that the coupon can only be applied toward the Happy Cat and Multi-Cat boxes, and is only good for your first box (any subsequent boxes you receive will be at full price).
Good luck and thanks for participating!
Photo: Pretty cat is hiding in a cardboard box by Shutterstock
Laugh with us:
About Liz Acosta: Catster's former Cuteness Correspondent, Liz still manages the site's daily "Awws," only now she also wrangles Catster's social media. That's why she wants you to follow us on Facebook, Twitter, and — her personal favorite — Instagram. See ya there!