Watch out, world (and Maru): We've just discovered the Internet's next kitty superstar.
"You mean I haven't already taken it over?" she quips in my interview with her. Great, this cat is not only adorable; she's funny, too. We're all doomed.
We apologize in advance, readers, but you probably won't get anything done this morning after meeting the cuteness that is little Miss Pudge. This is she: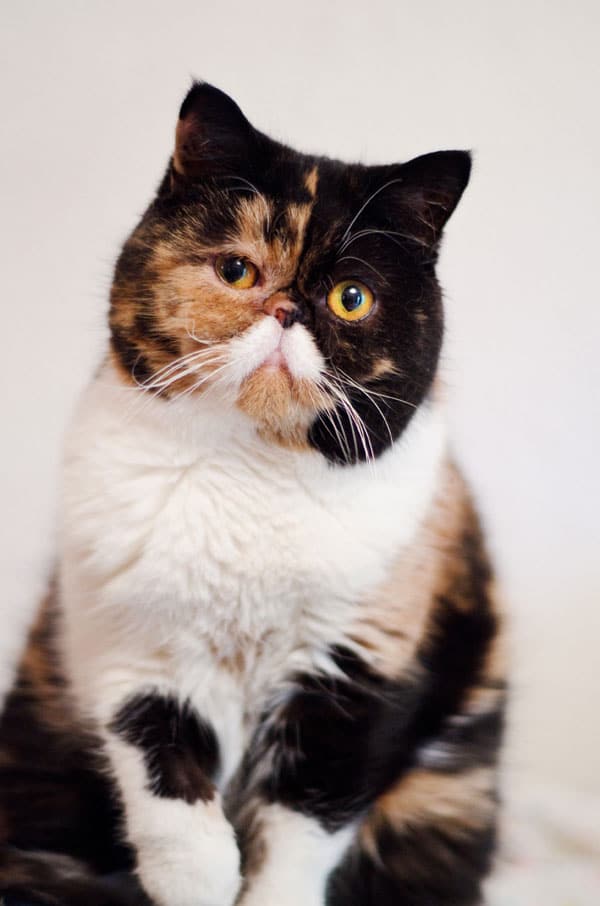 Weighing in at just 7.6 pounds ÔÇô most of which, we're assuming, is floof ÔÇô this smooshy-nosed feline supermodel who loves chicken ("I don't understand why mom doesn't just eat chicken all day every day.") is not even two-years-old yet, and she's already building a gushing fanbase.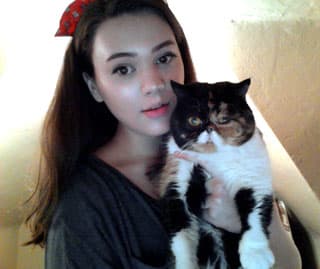 Her fans on her Facebook page (356 of them as I type this, for the record. Just so we can say we got in on the action early.) call her "Pudgemuffin" and "Pudgecakes" ÔÇô but she says it actually took her mom four months to land on the perfect name for her.
"For a long time, I was nameless," Pudge tells us (as transcribed by her mom, of course ÔÇô this was all through email and it's a known fact that cats can't type).
"My grandma temporarily named me Tabatha and my grandpa liked to call me by my official name using my birth mom and dad's names, BelaBella Danger. Pudge was a name that was on my mom's list for a while. She chose it because it was a character in the video game Animal Crossing."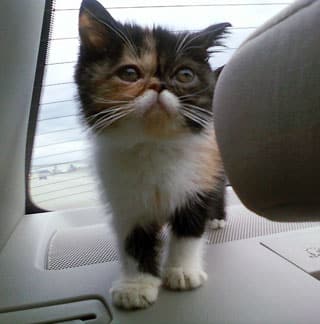 Pudge explains that her mom discovered exotic shorthair cats online (ah, cat web-surfin' — we know the perils all too well) and started keeping an eye out for any surrendered at local rescues in the Midwest where she lives. After a year, and none turning up, she started researching breeders and came across a picture of Pudge, fell in love and drove for hours to bring her home.
"Nineteen long hours later, I was home in Minneapolis, MN," Pudge recalls. "On the way there I bonded with my mom in the car and played in the back window, distracting other drivers going at least 75 mph."
She wasn't even home yet, and already she had everyone's attention!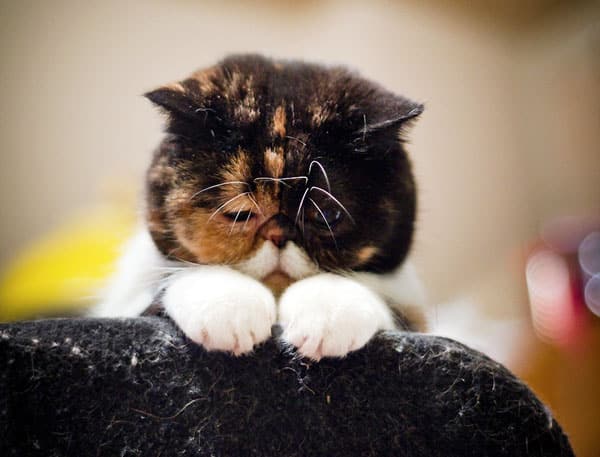 Attention is something Pudge has never had to beg for — "It comes naturally, of course." She admits to being very laid back, easygoing and sweet, but loves to be the center of attention whenever she goes places.
"I would follow my mommy everywhere if I could," she purrs. Her favorite place to go is a local vintage store called "Mighty Swell," where she sits by the register and gets pets and love from everyone and they enter and exit the store.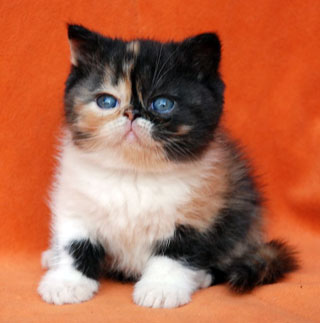 But while she may be a ham when it comes to getting attention, when it comes to being photographed by her mom for each "Daily Pudge" picture she shares, her cat modeling style is completely the opposite.
"I just ignore her," Pudge says. "Everything just works so much better if she can just let me do my own thing and then she can catch me mid-sneeze and post it all over the Internet to humiliate me."
And as far as dressing up goes, Pudge says she'd rather leave that to the other cats on the interwebs. "My mom only dresses me up for holidays and other special occasions. I don't care for it," she explains. "I mean, I don't even wear my collar unless I'm leaving the house. I'm more of a naturalist."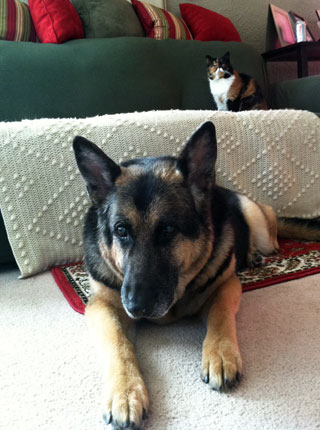 She also a little bit of a rebel. We asked her if there was a special man-cat in her life, and her answer surprised us:
"Is it taboo to say I spend more time with dogs than I do with cats? I enjoy playing with a studly 110 lb. German Shepherd named Chopper, but we're just friends of course … How could that ever work out? I am single and loving it!"
Despite her rising fame, undeniable good looks and big, strong dogs vying for her attention, Pudge is quick to tell you she's just a regular cat. "Since I like wand toys, and stick-shaped objects in general, I like to attack my mom's pen when she's writing something. I try to catch the mouse cursor on the computer screen, and I like to attack shoestrings. I also have a weird obsession with paper bags. If I see one, I'll tip it over — no matter what is inside — so that I can play in it. My mom says I also snore, but I can't help that."
Also, like many cats, her favorite toy is her oldest one, a wand toy that came along with her when she first came to live with her mom. "The plastic stick part of the toy has broken on a few occasions, so now it's only a few inches long, but it's still my favorite."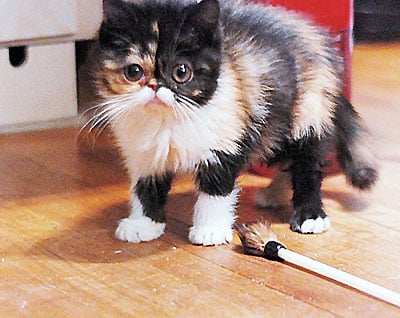 At this point in the interview, we were sure Pudge was probably itching for a nap (I mean it had been, what, 15 or 20 minutes since her last one?), so we just asked if she had any advice for all her kitty friends out there. Turns out, Pudge is very wise for her age. We leave you with her message:
"Just be yourself. Each one of us is unique and special in our own way. Find your niche/style/whatever it is that sets you apart, stick to it, and become the best cat there is at it."
Preach on, Pudge. We'll be keeping an eye out for new pictures and videos!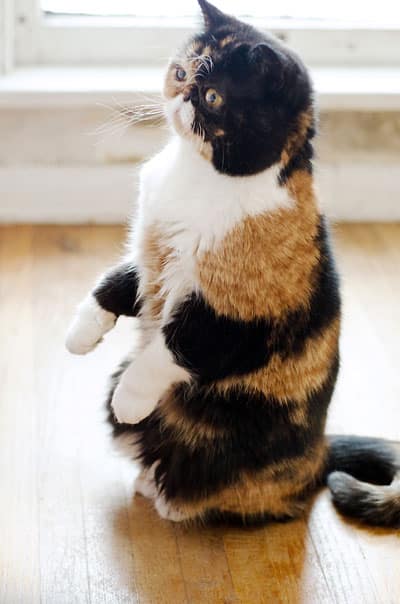 Want more Pudge? You can follow Pudge on Facebook, Pudge on YouTube, Pudge on Twitter, Pudge on Pinterest, Pudge on flickr, Pudge on Instagram and Pudge's web page. Yeah, that should keep you busy for a while.
Update: OK, we couldn't resist adding this last photo: