If you haven't heard about the Hemingway House in Key West, Florida, and the six-toed cats who live there, prepare yourselves to be assaulted by cute images of cats with huge paws. And not just huge mittens of paws, but cats that actually have thumbs!
All of the cats at this house are direct descendants of the cats Ernest Hemingway had when he lived there. They are all extremely well cared for and loved, and they roam freely on the property. The only rule is: You can't pick them up!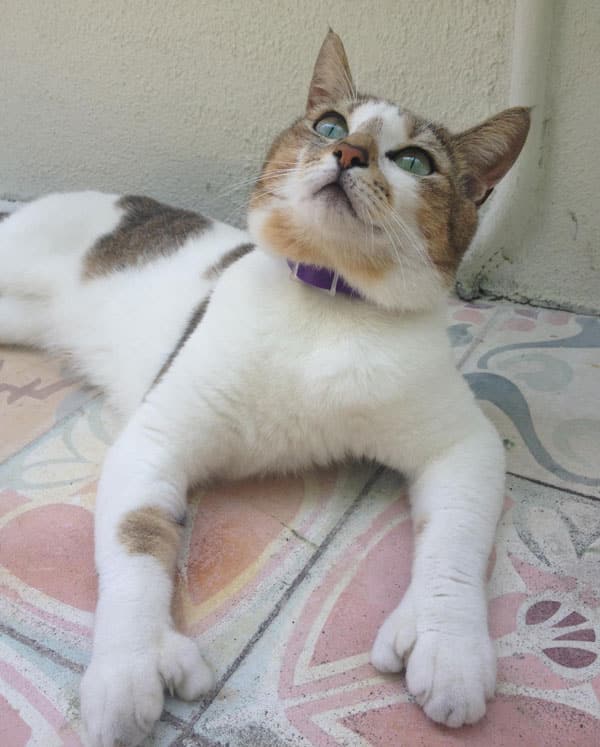 A few weeks ago, I had a race scheduled in the Florida Keys (I'm one of those marathon freaks) and was planning to add a mini-vacay for a few days afterward to just relax. I was going to do it solo –until I realized that one of the things I was most looking forward to doing in Key West was visiting the Hemingway House, and that it would only be fair to invite my friend and fellow cat lady, Tamar from I Have Cat, along for the trip.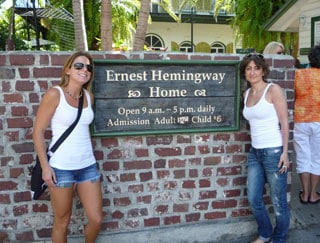 As timing would have it, Tamar (who lives in New York City) had just asked me for Florida vacation suggestions, and since I was planning a Florida vacation — one centered on cats! — it was my duty as a friend to bring her along. We immediately dubbed the trip "Cat Ladies Do Key West." Because oh, were we going to do it, and in a way only cat ladies could.
The 7-Mile Bridge Run got cancelled because of bad weather (read: I was standing there like an idiot in the pouring rain, booming thunder, and flashing lightning at the beginning of a seven-mile-long bridge with 1,000 other idiots who were actually going to do this until they finally decided to call off the race, thank goodness). Good thing I had the Hemingway cats to look forward to! I went back to the room, Tamar and I piled back in my car, and off to Key West we went!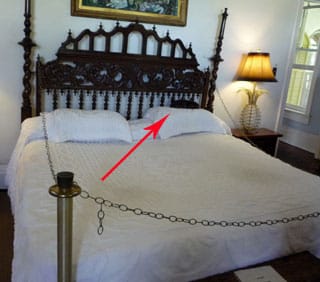 Our very first full day there, guess what we did? Duh … we beelined it right for the kitties. Admission is $12 a day, and a tour runs every 30 minutes. The tour guides take you through the house, telling you about Hemingway's life (and all his wives — he had several!) and the work he wrote while he was living there and introducing you to some of the cats you see along the way.
There are 44 cats who live on the property right now. They all have names and a safe home for life. Not all of them have six toes, but they all carry the gene for it.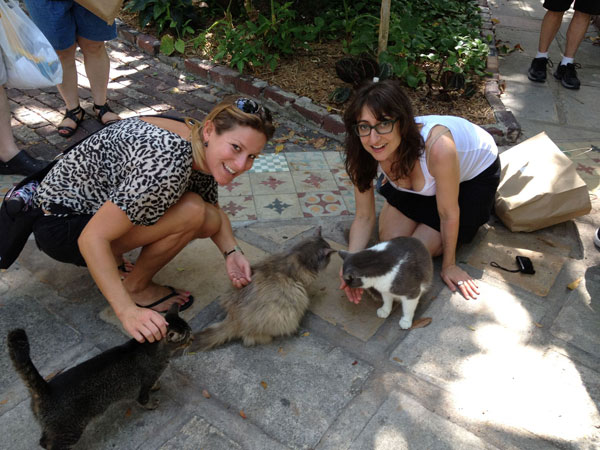 One of my first questions was how staff maintain the numbers and if they are spayed/neutered. The answer was pretty smart: Each female is allowed to have one litter, and then she is spayed. As for the males, only the "best" ones are allowed to reproduce, so I guess they have to be friendly, good-looking, and healthy, and have six toes to get a shot at keeping the Hemingway lineage going. (Fats up there is one of the toms allowed to sow his seeds.)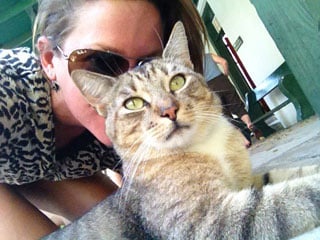 To make sure there isn't any extra funny business going on, the toms are rounded up every night and kept inside so that they can't go too crazy. The caretakers say it's quite the mission to get them because cats are smart, and just before 5 p.m. each day, the toms know what time it is — and they hide! The caretakers walk around, asking each other if anyone has seen Fats or the other cats … and when one does, it's man vs. cat! But the caretakers always bring the cats in before they go. It's a must.
When babies are born, they are kept in a special kitten room away from guests. Caretakers make sure the kittens are extra-supersocialized, because they'll be getting plenty of love and attention once they're let out into the yard and the general population.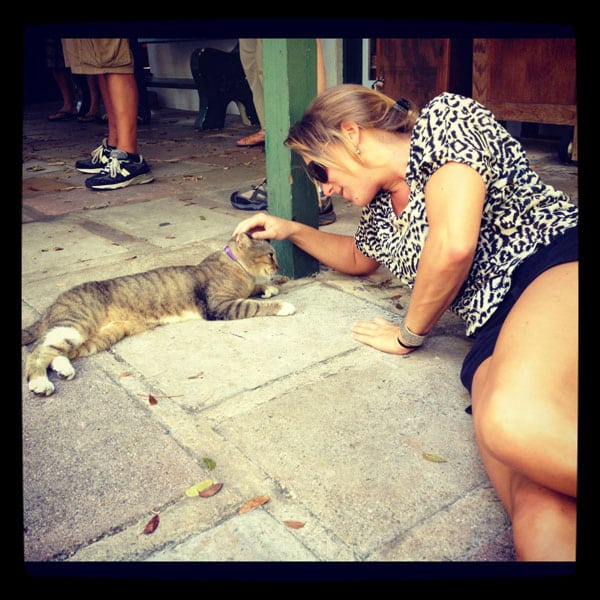 We wondered how the caretakers keep the cats from leaving, and how they stop other cats coming in. They use Purrfect Fence fencing all around, but the caretakers say the cats stay because they want to. They have food, water, and shelter — and this is where they live. Cats are very territorial.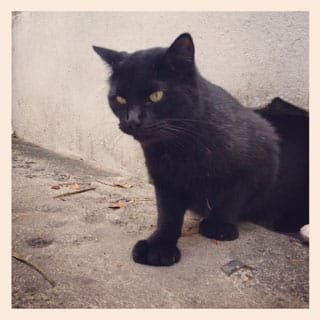 The resident cats also help to keep other cats out. The woman I talked to said they know when an "intruder" is on the property within seconds — because all the Hemingway cats basically sound the alarm. Then the caretakers make sure they get the new cat caught and out as soon as possible, so there are no fights. It's not that they aren't friendly; it's just like any cat colony — outsiders are not always welcome.
All the caretakers and tour guides carry cat treats in their pockets. (Of course they do!) The cats know that sound from a mile away, and all it takes is a shake of the packet for a few to come running over. I'm thinking these cats get more than their fair share of treats every day!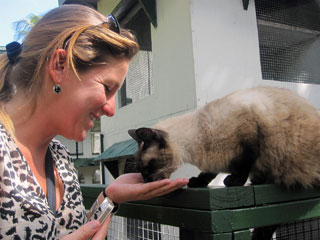 Tamar and I were lucky and we made good friends with Joe, our tour guide. He gave us a special extended tour after the regular one and took us to where a few of the cats' hangouts were that we hadn't seen earlier. And he kept giving us each treats to give the kitties — so they loved us!
Everywhere you look, there are more cats. If I lived in Key West, I'm sure I'd figure out how to buy an annual pass and just go there to relax all day and unwind. I've seen people lazing the day away reading the newspaper. That would be me! I would know them all by name, and they'd know who I was and take turns curling up in my lap.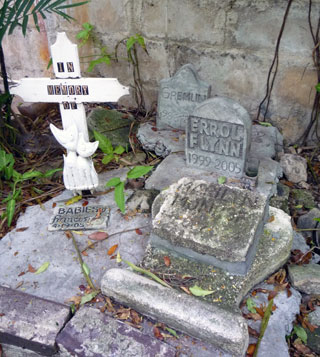 One of the sweet things about the Hemingway House is that it has its own cat cemetery. There is one area reserved for all the residents who crossed to the Rainbow Bridge, and it's really interestesting to see all their names. Some pretty famous kitty namesakes have lived here!
Joe realized pretty quickly that we were certified, card-carrying cat ladies (we may or may not have dropped the "cat blogger" title on him also, hehe), and so he told us that we could come by another day while we were in town — for free! Just mention he said so. And you know we did! A whole other day to hang out with the Hemingway cats! We recharged our cameras, and headed back a couple days later for another visit with huge smiles plastered on our faces.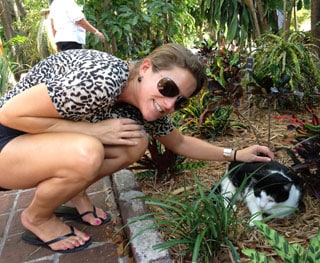 One cat I wish I had seen, but apparently he's kind of a loner who hangs out in some bushes until after the place closes and calms down, is Dorian Gray. There is a cat named Dorian there and I didn't get to meet him! Next time … it just gives me a reason to go back, right?
I highly suggest that if you're a cat lover, you visit this place at some time in your life. What a beautiful, peaceful, purring, happy place to be! When you go, take the tour for the background info, and then make sure you leave yourself at least an hour (or more!) to just wander around the property and see the cats. Look in all the bushes and keep your eyes peeled — the cats are everywhere if you take a minute to look closely enough.
Oh, and one last kitty. I didn't catch this one's name, but he loved to play!
Have you been to the Hemingway House or are you making plans to go? Did YOU get to meet Dorian Gray? Share, share, share in the comments!