These days, we're all very busy. We work hard. We pay cat food and vet bills, vacuum up the feline fur tumbleweeds, clean bathrooms — and litter boxes. There's a never-ending list of things we gotta do.
Which is why it's so nice to have cats. Because they are the most helpful of creatures, always there to lend a paw, give advice, generally offer service. As long as it's on their terms.
For example, Elsa Clair loves to help with laundry. She supervises the filling of the laundry basket — and is so dedicated to the job that she jumps right in the laundry basket. And, when the clean clothes come out of the dryer, she's on hand, er, paw, to watch, delivering commentary on my technique. When it's time to fold, she's right on top of things. Literally.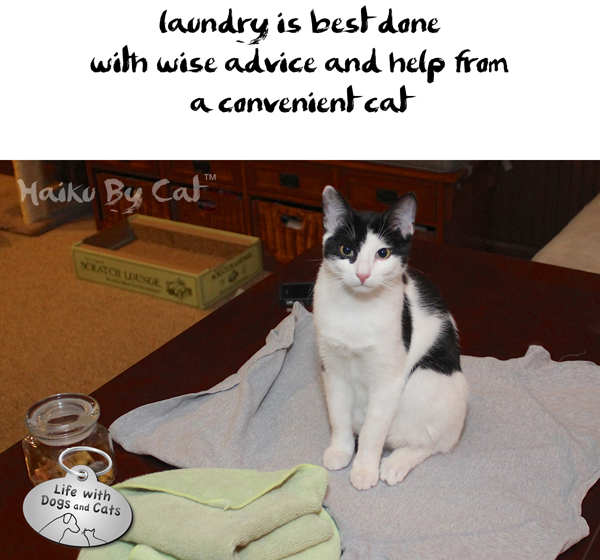 All three dogs and three quarters of the cats make themselves scarce when the Giant Noisy Monster of Vacuum and Doom makes its weekly rounds. As for Athena, she believes it is her assigned duty to supervise the effort, making sure the appropriate technique is applied. She is also the resident Dust Inspector, and will survey all corners of the house to ensure that I've dusted and swept properly and completely.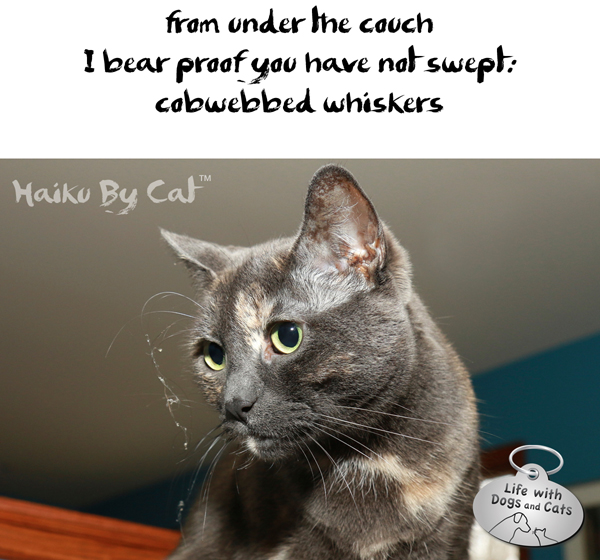 Calvin prefers to offer his advice and opinion on more personal matters. He ensures that all my outfits are appropriately accessorized with cat fur. And he keeps an eye on our grooming, watching from atop our medicine cabinet.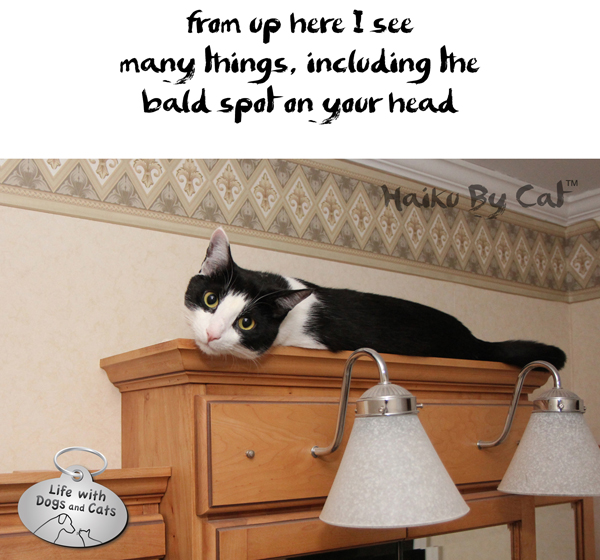 I can't imagine how anyone without cats manages to get things done. How about you? How do your cats help around the house? Share a story in the comments — or try a haiku!
Read more Haiku by Cat:
About the author: Susan C. Willett is a writer, photographer, and blogger whose award-winning original stories, photography, poetry, and humor can be found at Life With Dogs and Cats. She lives in New Jersey with three dogs and four cats (all rescues) and at least a couple of humans — all of whom provide inspiration for her work. Refusing to take sides in the interweb's dogs vs. cats debate, Susan enjoys observing the interspecies interaction among the varied inhabitants of her home — like living in a reality TV show, only furrier. In addition to Life With Dogs and Cats, you can find more Lilah, Jasper, and Tucker (and the rest of the gang) on Haiku by DogÔäó, Haiku by CatÔäó, and Dogs and Cats Texting.