The smallest of our four cats, Elsa Clair, has the most adorable trilling meow, and she knows how to turn up the cute to 11 — right before she swats one of the other kitties just for looking at her the wrong way. This is one of the reasons we refer to her as Tiny Dragon.
Beware the cute. There's a rod of steel that runs through her sweetness. Just ask Calvin, her brother. He foolishly tries to pounce her now and again. Even though he outweighs her by a couple pounds, he's always the loser in that clash of the pointy titans.
She's a great hunter, our Elsa Clair, named in part after the famous lioness from the book (and movie) Born Free. No bug, mouse, toy, or ankle is safe when she's on the prowl.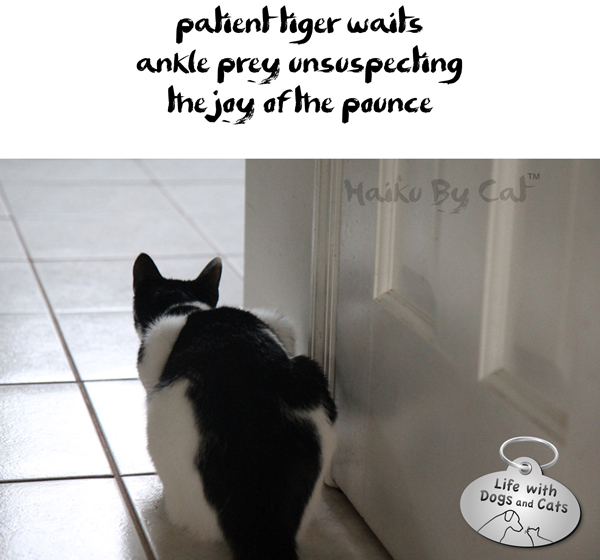 She was the smallest kitty in her litter, and the only female, and she probably had to fight for her seat at the Mommy Bar as a kitten. This may be why Elsa Clair takes dinner time very seriously. Very. Seriously. If I'm even a little late in serving a meal, she'll tell me about it, offering pointed commentary during the preparation as well.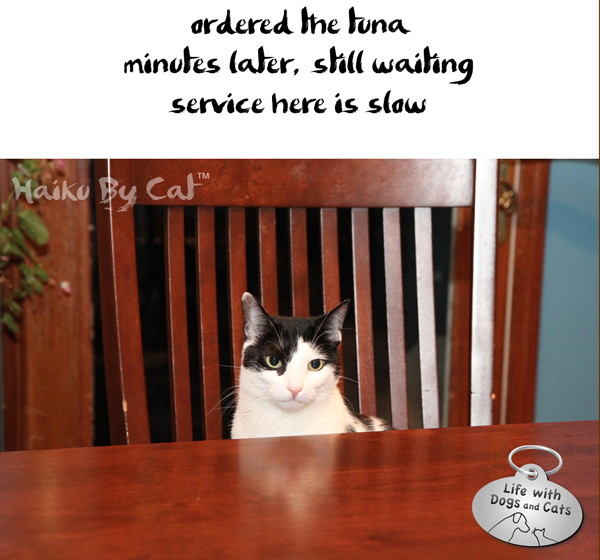 Elsa Clair is also the most playful of our cats. From across the house, she'll hear when the Drawer of Magical Toys is opened and will appear instantly. I don't think she takes the time to run. I swear she just apparates.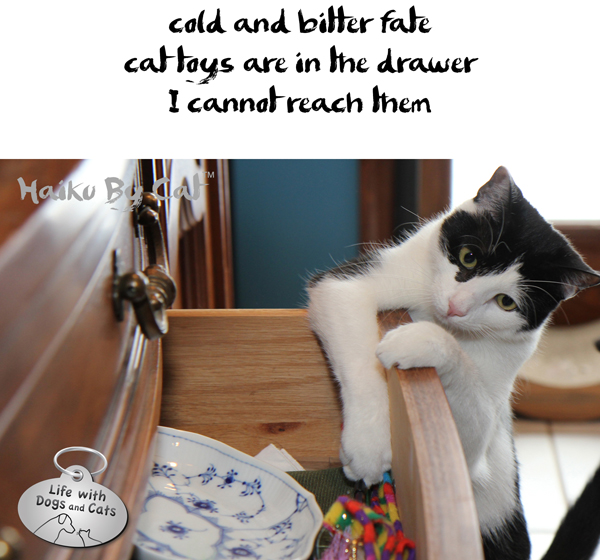 Do you speak Woof in addition to Meow? Check out Haiku by Dog on our sister site, Dogster.
Read more Haiku by Cat:
About the author: Susan C. Willett is a writer, photographer, and blogger whose award-winning original stories, photography, poetry, and humor can be found at Life With Dogs and Cats. She lives in New Jersey with three dogs and four cats (all rescues) and at least a couple of humans — all of whom provide inspiration for her work. Refusing to take sides in the interweb's dogs vs. cats debate, Susan enjoys observing the interspecies interaction among the varied inhabitants of her home — like living in a reality TV show, only furrier. In addition to Life With Dogs and Cats, you can find more Lilah, Jasper, and Tucker (and the rest of the gang) on Haiku by DogÔäó, Haiku by CatÔäó, and Dogs and Cats Texting.