Editor's Note: If you missed the days one through three of Frank's epic mission to destroy the elf, you can catch up here.
Day four, 9:37 a.m.
The time of desperation has arrived. The elf appears immovable by feline paws, so I need to take it a step further and convince the humans of his holiday hideousness. It must be such a demonstration that they'll have no choice but to send him back to that "North Pole" place … or toss him in the big silver garbage can in the garage. I'm a fan of the latter.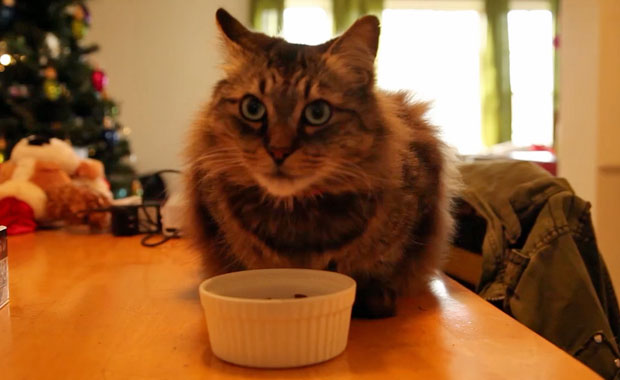 Day four, 10 a.m.
I've made a decision. I've completely abandoned my dignity and will stoop to an unthinkable low. I'm going to squat right below where the elf is sitting and leave a little "Yuletide log." Then, when the humans come home, they'll think he did it, become utterly disgusted, and give him the boot. I'm not proud of my boorish behavior, but desperate times call for desperate measures.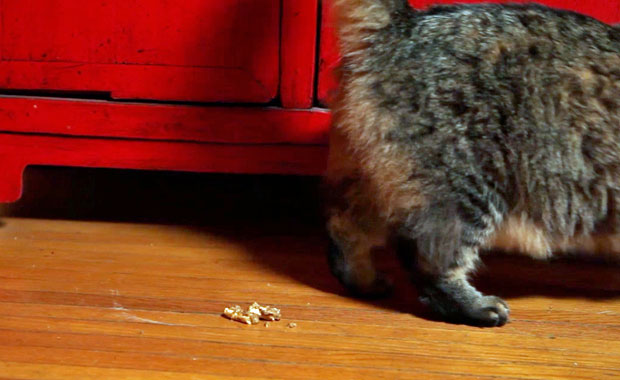 Day four, 1:15 p.m.
What have I become?
Day four, 3:35 p.m.
He's watching me and smiling. I'll bet he smells my poop and likes it. Freak.
Day four, 4:55 p.m.
I hear the humans' car coming up the driveway! This is my moment! Farewell, you elfin devil! Oh, no! This cannot be happening! It's practically the pinnacle of my victory and the dog has eaten the pile of poop! My plan is ruined! The dismantling of my pride is all for naught! And there that bastard sits on his shelf of judgement, mocking me. I am vexed at every turn. I need to go into my cat condo and sleep this off.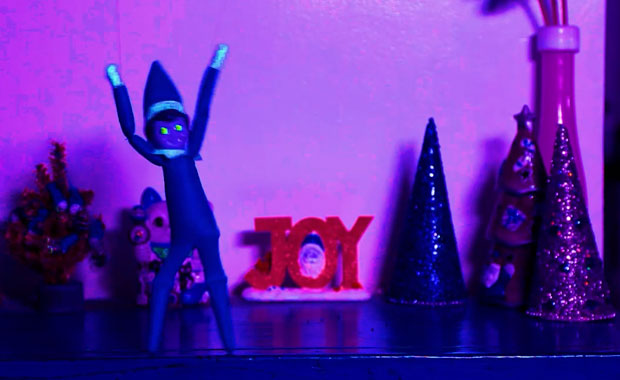 Day four, 9:12 p.m.
The nightmares! Even in my sleep that monstrous elf torments me! He leapt from the shelf and started dancing an aggravating little jig around me, and I was frozen! I couldn't move! He jumped over me, again and again, laughing maniacally. And then he ran into the kitchen and grabbed my bag of catnip. He showed it to me, and then ran to the bathroom and proceeded to flush it down the toilet! The horrible combination of laughter and the flushing toilet was more that I could handle. I started screaming, "I'm not the naughty one, YOU'RE the naughty one!"
And then I woke with a start, my heart racing and my head spinning. I nervously turned my head toward the shelf, half expecting not to see the little monster. But there he was. His round eyes seemed to narrow, or maybe I was imagining it. I give up! Go ahead, tell Santa I'm naughty, tell him I tried to kill you — I no longer care! You win, you miserable shelf-sitting jackass. I'm out.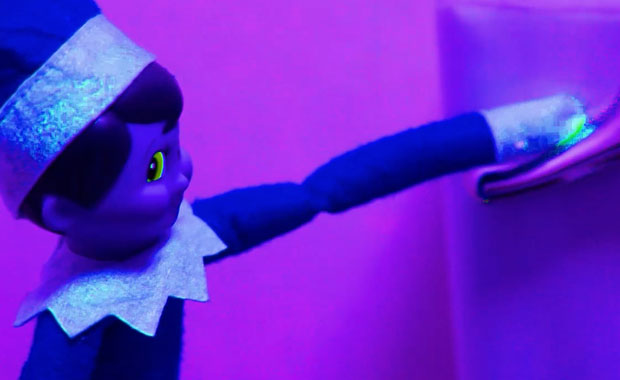 [Check back tomorrow for the final post in this Catster original holiday series!]
Read more Frank the Cat Vs. the Elf on the Shelf: