---
Can you believe that Kido the kitty was abandoned not once, but twice within the six months he has been alive? When his human friend, YouTube user moonli927, met him, he was about to be placed on a shelter's death row. Lucky for him, Kido went home with moonli927, and now he never has to worry about being taken care of again.
The folks who abandoned Kido are really missing out, because Kido is about to become a kitty superstar. We bet they're kicking themselves after seeing Kido's sweet face all over the Internet. He was even featured on Huffington Post.
Kido is either one very smart cat with ninja eyes or just very very lucky. When playing the shell game for the first time, Kido picks the right cup — three times in a row. We can't get the Catster cat to respond to her name, and Kido here just ups and plays the shell game, all while wearing an expression that reads, "I guessed it right. No big deal."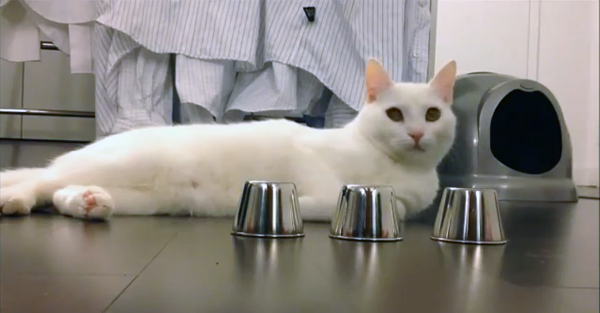 If Kido were our cat, we would go out and buy a lottery ticket right away and let the kitty pick the numbers for us.
Via Huffington Post