---
When something is sexy, we compare it to cat-like features. Dogs, on the other paw, are not sexy. Have you ever seen a cat stretched out in a spot of sunshine, eyes closed as he naps for the 10th time that day? Do you know how flexible those guys are? The way they slink around corners and rub up against your legs and purr in your arms? Sexy, right?
Dogs? Not so much.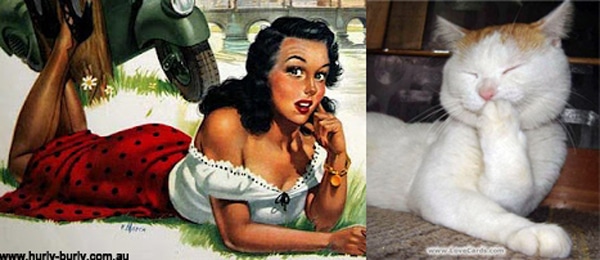 So of course there's a Tumblr called Cats That Look Like Pin Up Girls (Warning: it's NSFW). What we want to know is, really, "looks like?" Darling, these cats are pin up gals. Cats have been around longer than the pin-up aesthetic — cats invented the classic legs extended pose. Don't believe us? The proof is in the hieroglyphics. If there's anyone who knows cheesy indulgence, it's a cat.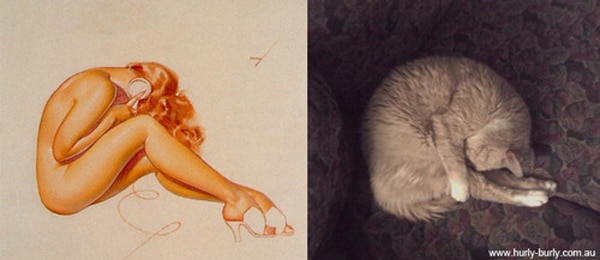 Look at your cat right now — she's probably posing, right? A cat is always on; every step is a Vogue cover. Why do we have to work so hard to get all the ferals fixed? Because they can't resist each other! Left to their own devices, there'd be like, a million cats all the time!


Cats, stop being so darn sexy.
Images via Cats That Look Like Pin Up Girls