You love your cats and are proud to tell the world, so why not show off your cat lady status with a fabulous, one-of-a-kind Crazy Cat Lady bracelet?
Sounds like something you'd love to have, right? Me too! Luckily, one Catster winner can win one today.
In one of my favorite finds yet, I came across these handmade, hand-stamped, oxidized-copper cuff bracelet from oneeyedfox. The bracelets are made with love, and each letter is stamped one at a time. Each one is a little bit different, and they can even be customized! The one we're giving away says "crazy cat lady," with a heart on one side and a paw print on the other.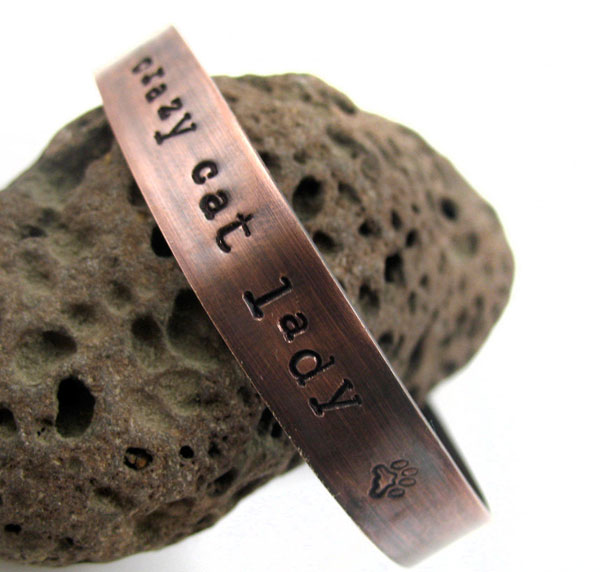 Who said cat ladies can't be stylish?
HOW TO ENTER
To enter, simply leave a comment on this post telling us you'd like to enter. (We'd also love to hear why you think you're a crazy cat lady. It won't help you win, since we're picking randomly, but it will make for some fun reads!) All entries must be received by Wednesday, April 25, at midnight EST. One winner will be chosen randomly and notified by e-mail, so make sure we have your e-mail address. Once we let you know, you have two days to respond, or we'll have to pick another winner.
Good luck, everyone!
BONUS NEWS! Catster readers can get a 10% discount off anything in the oneeyedfox shop by using the promo code CATSTER at checkout if you want to order any of the fabulous stuff! Yay for special deals!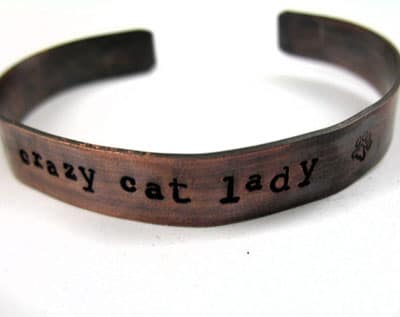 P.S. Congrats to the winner of last week's Spring Fun Pack cat toy giveaway from Nip and Bones, Joan! Her kitty Buddy has some Yorkie dog sisters who keep stealing her toys, so we hope Buddy loves all the new stuff!