Universal Letter Writing Week takes place Jan. 8 to 14, and during that time you're supposed to write a letter. On paper. Using the programming language known as handwriting. We thought about it: Maybe a cat would want to do this? We found one and asked him about it.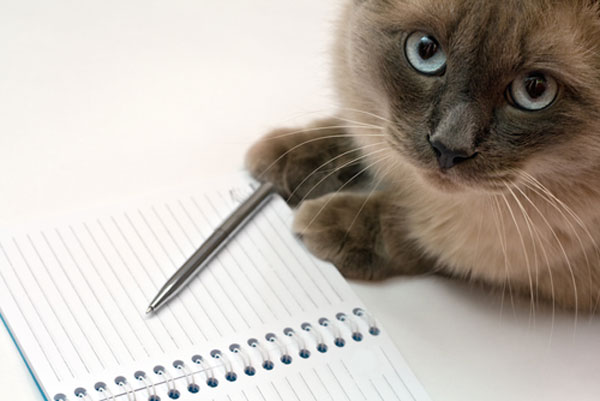 Catster: It's Universal Letter Writing Week! Do you have anyone you'd like to write a heartwarming letter to?
Cat: Yes, but I'll need a little help.
With what?
The alphabet.
I understand.
And I need thumbs.
Let me get a pen.
And a live chicken.
A pen will do. OK, who are we writing to first?
The mailman.
How exciting!
It sure is! I've thought a lot about this letter, so write all this down exactly.
Hit me.
OK, here goes: Dear mailman, If you value your life and the lives of your family, please immediately stop walking up our stoop and clanging the mail slot. Just throw the mail in the yard, please. Better yet, just throw it away. Or how about this: Just give our mail to that horrible child who lives next door and tell him to burn — hey, you stopped writing!
This isn't the spirit of Universal Letter Writing Week.
I think you're wrong there. I'm really feeling this letter.
Let's try another.
How about this: Dear fish market, please send seven (7) whole tunas to our house ASAP. Delivery on the side yard; just slide them through the cat door. Please DO NOT talk to any humans in the house; you deal solely with me, you follow? Payment will be made once I have ascertained the quality of the tunas. It could take a while, so don't stick around. Also please include three (3) gallons of clam — hey, you stopped writing again!
I think you can do better.
Really? I thought that was pretty dead-on.
It was not.
Man, you lack imagination! How about this: Dear UPS man, how's things? Tell you what, the next time you come here, I want you to bring me about 400 cardboard boxes. All shapes. All sizes. Inside each box, I want a layer of fleece. Inside each 20th box, I want a chicken. Inside each 40th box, I want a — hey, you stopped again!
This isn't Christmas.
It's his job to bring stuff!
Be nice. Write a nice letter.
OK, fine. Here: Dear Dog, I hope you are doing well. I've been thinking a lot about our situation and I believe it would be best for all parties involved if you found another home. I see so many of them out the window. What about that red one down the street? That looks like a nice home. I'll leave the back door unlocked and if you could please be out by Tuesday it would be — what? You stopped again!
We love Chester.
We do?
Dearly.
Wow, I had no idea. I thought I was doing you a favor.
You're both equals in my eyes.
Hah! What a comedian. Say, can I write a letter to my vet? I have some suggestions about what he should do for the rest of his life.
I think we're good here. I think Universal Letter Writing Week is over.
Well, we did some solid work. I'm exhausted. When do we send them?
Maybe tomorrow.
Good. I need those tunas ASAP.
Read more funny stuff: