Editor's note: Have you seen the new Catster print magazine in stores? Or in the waiting area of your vet's office? This article appeared in our July/August 2016 issue. Click here to subscribe to Catster and get the bimonthly magazine delivered to your home.
As dusk approached, the smell of dust and burning trash filled the air while we drove through the crowded streets of Haiti's capital, Port-au-Prince.
Six years after the devastating earthquake in 2010, Haiti still remains the poorest country in the Western Hemisphere.
We were traveling to a remote village an hour outside the city. I was tagging along with members of the U.S. Army's Veterinary Corps and the nongovernmental organization World Vets. This was their last stop on an 11-country tour through Latin America as part of the U.S. Navy's 2015 Continuing Promise humanitarian mission. We were here to help Haiti's pets.
On arrival, the team immediately set up its makeshift M*A*S*H unit as villagers with pets eagerly waited. Syringes were filled, and foldout operating tables were assembled. A translator shouted, "Bring your pets forward for vaccinations." A large line formed as more villagers began pouring in, some with cats in small bags and others with leashes.
"Haiti is a unique situation," explained Major Marc Knobbe, U.S. Army lead veterinarian in charge of the mission. "There is no veterinary infrastructure here, even though there are over 1.2 million pets in Haiti."
The mission's goal: to vaccinate, spay/neuter, and deworm as many cats and dogs as possible over the course of two days. This was the last day of the program before our hospital ship, the USNS Comfort, would disembark and sail back to the U.S., completing its five-month mission. There were only a few hours of sunlight left in the day to treat as many pets as possible.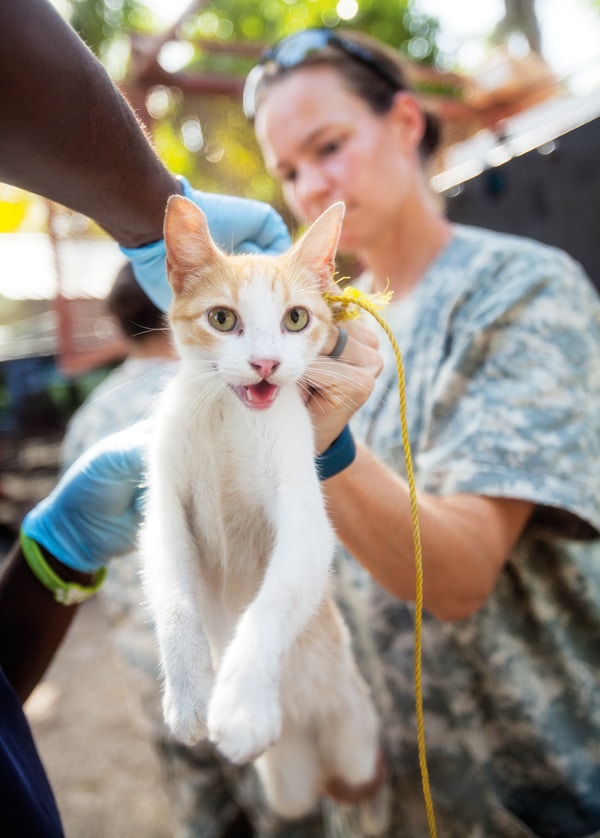 A crowd of curious people surrounded the operating tables while the team worked. The Army is the only branch in the service that has an active duty veterinary corp. The CP-15 team consisted of three Army veterinarians, two Army veterinary technicians, and members of World Vets.
Each cat was vaccinated for rabies in addition to being given an oral dewormer. Many of the cats, including some kittens, were in fragile condition, suffering from the effects of malnutrition, fleas, and wounds. Those healthy enough were spayed or neutered to help control the stray population.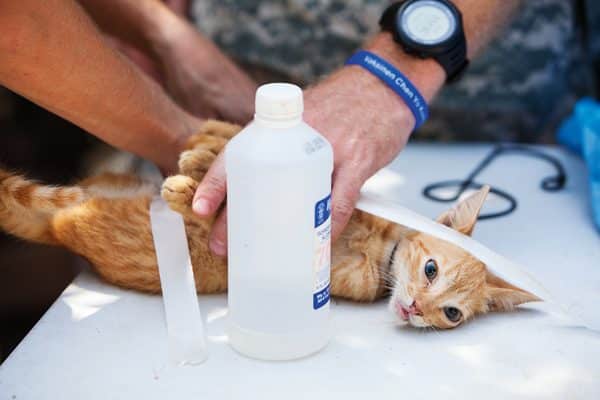 "On-site surgeries differ from those conducted in a sterile facility," Major Knobbe said. "In order to be more mobile, we use inhalation anesthesia. Working out in the open surrounded by dirt was very challenging, trying to keep things as clean as possible. We have to assess each animal prior to making the decision to operate or not. It must be in the best interest of the animal."
About the author: Alan De Herrera is an award-winning filmmaker and independent photojournalist. He has written, photographed, and produced three documentaries. He lives in Laguna Beach, California, with his mixed-breed dog, Rio.