Imagine pop culture movie characters — superheroes, action stars, sci-fi creatures … reinvented as cats. Creative, for sure. And also fun. That's what you get at Captain Feline.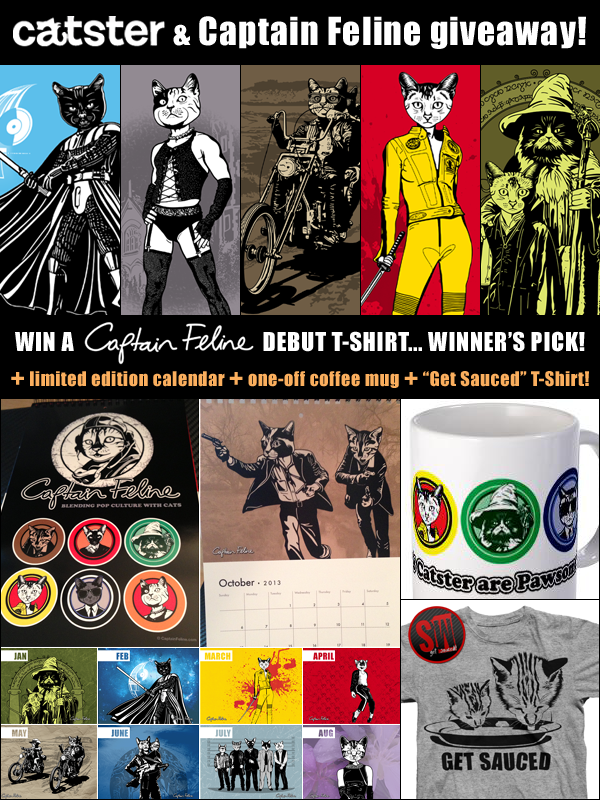 Captain Feline makes T-shirts that combine the love of pop culture and cats, and the story of how the company came to be is almost as fun as its products.
It started with a love of film. Founders Amanda and David (who don't offer their last names online anywhere we could find) met while working at a Sydney movie theater. Their mutual love of cats led them to care for two rescue kitties, Jonesy and Bunny. These two loves combined led to drawings of movie characters as cats.
They teamed up with another friend named Kelly (again, just a first name) and decided to put their project out as a Kickstarter project to see if they could raise the money to fund it, and they did. Captain Feline was in business, and the first T-shirt designs were launched.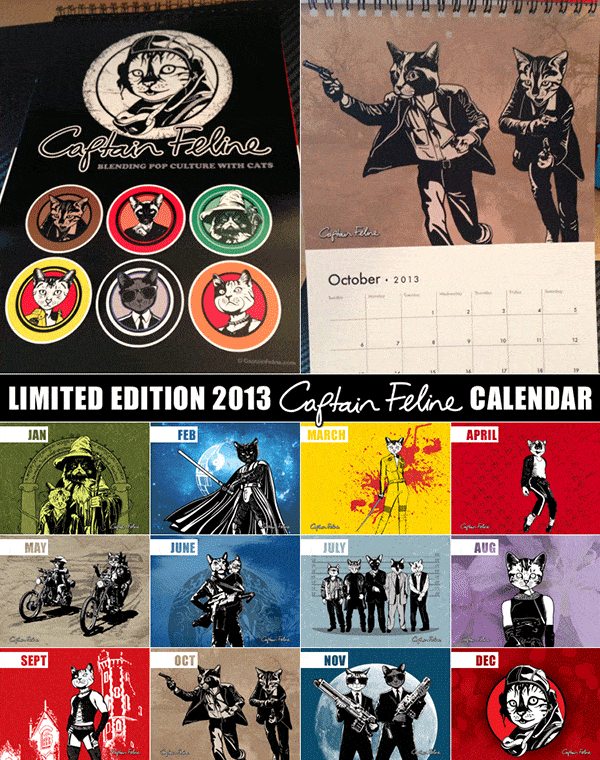 To celebrate and spread the word, Catster has teamed up with Captain Feline to give away one great big prize pack to one lucky reader. This is what you get:
ÔÇó One debut Captain Feline T-shirt (the winner can pick from five designs in unisex or women's styles).
ÔÇó One limited-edition Captain Feline 2013 wall calendar. You can't buy these. And only five exist. The calendar features the debut shirt designs and some that might go on Captain Feline T-shirts in the future.
ÔÇó A one-off coffee mug with the words "Captain Feline & Catster are Pawsome!" It was created just for this giveaway.
ÔÇó One "Get Sauced" kitty T-shirt donated by our Captain Feline partner, Kelly Murphy of Saucewear.

HOW TO ENTER
To enter to win, simply leave us a comment below saying you'd like to win this pawsome Captain Feline prize pack! (Use the word "pawsome" … it's fun!) We'll randomly choose one winner and notify you by email.
All entries must be received by Thursday, Jan. 10, 2013, at noon PST. To be eligible for the prize, use your Disqus account to comment below. Creating a profile and avatar takes just a minute, and it is a great way to participate in Catster's community of people who are passionate about cats.
(And note that if your Disqus account doesn't contain a valid email address, you can't win because we can't contact you. Boo! So please check your account.) We'll notify the winner by email, and you have two days to respond or we'll pick someone else. That's just how it goes.
Good luck, everyone!