Whenever my daughter, Holly, visited her grandmother, she would ask to play with my mother's Siamese cat. Two years ago, Oliver was 13 and entering his senior years. He had been my mother's pet since he was a kitten and was her last surviving cat. His older "brothers" had crossed the Rainbow Bridge a few years earlier.
My mother, also a senior at 85, began to have some medical issues that made it difficult for her to care for Oliver and herself. Suffering from arthritis, she was unable to clean the litter box regularly. As she became forgetful, she also did not realize how much cat food she was feeding Oliver, and he was becoming obese.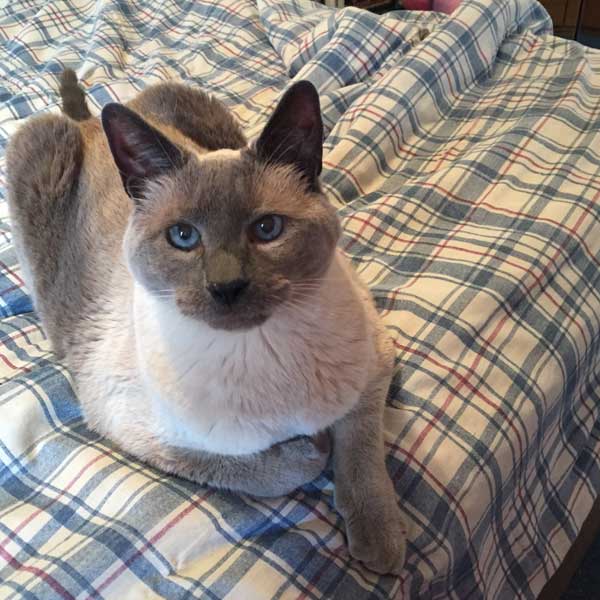 When Hurricane Sandy hit the East Coast, my mother lost electricity for two weeks. During that time, we insisted she stay at our house while we were away on a vacation that was already planned. She refused to come unless she brought Oliver. We let her bring him but advised her to keep him in my daughter's bedroom away from our own 5-year-old cat, Stripey.
While we were gone, my mother forgot to close Holly's door, and Oliver got out and had a fight with Stripey. Luckily, neither cat was injured.
Six months later, my mother fell and broke her hip. We realized that she could no longer live on her own. We were lucky to find a good nursing home where she could have the care she needed, but Oliver couldn't go with her. Holly begged us to take him, but we had some concerns. The main one was how Stripey would react to another male cat in his territory, especially one who he had already hostilely encountered. We also worried about Oliver's age and health.
The day we brought Oliver to our house, my brother helped me get him into his cat carrier and take him to the vet for a checkup. The vet assured us Oliver was healthy and just removed some matted fur on his back.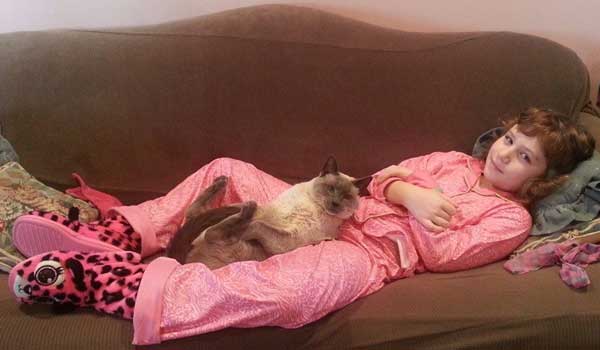 The first week Oliver stayed with us at the end of May, we kept him in our enclosed outdoor room to separate him from Stripey. The first night, my daughter brought out some blankets for him to sleep on. When we went to feed Oliver the next morning, we couldn't find him.
My daughter and I called him but weren't sure whether he would respond to us. Some storage boxes were piled in the corner by the back door. When I looked there, I saw Oliver hanging upside down wide-eyed wedged between the boxes and the door. I was afraid he was stuck, so I called my husband to move the boxes. As soon as Oliver was free, he ran around the room, unhurt but very frightened.
Holly and I both took time brushing and playing with Oliver in the outdoor room until he became more comfortable with us and his new environment. As instructed by our vet, Holly helped introduce Stripey and Oliver by rubbing them with the same rag to share their scent. Then we let Oliver inside and allowed him in the same room as Stripey for short periods until they could be together without any hissing or aggressive behavior.
While we acquainted Oliver with our household, my mom made similar adjustments to life at the nursing home. Like Oliver, she didn't know what to expect in her new environment and was scared initially. She also missed Oliver, but it made her feel better when we visited and shared photos and videos of him indicating how well he was settling in with us.
It took at least a month before Oliver and Stripey were relaxed around one another. It took even longer for my mother to feel comfortable at the nursing home with her fellow residents. At first, she kept asking when she would go home and was reluctant to attend any of the nursing home's social activities. As time passed, she asked less about leaving and started making friends. She didn't mention Oliver often, but when we talked about him, she said she was glad he had a good home.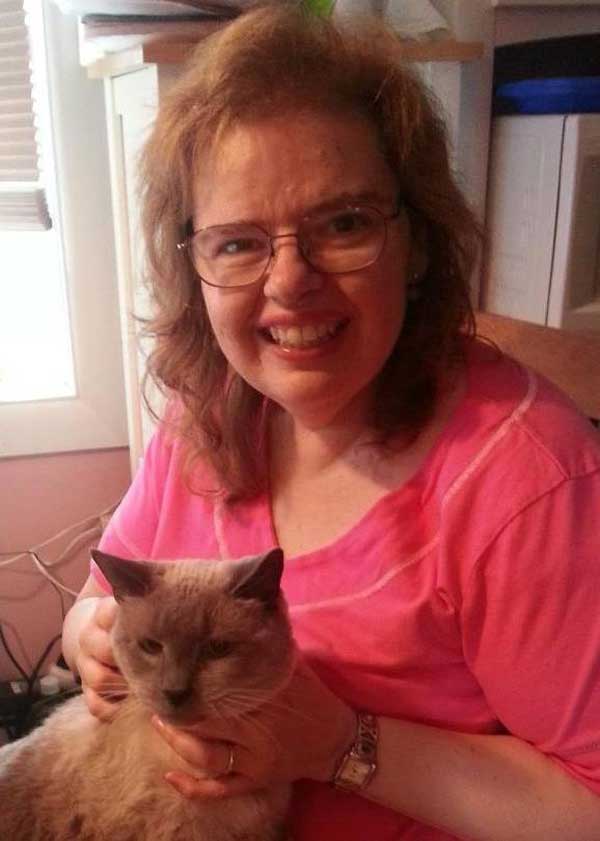 I learned several things about senior cats and senior people from my experience with my mother and Oliver. I found that aging people and pets have many things in common. I learned that senior cats make great pets even for children and especially for people who work because they require less care than a kitten. They are not as active as kittens, but, while they are slowing down, they still enjoy playing for short bursts of time. Exercise benefits them as much as light exercises help senior people maintain their muscular and cardiovascular health.
Some people are afraid to adopt a senior cat because they fear high veterinary bills or that the cat will die shortly after entering their home. This can happen with a cat of any age. So far, Oliver has only some minor health issues that aren't interfering with his quality of life. Human seniors may also be relatively healthy despite their advanced age. Due to developments in medical and veterinary care, human seniors and senior cats are living longer.
I realize that one day I will lose Oliver and my mother, but I try to make quality time for both of them and enjoy every minute we share together now. Understanding more about seniors and senior cats, I know that the later years of their lives can definitely be golden as long as they have the love and care that both humans and animals need.
About the author: Debbie De Louise is a reference librarian at a public library on Long Island. Her second romantic suspense novel, "A Stone's Throw," will be published this fall. A member of the Cat Writers' Association, Debbie has published articles in Cats Magazine and Catnip (Tufts University Veterinary Newsletter). Her short mystery "Stitches in Time" was published in the Cat Crimes Through Time Anthology. She lives on Long Island with her husband, daughter, and two cats.