This week's Monday Miracle kitty goes by the name Twister. Why, you may ask? Well, it seems that this furball kitten is trotting through life with her right hind leg bent back in on itself — not that it shows any signs of slowing her down.
Twister's story begins when she was rescued by the SPCA of Northern Nevada from animal control in Fallon. She was seven weeks old at the time and came with a sister and two brothers. It's unknown whether she was born with her malformed leg or it resulted from an injury.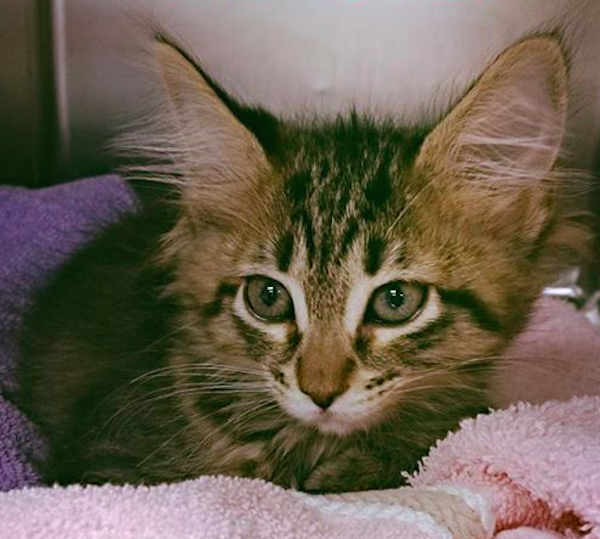 Mel Rems, the marketing and media manager of the SPCA of Northern Nevada, describes the way that Twister gets around: "She walks by placing most of her weight on three legs and uses the fourth for balance. When she is running and playing, only three legs are necessary, and typically she will drop down her 'kickstand' when standing still." (Yes, Twister has also picked up the nickname Kickstand.)
There's a chance that Twister will have to see an orthopedic vet in the future, but at the moment she's described as being able to scoot around like a normal kitten.
"She's very adventurous and likes to run, play, and climb all over the place," says Mel. "Her physical challenge has not slowed her down one bit. In fact, we wonder if she even realizes she is hindered at all."
Her personality is also top notch, with Mel calling her "the most charming, affectionate and playful kitten ever." Naturally, she also enjoys snuggling on a lap or shoulder.
With Twister's lovable demeanor and sumptuous eyes, it's no surprise that she wasted little time when it came to finding her forever home. One of the volunteers at the SPCA of Northern Nevada, Mary Dini, became smitten with her and duly scooped her up.
"Twister will be one of the luckiest and most spoiled kittens that we know of," says Mel of her new home. "Mary has been volunteering with the SPCA for a little over two years now. Her focus has been on dog walking and socialization — which is why it was so funny to see Mary sitting in the lobby of the SPCA animal center with Twister curled up on her chest for three hours when she came to walk dogs.
"We literally could not have asked for a better home for this special little girl," Mel adds. "We know that whatever challenge comes her way, Twister's new mom and dad will be fully prepared to handle it."
Visit the SPCA of Northern Nevada's Facebook page for updates on Twister's tale.
Read about more Monday Miracles on Catster:
About Phillip Mlynar: The self-appointed world's foremost expert on rappers' cats. When not penning posts on rap music, he can be found building DIY cat towers for his adopted domestic shorthair, Mimosa, and collecting Le Creuset cookware (in red). He has also invented cat sushi, but it's not quite what you think it is.