Carefully tended vegetable gardens aren't for cats to use as litter boxes, and cars weren't created to be playgrounds. Indoor cats have the right to go through life without being subject to foreign invaders — which is how they view outdoor cats.
Many cat lovers discount complaints about outdoor cats or attack right back with, "If you dare to complain, you must not love cats." That's not true. Many of those who complain have indoor cats themselves.
Anyway, it's irrelevant. People have the right to have a cat pee-free garden, to have their cars unscathed by rollicking felines, and indoor cats who can view the outside world without feeling threatened.
Tricks to keep cats at bay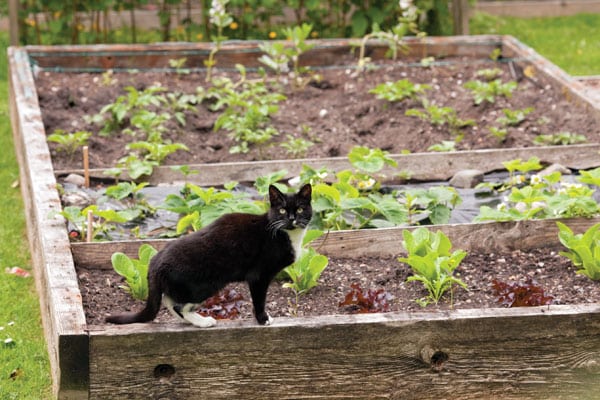 For any outdoor offenders, a motion-detector sprinkler (such as the Scarecrow, available at some hardware stores and online) might work. After all, they're cats; getting a shower might be all that's needed to dissuade future visits.
When it comes to keeping cats out of gardens, people have tried all sorts of creative methods. My favorite: lining the perimeter with balloons. How festive is that?! When a balloon bursts, the spooked kitty isn't likely to make an encore appearance.
Coyote or wolf urine may predictably make the cats think twice about a neighborhood's safety. A variety of other odors might be tried, from scattering orange peel to using lots of rocks (which cats might not feel comfortable walking on).
Community cats might effectively be redirected away from your garden, your car, or your windows by strategically locating cat food and a traditional litter box where you won't mind the cats hanging out.
For many people, any of these methods will work; others insist that nothing helps to deter outdoor cats, or they're just unwilling to try.
Dealing with community cats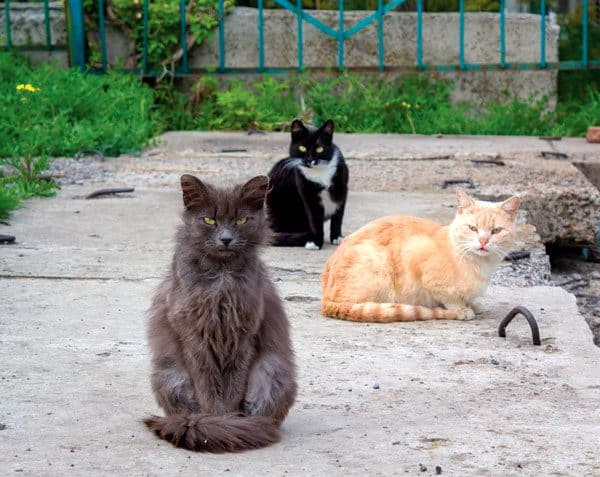 Of course, I support live trapping and relocating community cats (they often appear as a group). Before relocating they must be spayed/neutered in a process called trap-neuter-return.
While many shelters lend live traps, many don't. And who pays the spay/neuter? And what's the to relocate the cats? What about property owners who merely won't bother and can't be swayed to do the right thing?
Some communities don't even offer TNR, which means, in some places, trapping the cats and delivering them to a shelter means euthanasia.
The easy solution is to trap the cats and euthanize — but that's not an ethical response. There's also a real dollar and cents cost to euthanizing.
Research suggests that even residents annoyed by community cats don't want them to be killed.
The best long-term solution is for a community to actively support TNR as an acceptable model.
Owned outdoor cats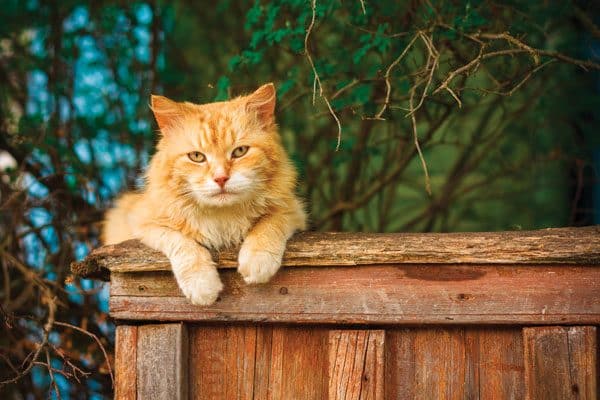 When one cat is a solitary offender, odds are it's an owned indoor cat causing the problem. Sometimes the owner is known, usually a nearby neighbor.
I always believe in attempting to have a reasonable conversation with the cat's owner and explain that your garden smells of cat urine, your car is getting scratched, or that you're now dealing with urine marking inside your own home because of your indoor-only cat's response to the intruder.
If the neighbor insists that the cat refuses to be an indoor-only cat, offer enrichment ideas to keep the cat happy inside. However, I understand that not all cats can easily be transitioned to indoors only. And, in reality, some neighbors just don't care.
If you know the cat is friendly and likely owned by someone nearby — but you're unsure who that is — attach a note to the cat's collar. When the cat returns home, the owner will read about your concerns, and, hopefully, do something about it.
I'm opposed to communities mandating cats be kept indoors but prefer encouraging indoor-only cats via an ordinance. To further encourage this notion, if a known owned cat does damage, the cat's caretaker pays.
I realize that many cats allowed outdoors their entire lives might be a challenge to acclimate to indoors only. But the notion that cats are "meant to be outdoors" is just wrong in today's urban society and not in the best interest of cats. Dogs don't roam outdoors; cats shouldn't either.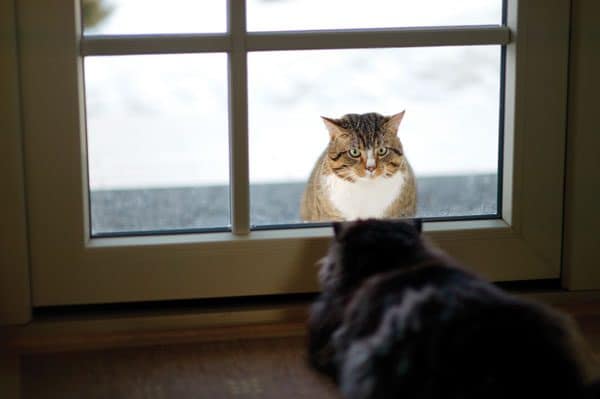 Indoor/outdoor cats aren't likely to live as long as those who are inside only, due to a myriad of threats including cars, coyotes, fights with other cats, and, without appropriate vaccines to protect against retroviruses and flea/tick protection.
While you may think that national bird protection groups sometimes exaggerate the numbers killed by cats, the reality is that even well-fed outdoor cats do kill some birds and other wildlife.
It's all a tricky issue: navigating neighbor rights with cat welfare. Killing cats isn't right. But, people have rights, too.
---
Feature Image Credit: Kyselova Inna, Shutterstock