Four cats live in my house these days, and they share the feline bathroom facilities. With the exception of a few accidents when the largest cat miscalculated the size of the box, all four of them use the litter box consistently. I consider myself lucky in that regard because I know litter box behavior can be affected by many issues.
"The relationship to the litter box is more complicated than just an elimination spot," said Pam Johnson-Bennett, certified cat behaviorist and owner of Cat Behavior Associates (catbehaviorassociates.com). "It's important to look at your cat's litter box setup from his perspective to make sure it meets his needs and not just your convenience."
Johnson-Bennett noted that cats have individual affinities when it comes to the litter box, from the size of the box and type of litter to the location of the box. A cat's age may also affect his preferences.
"The needs of a young kitten may be different from the needs of an adult," she explained. "The needs of an overweight or senior cat may be different from those of an active young cat."
Each cat has individual preferences, but, in general, you can increase your chances of success by following these guidelines.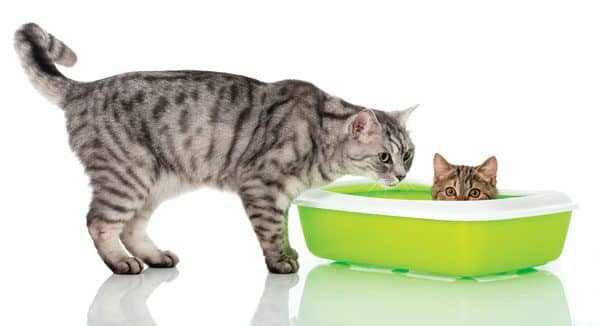 Kittens
Kittens are still in the learning stages when it comes to the litter box, Johnson-Bennett said.
"If you're bringing home a kitten, stick with an unscented, scoopable litter," she added, noting that it will help prevent the kitten from becoming confused by a scented litter or one with a strange texture. "Make it as easy as possible for the youngster."
Put the box where your kitten can easily find it. Young pets are still learning how to control their bladders, so making the box convenient to use is imperative.
Don't worry: If your young cat misses the box a time or two, he's probably still learning the ropes. Gently place him in the box while giving him a pep talk, and encourage him to scratch at the litter. He'll catch on quickly.
Be concerned: When you first bring home your new kitten, keep an eye on him when he uses the box. If he shows any signs of pain or discomfort, take him to the veterinarian right away.
When your kitten becomes used to the litter box routine, keep the box in the same place, and continue to use the same litter.
"Cats are creatures of habit, so don't make abrupt changes in the brand or type of litter you purchase," Johnson-Bennett said. "When kitty enters the litter box, he will expect to feel the same texture on his paws he felt yesterday."
When initially deciding where to put the litter box, consider your cat's point of view. Avoid placing it near his food and water dishes, and select a location where he feels like he can easily escape if necessary. While you may be tempted to place the box in a spot away from your everyday living areas, such as a basement, your cat may not want to travel to a spot quite so far away to take care of business. Keep the box in an easily accessible location.
When our household went from two cats to four, we increased the number of litter boxes to accommodate the needs of all the adult cats. The ideal number of litter boxes available in a household typically equals the number of cats in the home, plus one more.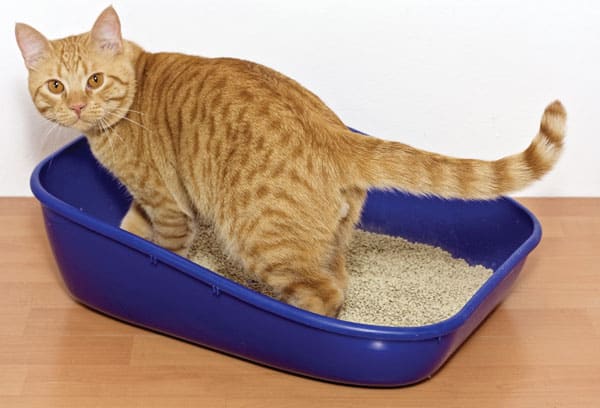 Adults
Litter box behavior for an adult cat should be fairly consistent if the box is in a spot the cat prefers and is filled with a litter he likes. Further encourage regular use of the box by keeping it clean.
"The litter box should be scooped at least twice a day," Johnson-Bennett said. "A dirty litter box is like an unflushed toilet."
Don't worry: Sometimes accidents happen. If the incident is a one-time occurrence or the result of a misplaced posterior, just clean it up and move on.
Be concerned: If your adult male cat visits the box frequently but does not seem to be actually "going" while he's there, or if you notice blood in the litter box, your cat may be showing signs of feline urinary syndrome. Take him to the vet right away.
Seniors
As a cat ages, climbing in and out of the litter box becomes more difficult due to arthritis or other age-related conditions. Provide a litter box with lower sides and keep it in a room that he can easily access.
"If he has trouble going up and down stairs, don't place the box in the basement or in a spot that's difficult for him to access," Johnson-Bennett said. She also recommended placing a box on each level of your home to make it easier for your senior to get to the box.
Don't worry: If your senior cat occasionally misses the box, gradually introduce a new box in a location that's more convenient for him. Place an additional box in the new location, and slowly but surely move the old one closer to the new one until the two are side by side. When your senior is using the new box consistently, remove the old one.
Be concerned: Sometimes older cats suffer a decline in their cognitive function, and your cat may truly forget where he should go to the bathroom. If you notice memory problems and confusion in your cat, schedule a veterinarian visit as soon as possible.
About the author: A lifelong cat owner, Stacy N. Hackett writes about cats, cat breeds, and pet-related topics. A big source of inspiration comes from her two adopted cats: Jack, a 6-year-old red tabby domestic shorthair, and Phillip, a 2-year-old gray-and-white domestic shorthair. Stacy also is "stepmom" to a Cocker Spaniel/Labrador Retriever mix named Maggie as well as two brown tabbies named Katie and Leroy.