I know it's kind of a thing in some circles to dress cats in fancy costumes, put tiny little hats on their heads, and generally bling out these naturally beautiful creatures.
If you're into that kind of thing and your cat tolerates it, great! No harm, no foul. In the video below (which you might have seen), for example, the cat wearing a shark costume who's riding a Roomba and chasing duckling seems just fine in his great-white garb.
Keep in mind, however, that cat is in a familiar environment during the day without potentially frightening factors such as guests and trick-or-treaters. (More on that in a minute.) If you're considering getting a Halloween costume to put on your cat for the first time, I'd urge you to think twice.
If your cat isn't accustomed to being dressed up, forcing her into a costume is a trip through feline hell.
Cats don't just use their eyes to find their way around; they use their ears, noses, paws, and even all the fur on their bodies. Putting clothes on a cat who's used to running around in the costume the creator gave her deprives her of the full range of her senses.
Cats may be predators, but they're small, and they know they're prey animals, too. When you block a cat's ability to detect what's around her, and you limit her natural range of motion by decking her out in a jacket and tie, a frog costume, or devil horns, you're causing her untold stress.
If you think your cat doesn't like wearing a collar or harness, just wait until you see her react to wearing that oh-so-cute little getup you bought at the pet store.
A lot of costumes, especially the more cheaply made ones, have parts that your cat can swallow, leading to a range of consequences from an embarrassing case of string-butt to potentially fatal intestinal obstructions.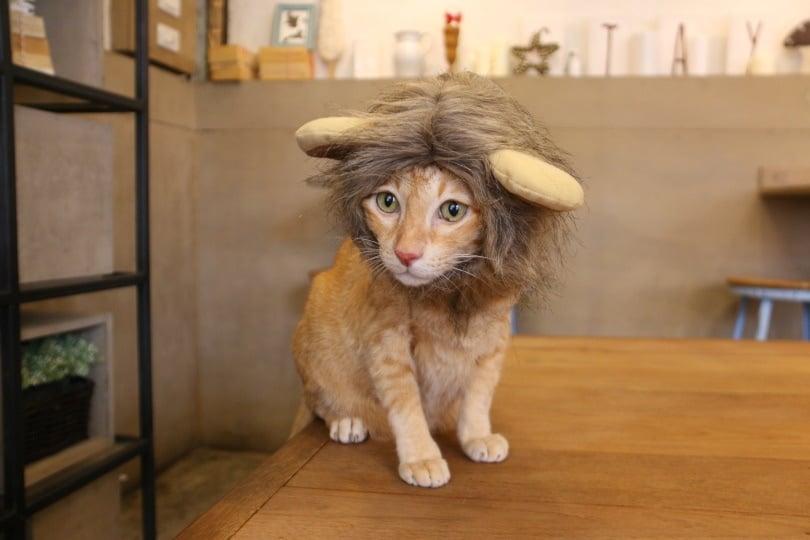 It's all fun and games … until somebody ends up at the emergency clinic.
Are Instagram shots of your cat in a $5 costume really worth a $5,000 vet bill? I'm not exaggerating. I work for a pet insurance company, and every day I see claims for cases of foreign body ingestion.
Here's another thing: What happens if your costumed cat escapes while trick-or-treaters are knocking on your door and you're handing out candy? Not only are you dealing with an escaped cat, which is difficult enough, but also an escaped cat who is freaked out by the noise and chaos and handicapped by a costume that limits her movement. This sounds like a recipe for disaster to me.
If cats don't like being dressed, up, they'll tell you. Below is what happened to Catster writer Angie Bailey in 2013 that led her to stop dressing up her cats.
If your cat has been wearing costumes since she was a kitten, and she doesn't stress out about it, I don't see the harm, even if I do think the whole idea is kind of silly. But please, don't just randomly decide it'd be awesome to shove your cat into a geisha costume and expect it to end well — for you or for your cat.
Have you ever dressed up your cat? How did it turn out? Would you do it again? If you've not done it, would you?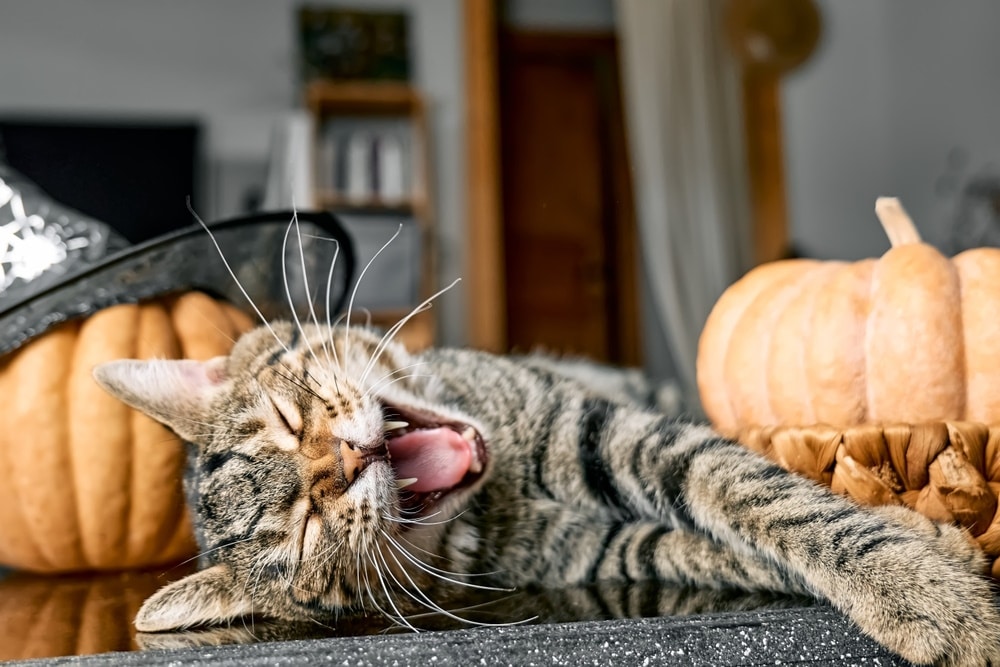 About JaneA Kelley: Punk-rock cat mom, science nerd, animal rescue volunteer and all-around geek with a passion for bad puns, intelligent conversation, and role-play adventure games. She gratefully and gracefully accepts her status as chief cat slave for her family of feline authors, who have been writing their award-winning cat advice blog, Paws and Effect, since 2003.
---
Featured Image Credit: Konstantin Zibert, Shutterstock