In July 2007, Best Friends Animal Society rescued more than 800 cats from an abandoned shelter in the desert town of Pahrump, Nevada. Many of the cats were sick and starving, having lived outdoors in the blazing heat without food, water, or shelter. Volunteers worked for days to trap the cats, nurse them back to health, and provide medical care.
As the world's largest single cat rescue ever attempted, it's known simply as the Great Kitty Rescue.
News about the Great Kitty Rescue spread, particularly the image of a black-and-white kitty named Cover Girl, who was walking away from the camera looking emaciated, forlorn, and hopeless.
It was this shocking image of Cover Girl that inspired Sheila Smith to pick up the phone and find out how she could donate money to help. In 1997, Smith co-founded Shadow Cats Rescue in Round Rock, Texas, along with her husband, Roy, a veterinarian and president-elect of the American Association of Feline Practitioners. (Shadow Cats is also on Facebook.) At that time, Shadow Cats mainly focused on trap, neuter, and return efforts in feral cat colonies.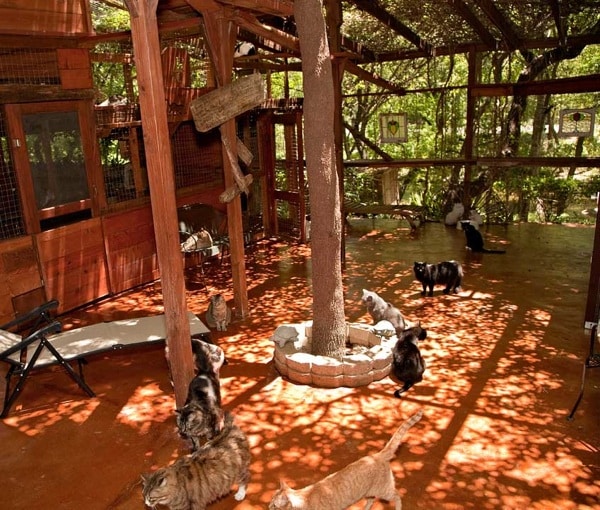 "A lot of people in the general public don't know a lot about feral cats and don't even realize that so many feral cats and cat colonies exist," says David Murphy, Shadow Cats' director of sanctuary operations. "The feeling was that these are the cats who live in the shadows."
When Smith found out that Cover Girl was still alive but infected with feline leukemia, which is extremely contagious, and that the cat had nowhere to go, Smith invited her to live at Shadow Cats ÔÇô- along with 16 other FELv-positive cats from the Great Kitty Rescue. Murphy started volunteering shortly after the cats arrived, when the primary focus of Shadow Cats was shifting from TNR and adoptions to providing lifelong care for "unadoptable" cats.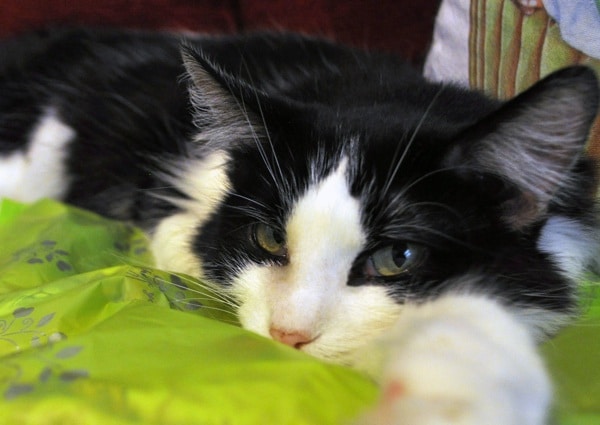 "We decided that was kind of our niche ÔÇô- providing lifetime care to the cats who were older or had medical issues or behavioral problems that are probably going to keep them from ever being adopted," Murphy says.
Many of Shadow Cats' first permanent residents were cats who had been trapped but could not be returned to colonies due to age, disability, or illness. Because the sanctuary is located in the Smiths' home, they have expanded and built multilevel, indoor, and outdoor enclosures as they've taken in more cats. Since 1997, Shadow Cats has spayed and neutered more than 3,000 cats, found adoptive homes for more than 500, and given sanctuary to more than 200. According to Murphy, "there are no rooms that don't have cats." This unique, homelike setting is welcoming to cats and volunteers alike -ÔÇô Murphy knew on his first visit that Shadow Cats was where he wanted to be.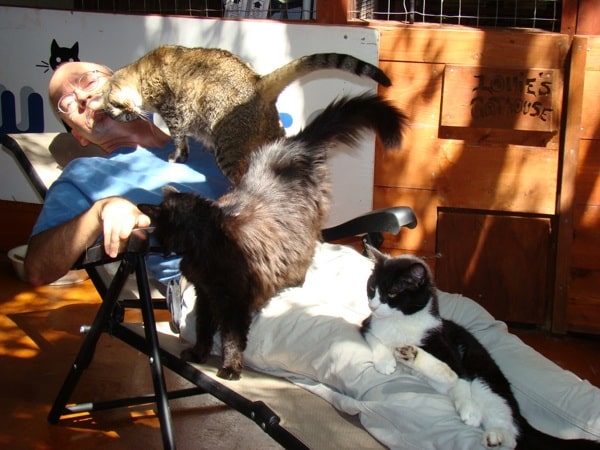 "When we have people come volunteer at our sanctuary, they really get to know these cats," he says. "After they've been coming here for awhile, it's just like they have 80 more cats of their own."
During his time as a volunteer, Murphy has become particularly attached to an FELv-positive cat named Polly, who was saved during the Great Kitty Rescue. After cats are infected, their average lifespan is approximately five years; Polly has been living in Cookie's Place, the special sanctuary for feline leukemia cats, for five years and is still going strong.
Get a full tour and meet the cats, then scope the scene at Cookie's Place via the live kitty cam. With her distinctive black-and-white coloring, Polly is easy to spot; Murphy says her favorite spot is on the couch.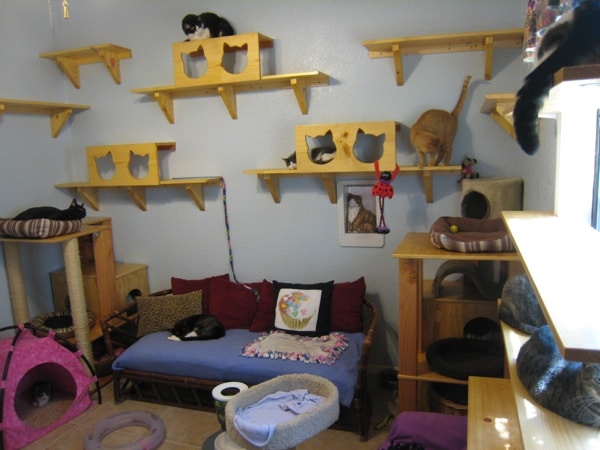 "I think most of our volunteers would agree that the feline-leukemia cats in particular ÔǪ are just extra special, sweet cats, and I think it's because if they weren't with us, they probably wouldn't have a life at all," Murphy says. "Every cat at Cookie's Place kind of won the lottery. They get to live out their life in a wonderful setting, and it's a real privilege to know the cats and be able to care for them and help them have the wonderful life that they really deserve."
Though Shadow Cats' main focus is on lifetime care, they do celebrate the occasional adoption. One of those celebrations was thanks to Murphy himself ÔÇô- on his first day at the shelter, Sheila Smith introduced him to a one-eyed kitten named Blossom, whose mother had been hit by a car and killed while carrying her across the road.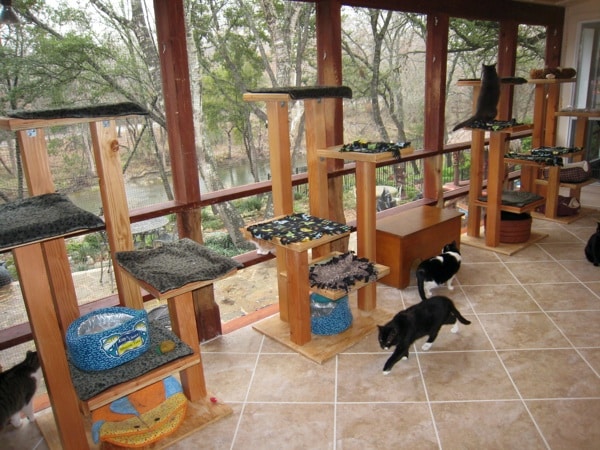 "We'd been talking about getting another cat, so I brought my wife back up to meet Blossom, and one thing led to another, and pretty soon Blossom was going home with us," Murphy says.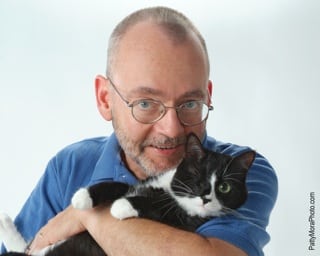 Blossom fits right in with the Murphys' other three cats, who all live happily together ÔÇô- and occasionally travel with the family in their 23-foot camper. In addition to coordinating volunteer efforts for Shadow Cats, Murphy takes photographs, does handyman work, updates the website, and writes cat bios. He also posts a regular feature called Blossom's World, which narrates his adventures from Blossom's point of view. (Hint: Traveling with four cats is pretty awesome.) Through his work, he has come to share a common purpose with animal rescue advocates nationwide.
"One of the neat things about being in animal rescue ÔÇô- whether it's cats or dogs or any kind of animal ÔÇô- is you become part of this group of people all across the country," Murphy says. "Everybody is out there working for the same cause, and there are just so many wonderful things going on."
Do you know of a rescue hero ÔÇö cat, human, or group ÔÇö we should profile on Catster? Write us at [email protected].