Perpetual old man and occasional writer William S. Burroughs was asked whether he had any regrets in life. His answer? "Practically everything." Unlike Bill, I haven't shot and killed any close family members, but like Bill, I do have regrets. Regrets about pets. Pet regrets. Re-pets.
As a younger and far more stupid man, and after a brief bout of homelessness, I moved into a flat with some friends in South London. The friends were unaware of this. I sort of popped by to borrow some Splenda and didn't leave.
For a spell, I lived behind the sofa in a sort of pit-cum-shanty. Eventually, after a series of unfortunate and heightening incidents not wholly attributed to me, one of the less robust housemates left and I graduated to an actual room — with doors, and windows, and walls that weren't hastily assembled from furniture and torn sheets.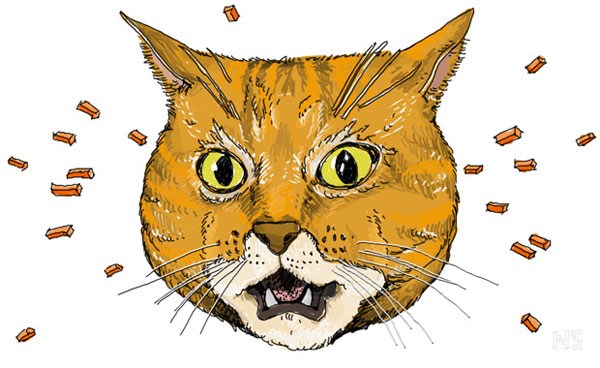 I lived with a couple and they had a cat, the Count (name changed to protect the furry). And it is toward this marmalade terror that my regret lies. I was convinced that this cat had a personal vendetta against me, my possessions, and the very fabric of my life. I was sure it had decided to embark on a campaign of terror directed at yours truly. No one else was affected. I was the target.
As an older and more sober gentleman, I realize that the Count was simply a cat and not driven to upset, deride, and inconvenience me. Because he was a cat. Doing catty things, which I mistakenly took personally. The animal did not have an agenda. But it certainly felt that way at the time.
The Count seemed to particularly enjoy destroying my records. And not just the sleeves of my records, but the vinyl itself. And not just the vinyl belonging to records I could happily do without, but the high-value pieces. Bootlegs, rarities, original pressings. Keystones to an artist's oeuvre. It was as if the kitty sprouted an opposable thumb and spent hours trawling the reference section of Goldmine magazine, trying to unearth the big-ticket items whose trashing would be most emotionally damaging.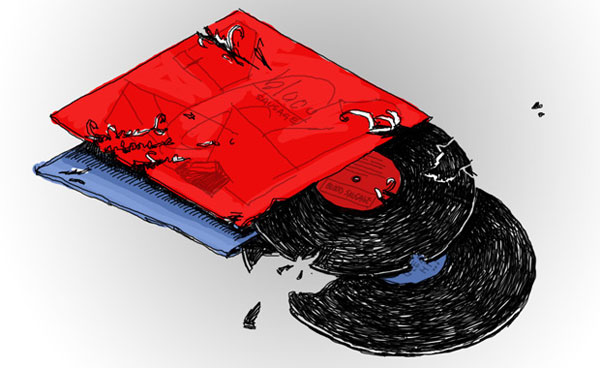 He also picked up the rather distasteful habit of ramming his claws into the soles of sleeping victims' feet. I say "victims" because I didn't want all this to be just about me. But to make it clear, it was all about me. In terms of unpleasant ways to be awoken, this grades quite highly. No mewing, no padding, no clues of the horrors to come. Just straight-up claws out followed by the sudden screams of the innocent.
And he was a starer. He would stare at me. For hours. Staring. And plotting. Or judging. Or mocking. It looked like an attempt to char my soul by the very force of his gaze. It wasn't a stare of hate, but just a sort of vague, casual distaste. The way you would look upon a particularly inadequate street performer. Or at a man relieving himself against a laundromat.
And the Count won every time. No matter what tactic I adopted -ÔÇô ignoring him, outstaring him, placing items between his line of vision and my face — I would still feel it burning. I would leave the room, close the door, place a pillow over my head, and I could still feel it. I'd creep back and peek around a tiny crack in the door, and sure enough his eyes were already at the place my eyes were about to arrive at. It was an extraordinary skill, squandered on a mere feline.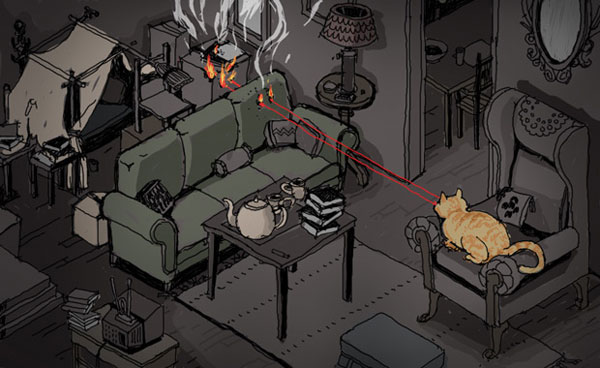 I let the cat get to me, and for this I have regrets. I didn't retaliate. Very much. There would be the occasional forceful removal of him from my room, and sometimes I altered the Count's name to resemble an insult along gynecological lines. But I put that down to the follies of youth. And I don't believe that either bothered the cat. In fact, he seemed to thrive on my pain and frustration, using it like fuel, or a bile-drenched supplement to his kibble.
The house eventually fell apart: The couple split up, I moved to America, and the Count left my life. But his memory lingered and my regret grew. I'd projected flawed human behavior onto the hapless Count. I'm the same way with everything. Even inanimate things. You can often find me trying to coax a positive action out of a shredder or septic tank by trying to talk reasonably to it. This is because I'm an idiot.
So forgive me, Count, wherever you are. You were a cat, I was a man, and I overestimated you. I have been educated and have moved on. For one thing, I switched to MP3s. They're much more durable.
Got a Cathouse Confessional to share?
We're looking for purrsonal stories from our readers about life with their cats. E-mail [email protected] — we want to hear from you!