Editor's note: This story originally appeared in the May/June 2016 issue of Catster print magazine. Click here to subscribe to Catster magazine.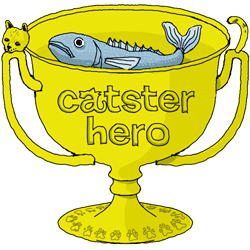 A sign near the entrance of Animals in Need Thrift Store in Riverside, Missouri, declares the decades-old storefront is a "junk-hunter's paradise." A quick stroll around the joint does not disappoint: Rows of shelves are lined with eclectic goodies, curios, and groceries galore. Boxes of Little Debbie snack cakes are on display down the aisle from colorful stained-glass garden ornaments. Donated clothing hangs on racks near stacks of Spanish-language CDs and old Elvis records.
It's just like any other thrift store — except for the three cats stretched out on the counter by the register. As thrift store owner Al Richey rings up customers, he works around the kitties, who gladly accept attention from the people waiting in line. Between customers, Al offers one of the kitties a few treats, coaxing him to eat.
The friendly felines seem completely comfortable with the hustle and bustle of secondhand commerce. These cats are among the 15 who call the store home, including a 20-year-old kitty with chronic digestive issues and a gorgeous orange tabby with ice-blue eyes. The store's volunteers also feed and care for a colony of feral cats who live nearby.
Al said his store's permanent residents are considered "unadoptable" due to a variety of health and behavioral concerns or because they were undersocialized and have simply been abandoned.
The good news, of course, is that these cats all have a happy forever home at the thrift store — and shoppers may just get a little company while browsing the racks of sunglasses and discounted holiday décor.
"If you like animals, you're happy, and if you don't like animals, you're not," Al said, laughing. "That's the key here."
After operating a national surplus store for nearly 25 years, Al retired several years ago — sort of. Instead of closing his store, he redefined its mission. Twenty-five volunteers, including special-needs high school students, work at the store, and 100 percent of the proceeds go to helping sick or homeless animals in the Kansas City area.
After he switched gears, Al's role in the cat rescue community grew. Animals in Need started off featuring adoptable kitties on weekends, but soon people came in all week looking for cats. Then Al started getting calls from individuals who wanted to surrender their cats for adoption — and some people simply dropped their unwanted pets off at the store.
In 2013, the organization spent more than $70,000 on veterinary care alone — and played a role in sending more than 500 cats to their forever homes. "We had the advantage that people came in here for a box of Little Debbies and walked out with a cat," Al said. "Regular shelters don't have that advantage — you've gotta want a cat when you go to a cat shelter."
Unfortunately, Animals in Need is no longer able to do adoptions, so the focus has shifted to spaying and neutering. In 2015, 1,207 cats and dogs were spayed or neutered thanks to a partnership with Northland Animal Welfare Society, preventing nearly 50,000 unwanted pets from being born. Last year, Animals in Need also implemented a program to help Kansas City residents who can't afford pet food or veterinary care, helping approximately 100 people feed and care for their animals.
"We're saving lives," Al said. "We've rescued so many animals and seen kittens with their eyes swollen shut and upper respiratory [infections] and those things — and those cats never should have been born in the first place just to die such a horrible death. Ultimately, we'll have 40,000 to 50,000 less animals born in this area every year, and, in time, that should reflect itself in the number of animals who get surrendered or [euthanized]. That's our goal — and we're trying to get more people to do it."
Al estimates that roughly 10,000 individuals in the Kansas City area do what they can to care for the city's large population of homeless animals, and he and the volunteers at Animals in Need — as well as the countless individuals who donate time, money, and cat food and litter to further their cause — are part of that.
"It takes a village," Al said. "I always call it the village of 10,000. If you were the wealthiest man in the world, you couldn't take care of all the cats in Kansas City. But there are 10,000 people doing that. And we're just part of the 10,000 — part of the village."
Follow the store on Facebook.