Cats love laundry baskets. (Duh.) My Phoebe was born with fresh-laundry detection skills. She can be anywhere in the house and as soon as I place a basket of the good stuff on the floor, she's all over it. Even if there's no warm laundry to be had, my cats openly pledge unconditional love to the basket.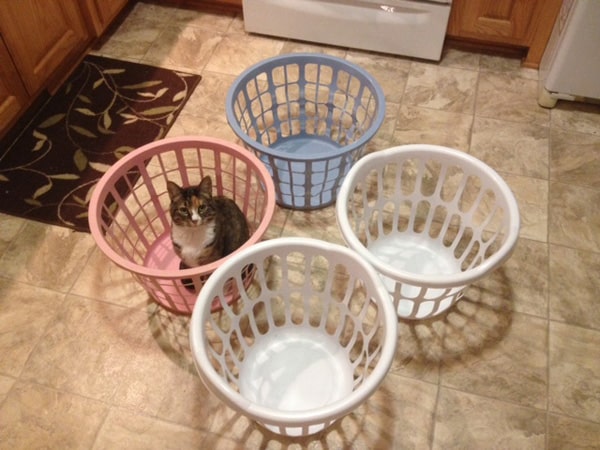 Personally, I don't see the big deal about baskets. The pile of clothing itself is far more comfy than folding myself up like a won ton in a plastic container. Trust me, I tried.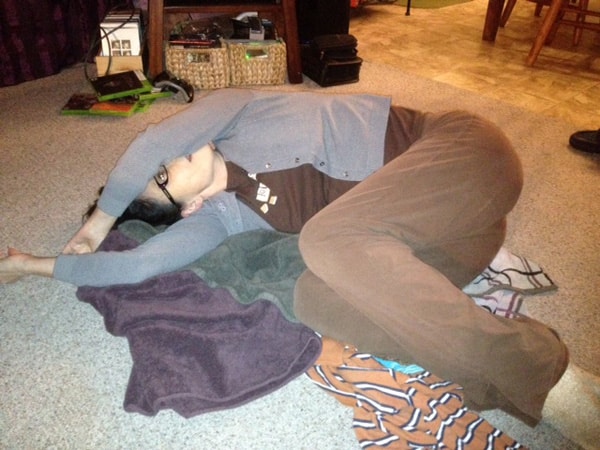 Cats, on the other hand, somehow find a multitude of reasons why they think baskets are just plain awesome. Here are six of them:
1. Peep holes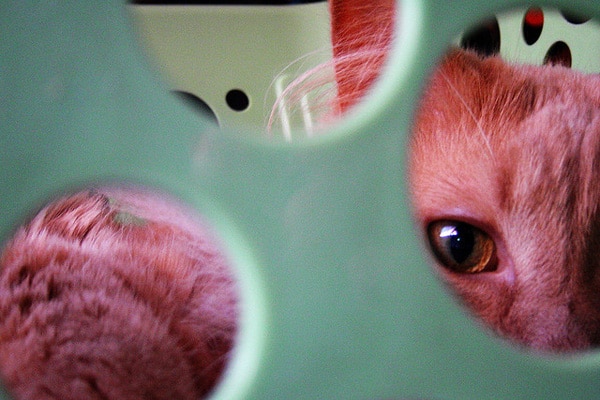 Cats are pretty sneaky, and the holes that usually line the sides of laundry baskets are the perfect little windows for kitties to keep tabs on the goings-on in the house. This is how they know we've left our pizza and glasses of water unattended.
2. You see nothing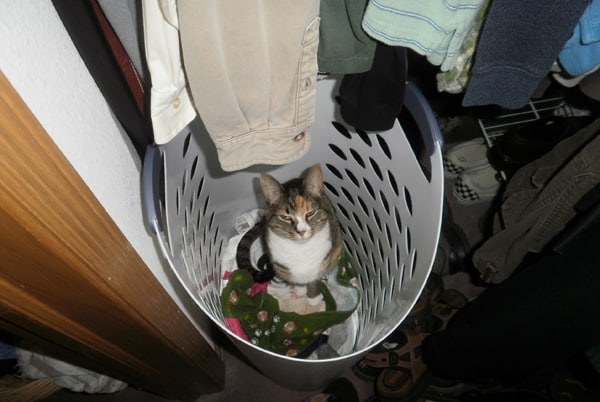 Cats think tall baskets make them invisible. The funny part is, they don't realize the whole basket is usually covered with holes, so they really aren't hiding much at all. We won't tell them that, though. I often open the closet door and find Phoebe sitting in the basket just like this. Sometimes she's even sitting in complete darkness. Why? Cats are so weird.
3. Close quarters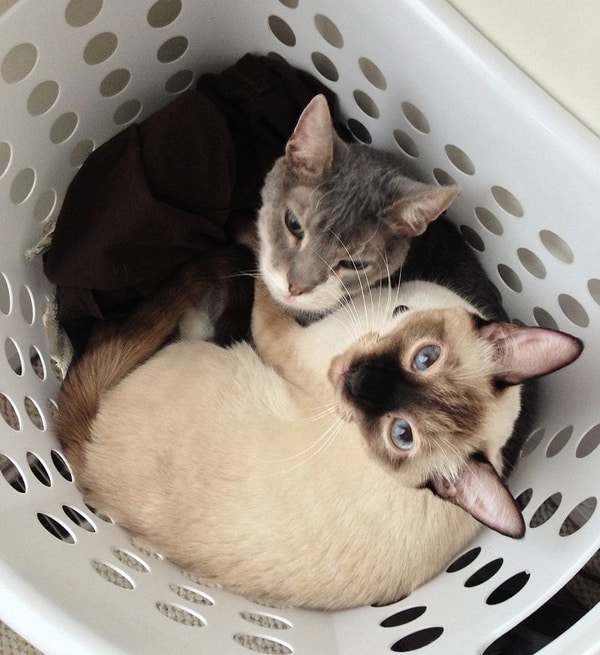 Laundry baskets provide the perfect hideaway for clandestine cuddles. Cats love tight spaces and a cozy plastic love nest is just begging for up close and personal feline-to-feline fondling, bathing, and catnaps. At a friend's house, I once saw three cats chillin' in a rectangular laundry basket. When I approached them, they exited that thing like clowns piling out of a tiny car. Cue circus music! It was high-larious.
4. Expandable lounge area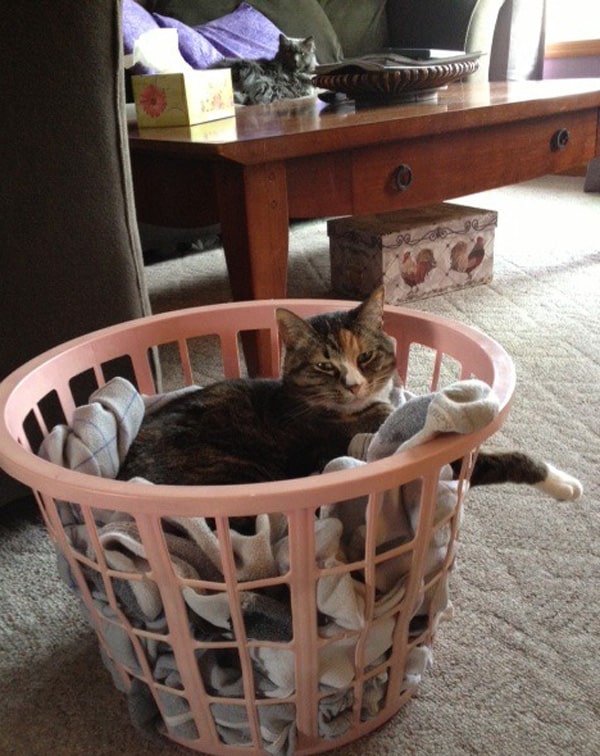 Yes, cats love the tight quarters a laundry basket provides, but sometimes they feel the need to stretch a bit. Thank heaven for holes! There are no shortages of little openings all over most of these baskets, so kitty can expand her lounging space. They must keep in mind, however, that any protruding limb is fair game for humans to grab, kiss, or squeeze. And yes, we know where those feet have been. In the above photo, do you see Saffy sitting on the sofa, watching Phoebe leisurely lounge? That cat's sick with jealousy. She wants armholes of her own.
5. Howdy, neighbor!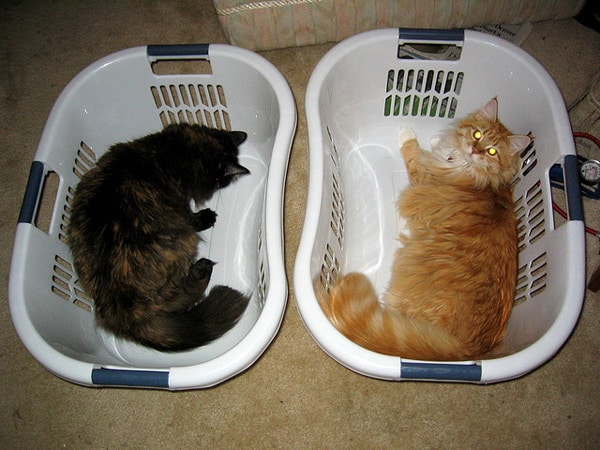 Side-by-side baskets present loads of opportunities for cats to play "pretend." They could imagine they're neighbors and gossip through the "windows." They'd borrow cups of catnip and plan neighborhood block parties. They could also pretend they're in the big house, play the harmonica, and bang their metal cup against the "bars." They'd pass bootleg nip and plan cell-block parties. What? You don't think cats can play the harmonica?
6. The rare-and-endangered "double stack"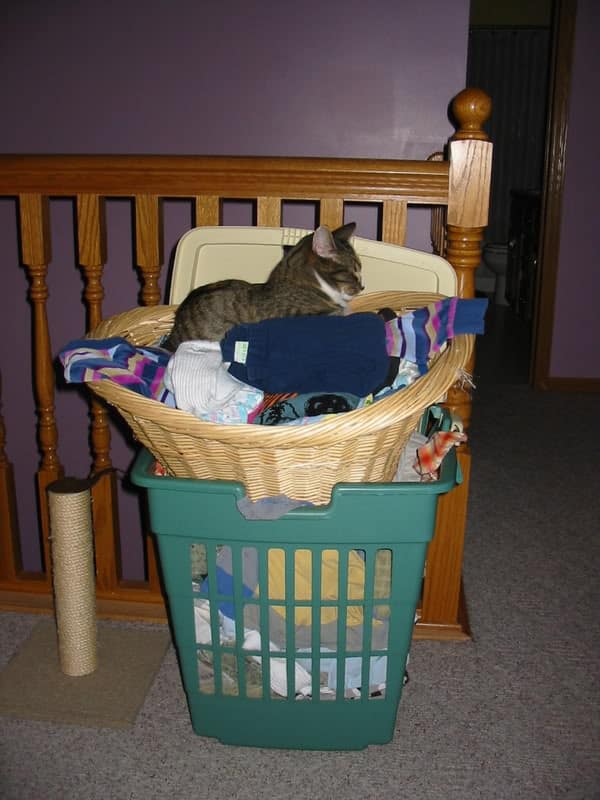 Cats don't want to be greedy, but — hold on, of course they want to be greedy! Who's more self-centered than a cat? A basket full of fresh laundry is the bomb, but the rare double-stack basket is a veritable explosion of comfort! I can just hear my cat settle down into the cushy luxury: "Ohhhh, my precious …" The above picture is also photographic evidence that I always need to fold laundry. As you can see, Phoebe obviously disagrees.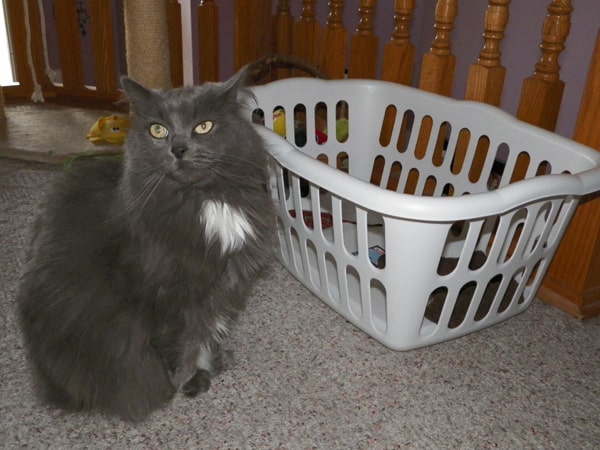 Why does your cat love laundry baskets? Tell us about it in the comments!
++++
About the Author: Angie Bailey is a weird girl with freckles and giant smile who wants everyone to be her friend. Loves pre-adolescent boy humor, puns, making up parody songs, and thinking about cats doing people things. Wrote a ridiculous humor book about cats wheeling and dealing online. Partner in a production company and writes and acts in comedy web series that may or may not offend people. Mother to two humans and three cats, all of which want her to make them food.
Read more by Angie Bailey: