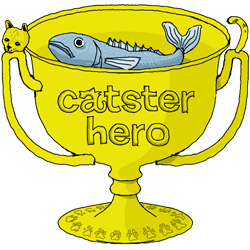 The story below is written by Kelly E., a good friend of mine and fellow parking-lot kitty caretaker. She shares what I think is an extraordinary story of going above and beyond to help an outdoor cat. — Dorian Wagner
A lot of people think that I am crazy. I think that I did the only thing that made sense, the only humane, compassionate thing to do.
You tell me who is right.
My name is Kelly. I have been at my present job for a little over four years. I was here for only a few weeks when I noticed there was a cat in the parking lot. I put some cat food in my car, and whenever I saw him, I placed a little of it on the curb where I parked as a snack. One cat turned into two, then five, then 10. It turned out there were others in different areas of the office park as well — 15 in all.
Most of the cats were ear tipped, and being familiar with Trap-Neuter-Return (TNR), I knew that the cats were sterilized and that someone else was looking out for them, too. It didn't take long to learn that there were three of us watching out for these parking lot cats.
We created our own little kitty-care network, exchanging phone numbers and email and assigning responsibilities. If someone wasn't coming into work, the ones who were there made sure all of the cats were taken care of. We would text and email each other pictures of the cats throughout the workday, and discuss any worries or concerns (or silly stories!) we had of the ones we had fed that day. We each had a section of the office park and a group of the cats we were primarily responsible for. If one of us took a cute picture of one of them, it made the rounds between us. If a kitty didn't show up for breakfast or dinner, an APB was issued and we were all searching. If a cat was sick or injured, we provided the best medical care that we possibly could.
There were 15 cats in the office park four years ago. Today there are only five; a testament to not only TNR, but also our dedicated care. A few of those who left us got homes; we've done our best to adopt out the friendly ones. Most, however, have lived out their natural lives in the parking lot, the only home they ever knew. We've only lost one to a bad outcome. It may be a parking lot, but it is their home.
About two months ago, Crybaby, a mouthy tabby, started getting a little thin. It looked like his time was near. Armed with a humane trap and a drop trap, I trapped him one afternoon. Off to the vet we went.
Crybaby was feral, so he needed to be put under anesthesia to get a complete checkup. What did we find out? Crybaby needed a tooth pulled, but the bigger issue was that he had hyperthyroidism.
Hyperthyroidism is very treatable ÔÇô- if you're talking about a friendly cat that lives at home. Pills must be given once or twice a day, blood levels need to be monitored, and medication adjusted depending on what the blood tests show. Cats can live for years as long as the levels are kept in check.
All of this is possible for a cat you can handle, and control where he lives and what he eats.
But I couldn't even touch Crybaby. In more four years of feeding him, he never let me pet him. And I couldn't control every bite he ate, either.
I had two options: Leave him untreated and let nature run its course, or cure him. Leaving hyperthyroidism untreated can result in high blood pressure, kidney failure, heart problems, a whole mess of things. This was not an option. I decided to help Crybaby.
Two weeks ago, Crybaby underwent radioiodine treatment to kill the thyroid cells that were overproducing hormone. And $1,500 later, he is cured.
It's a procedure that people think long and hard about because of the cost. But for Crybaby, this was his only option, and there was no way I was going to let him down because of money.
Radioiodine treatment is not quick. It essentially removes the bad cells on the thyroid that make it hyperactive, but the cat must be quarantined for at least a week, then monitored to make sure it worked. Crybaby spent a couple months at my friend's house after treatment, so we could watch him and get him back to the vet for checkups. We knew we'd have a hard time trying to trap him again in the parking lot, so this was the best way.
The great news? All of his follow-up visits were positive. The radioactive iodine treatment was a success!
Now Crybaby is back at home in the parking lot, mouthing off like he always has. He's gaining weight. He has gone right back to his regular routine, and comes running for breakfast, lunch, and dinner with his other parking-lot cat friends. They dine on the curb and generally live the greatest life an outdoor cat can live.
Why put him back, you might wonder? Crybaby is very feral, and this has been his home for nearly 10 years. He is happy, cared for, and surrounded by friends.
Most people probably wouldn't have gone to such great lengths and spent so much money on a parking-lot cat, but just because he is a feral cat doesn't mean he doesn't deserve to have all the chances a friendly, cuddly cat gets. I see these cats every day of the week, and they know me as their mom. I make sure I give them everything I possibly can.
If you can fix it, you fix it. So I fixed it.
Other rescue stories from Dorian:
Do you know of a rescue hero ÔÇö cat, human, or group ÔÇö we should profile on Catster? Write us at catsterheroes@catster.com.