Getting laid off and being cast into the world of "unenjoyment" can be devastating — not just financially but emotionally as well. I've been there, so I feel that pain. My cats helped me cope with the fallout from losing my job. Here are some tips I used to save money and still meet their needs.
1. Shop around
The cost of cat supplies, food, and medications can vary hugely. Check stores in your area as well as online retailers. If you purchase through online retailers, remember to factor in the shipping cost; your local store may be less expensive overall if you don't have to pay to have the product delivered to you.
2. Be creative about cat litter
Save money on litter and still keep your home stink-free. Try contacting the company that makes your favorite litter — it might be able to help you out. Many companies can assist their loyal customers by sending coupons or perhaps they even have a program that helps pet owners until they get back on their feet.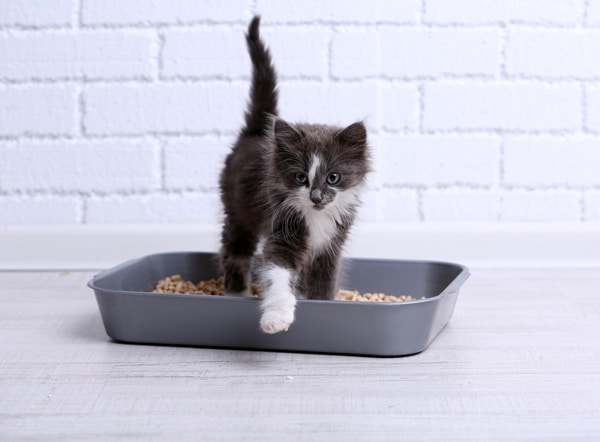 You can also try switching to a different brand — just remember that some cats are very particular about their litter. You might have to slowly transition your cat to the new litter (using half and half for a while, then completely switching over to the new one).
3. Consider joining a warehouse club
A membership in a store where you can buy in bulk can be a big help when it comes to purchasing cat food and litter. If you're not a warehouse club member, consider visiting one of these stores with a friend who is and check the prices on items you buy the most. That will allow you to determine if the price of membership is worth the cost savings.
4. If you have pet insurance, see if you can adjust your coverage
When finances are tight, it's easy to think of pet insurance as fat that can be trimmed from your budget. But that decision could cost you more than you would save. My day job is with Trupanion, so I asked the company's chief veterinary officer, Kerri Marshall, D.V.M., for her thoughts. "Pet medical insurance is especially important when you are on a limit- ed income," she said. "Some of the most common claimed conditions can cost hundreds to treat, including vomiting ($350 on average), foreign body ingestion ($950 on average), and urinary obstruction ($610 on average)." By keeping your insurance intact, "you can avoid making the choice between going into debt or euthanizing your pet solely for economic purposes," Marshall said.
Some pet insurance companies offer the option to adjust your coverage until your finances improve. Call your carrier to ask about ways to save money on your policy.
5. Use low-cost vaccination or spay/neuter clinics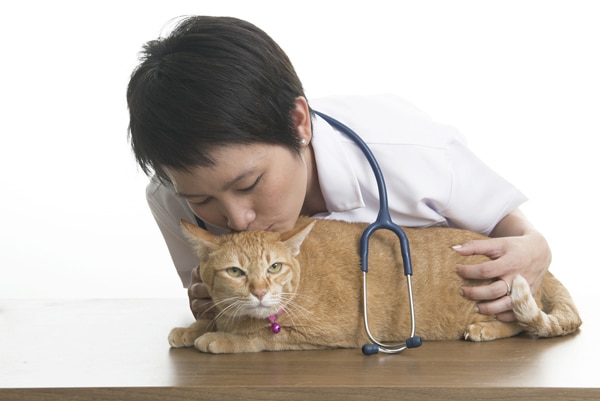 Almost every city and region has cost-saving options for responsible cat caretakers who want to protect their furry friends from disease and not contribute to the pet overpopulation problem. Call your local shelter or check the Internet for information about programs in your area. Spay/neuter clinics often require reservations; plan ahead because appointments fill up quickly.
6. Don't be ashamed to go to a pet food pantry
More and more organizations are starting to understand how important our pets can be when it comes to getting us through tough times. As a result, many food pantries also collect pet food donations.
Unemployment is a real drag, but remember that no matter how terrible things seem, your cat loves you unconditionally. She doesn't think any less of you because you lost your job. She probably wouldn't care if she had to sleep in a refrigerator box as long as she was with you. Hopefully, you can take heart from that.
Pet pantries 101
A pet food pantry, like a food pantry for people, is a place where low-income individuals can pick up free food, except it's for their furry friends. Most pet food pantries are operated by animal shelters and rescues, but other organizations that run food pantries for people may also collect donations of pet food and supplies.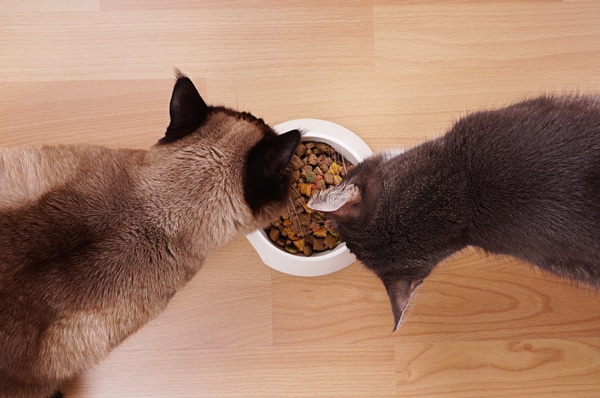 Many pet food banks require that recipients meet income guidelines in order to qualify for support. Pet food pantries' donations come from a variety of public and private sources. Pet food manufacturers donate products that are nearing but not past their sell-by date, and area businesses may conduct pet food drives. Grants from foundations and contributions of cash or food by individual donors are also vital.
Here are a few of the national organizations that have programs designed to help pet food banks. Check your area for local programs.
Banfield Charitable Trust gives grants to nonprofit organizations, such as human food banks and emergency hay banks, to purchase pet food for their pet-owning clients.
The Petco Foundation operates a food bank collection program in its stores nationwide. The pet food donations are then given to local food banks to assist people in financial crisis.
The Save Our Pets Food Bank started in 2008. Its initial mission was to help pet owners in the Atlanta region, but the organization's founders soon realized that there was a huge need for pet food assistance beyond its own area. Save Our Pets decided to offer guidance and support to other nonprofits; since then, it has helped to launch more than 300 pet food banks across the U.S.
Want to set up a pet food bank of your own? The Animal Shelter Tips website has information about how to get started and things to consider as you make your plans.
Know a national food bank we missed? Tell us in the comments!
Read more by JaneA on Catster:
About JaneA Kelley: Punk-rock cat mom, science nerd, animal rescue volunteer and all-around geek with a passion for bad puns, intelligent conversation, and role-play adventure games. She gratefully and gracefully accepts her status as chief cat slave for her family of feline bloggers, who have been writing their award-winning cat advice blog,Paws and Effect, since 2003.