About a week before Christmas, my kids and I come together to create yummy holiday treats to share with our friends and family. We eat our fair share too, of course. I like to give tins of mixed goodies, so we try and create a variety of smallish treats so we can fit more into the tins. I don't bake traditional Christmas cookies anymore. We used to go to town with the cookie cutters, frosting and sprinkles, but have settled into the same few candy-style treats the past few years. What's really great about the treats we make is they include easy steps that young children can enjoy, as well as more complicated tasks for the older kids.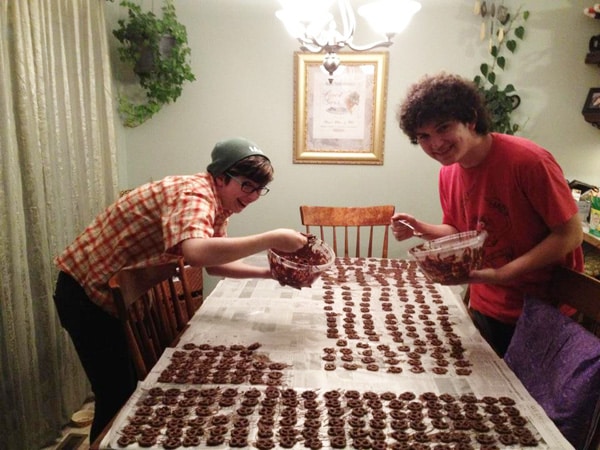 This year we decided we shouldn't be the only ones who get to scarf homemade treats, so we chose an easy cat treat recipe so our three kitties could get in on the holiday treat extravaganza!
Here are of two of the human treats we made this year, along with the details surrounding our cat treat effort.
I'd been seeing commercials for these super simple treats that you can make in less than 10 minutes. Those are my kind of treats!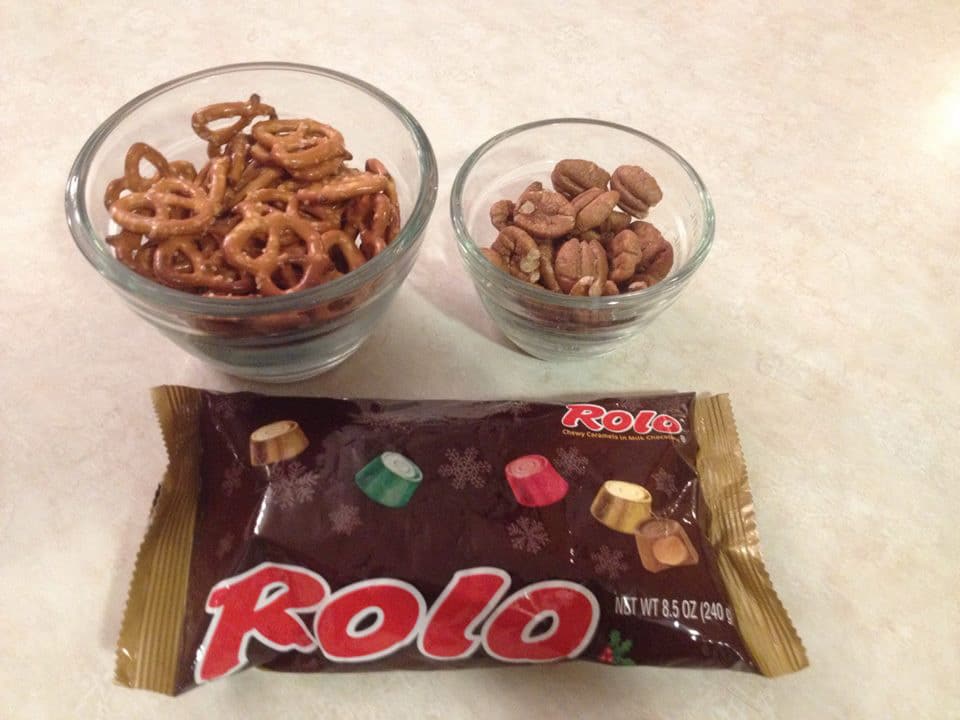 I ran to the store to buy the necessary ingredients and only hit one roadblock: Apparently everyone else in my town wanted to make ROLO Turtles. A couple of the major stores were sold out of the chocolate-caramel candies, but I did find Walgreens had plenty of bags on the shelves. If you decide to make this one (and believe me, it's worth it), you may need to hit drugstores or other smaller retail outlets to purchase the valuable candy nuggets.
Here's how to make them:
Ingredients
Small pretzels
A bag of ROLO candy
Pecan halves
Directions
Preheat oven to 350┬░F.
Place pretzels on baking sheet and top each one with one unwrapped piece of ROLO candy.
Bake 3 to 5 minutes, or until caramel begins to soften, but not melt.
Remove from oven and top with a pecan half.
HUMANS EAT!!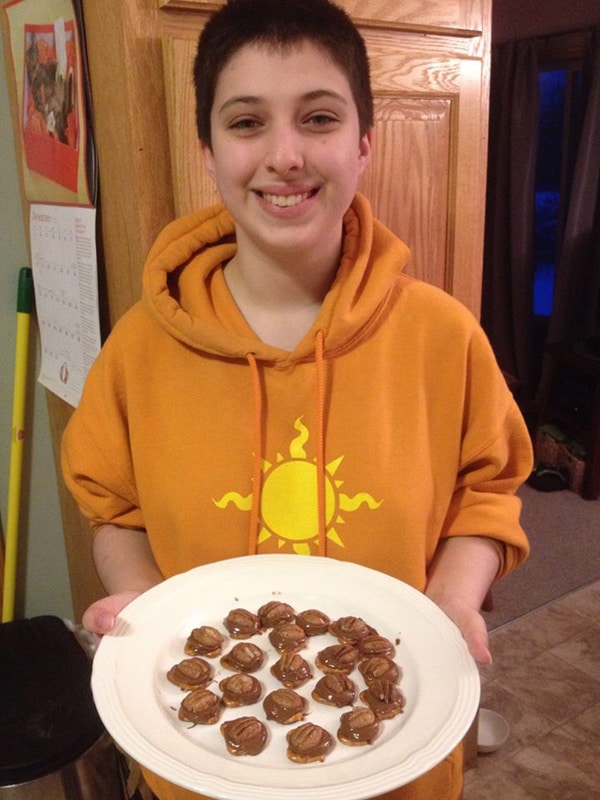 Another favorite is caramel puff corn. This stuff is straight-up crack. You have to make twice as much as you think you'll need because you'll eat at least half of it. And if you're like me, you'll have a tummy ache simply from stuffing your cheeks as it's cooling on the wax paper. Getcha some!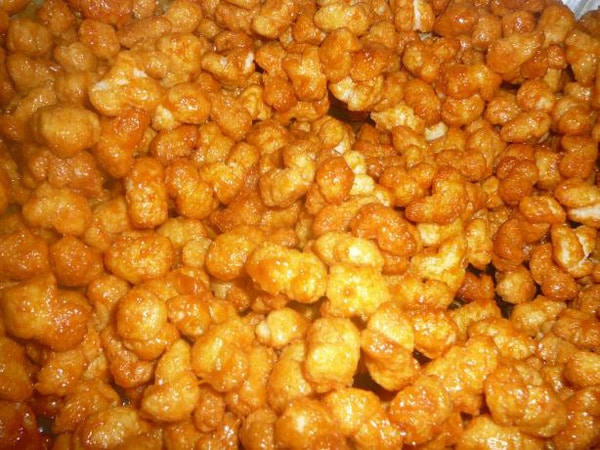 Ingredients
8 ounce bag of puff corn
1 cup of butter (no substitutions!)
1 cup brown sugar
1/2 cup light corn syrup
1 teaspoon baking soda
Directions
Preheat oven to 250┬░F.
Place puff corn in roasting pan.
In 2-quart saucepan, bring butter, corn syrup and brown sugar to boil and then cook for two minutes.
Add baking soda — this will cause the caramel mixture to foam.
Stir well and remove from heat.
Pour over puff corn and bake at 250┬░F for 45 minutes, stirring every 10 to 15 minutes.
Remove from oven; spread on wax paper to cool.
HUMANS EAT!!
This was my first attempt at making homemade cat treats. I have no idea why, but the task has always seemed a little daunting. I can make baklava with my eyes closed, but hand me a recipe for chicken cat treats and I panic. I decided this was the year I would jump in with all paws and create these for my three cats.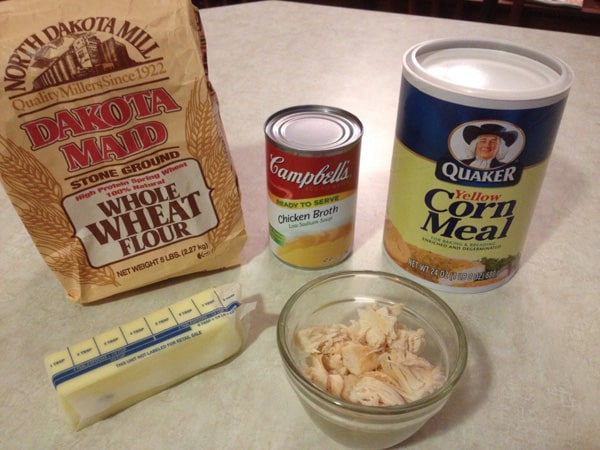 There are quite a few recipes online, but I chose one that was easy and for which I had all the ingredients. Since I wasn't sure if my cats would like them, I cut the recipe in half. Here's the 411 on the full recipe.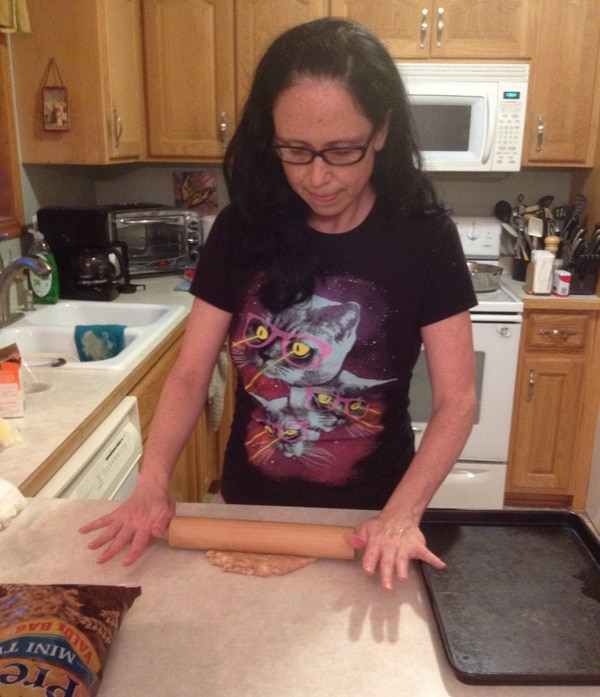 Ingredients
1 1/2 cups cooked chicken, shredded
1 cup whole wheat flour
1/2 cup chicken broth
1/3 cup cornmeal
1 tablespoon softened margarine (I used butter)
Directions
Preheat oven to 350┬░F.
Combine chicken, broth, and margarine/butter.
Add cornmeal and flour.
Knead the dough into a ball and roll it out to 1/4 inch.
Cut into 1-inch pieces and bake for 20 minutes on ungreased cookie sheet.
CATS EAT!!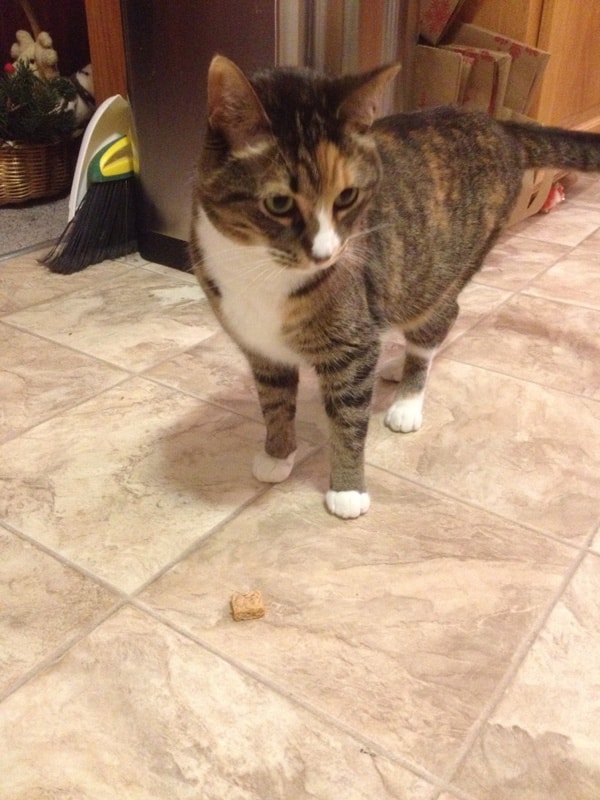 The results? It was incredibly easy to make these treats. I cut the pieces into smaller portions and I still thought they were a little too big. If I were to make these again, I'd probably use a store-bought treat as a guideline for sizing.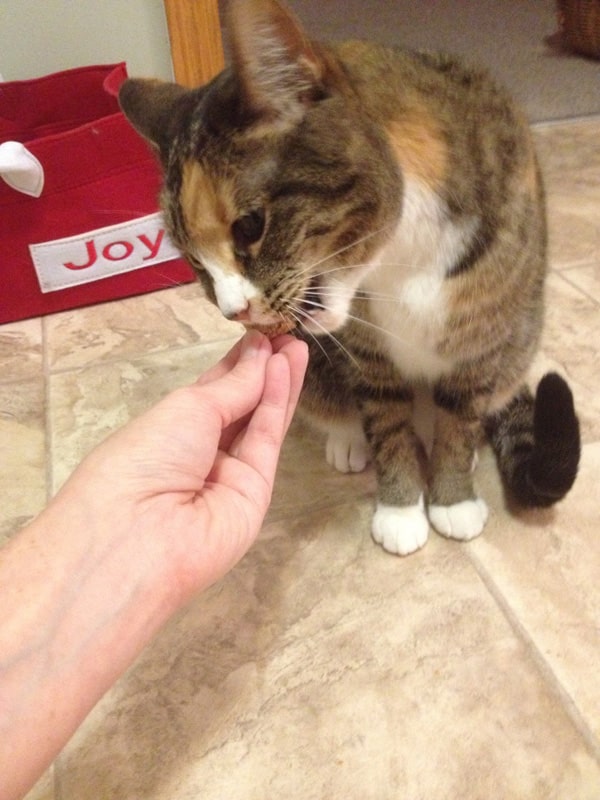 My cats were interested in the treats and licked them when I placed them on the floor; however, they only ate the chicken goody when I crumbled them into smaller pieces. This was true of both Cosmo and Phoebe (Saffy couldn't be bothered to emerge from under the Christmas tree). The site where I snagged this recipe has other easy-looking ones that I think would be worth a try. You could even make a few different types and give tins of cat treats along with the tin of people treats to your cat-loving friends!
Do you have recipes for human or cat treats? Share them in the comments!
About the Author: Angie Bailey is an eternal optimist with an adoration of all things silly. Loves pre-adolescent boy humor, puns, making up parody songs, thinking about cats doing people things and The Smiths. Writes Catladyland, a cat humor blog, Texts from Mittens (birthed right here on Catster) and authored whiskerslist: the kitty classifieds, a silly book about cats wheeling and dealing online. Partner in a production company and writes and acts in a comedy web series that features sketches and mockumentaries. Mother to two humans and three cats, all of which want her to make them food.
Read More by Angie Bailey: