Hi all, and happy War on Christmas. If you're a Cat Guy, holiday gifts present an opportunity to enhance your cat-related style, wit, and decor as well as your desire to do good in the world. That's a nice change, because there was a time when most cat fashion, art, literature, and household goods were severely limited. If you were a Cat Guy who wanted to look like something other than a 9-year-old girl, a dork, or your scary neighbors who watch nothing but CNN and QVC, you were out of luck. Below are 10 items that will add to a Cat Guy's identifying markers, as it were. Some are more subtle than others, and those that aren't subtle, well, they don't need to be.
1. Fort Worth Cats Baseball Jacket from Ebbets Field Flannels
What Cat Guy wouldn't want a jacket with a logo that says "Cats?" (No, not the Andrew Lloyd-Webber Cats, the old minor-league baseball team from Texas called the Cats.) Ebbets Field Flannels makes really good-quality replicas of old baseball stuff — caps, jerseys, jackets — but if you're not in a high income bracket, its prices might limit you to window shopping. These $89 jackets are the exception, though. They're replicas of those worn by grounds crews from old baseball teams, so they have the names of the ballparks on the back. This one is from the Fort Worth Cats, who played at LaGrave Field. The jackets are rugged, lined windbreakers in the Dickies style with felt patches and letters.
Ebbets Field makes two jackets with cat-themed names. About three years ago I got the one above, from the Aberdeen Black Cats who played in Electric Park in coastal Washington state.
These bowling-style shirts with camp collars are among my favorites. This leopard-print number ($56.95) from Bowlingconcepts.com is built for the Cat Guy. It's polyester with faux-suede leopard panels. The buttons are shaped like little dice. It would go well with a studded belt, black trousers, creepers, and your favorite fur-felt hat. (You have all those things, right?)
This shirt dances between subtle and overt. I like that. A lot of cat T-shirts deal in visual puns — like one with a cat wearing goggles that says "Check Meowt." That's good and all, but a shirt like that, to me, says "I love visual puns" more than it says "I love cats." This one, from Skreened.com ($29.99), makes it a little more clear. Who else but a Cat Guy would wear "Meow" on his chest? At the same time, it invites questions ("So, you have a cat?"). Cat Dandy gives two paws up.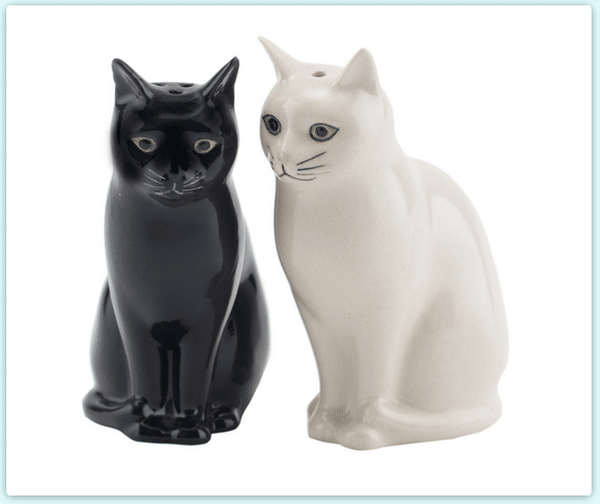 In 2004, when The Biggest Relationship of My Life ended and I was setting myself up in a new apartment, I went to my favorite hardware store and got some cat salt-and-pepper shakers for my new kitchen. Like these from Maiden ($26.20), the salt kitty is white while the pepper kitty is black. Mine are sitting on an adorable little couch, but these look fine sitting anywhere. They'd be good for any Cat Guy who has a kitchen.
Editor-in-Chief Janine Kahn got me one of these last year, and it's hysterical. It's electric, and to sharpen a pencil you stick the wooden shaft in the cat's butt. When you do, the cat repeatedly says "Meow!" in a way that's hard to miss. I don't bring mine out as much as I might, because the first time I used it at work, people sitting nearby glared at me and made it clear without saying a word that a meowing cat-butt pencil sharpener was NOT funny. (What do they know?) I found this one from Amazon.com seller DCI for $15.80.
Yes yes, I know, no one needs wall calendars anymore because we all have digital ones in our phones, computers, tablets, cars, bicycles, coffee makers, and toasters. But this is Lil BUB, who's always lovely to look at regardless of whether you need the accompanying calendar. And if you do need the calendar, all the better. Either way, the little space kitty's photo will make a bad day good and a good day better. The calendar ($14) would go well in a kitchen, workplace, or home office. The title alone will help you start the new year with a positive attitude — Best Year Ever! — which is one of the reasons I love Lil BUB and her dude, Mike.
Picture this: A person visits your house or apartment for the first time and sees cat toys strewn about. If the toys look like mice, birds, cheese, or whatever, what does that tell the person? "He has a cat." Okay fine. But what if one toy is this little replica of a severed leg ($9), with cartoon-ish gore worthy of a Ren & Stimpy episode? What does that tell the person? "He has a cat — and he's a freakin' oddball who deals in sick humor!" Of the two scenarios, I prefer the latter.
I recommended the hardcover version of this book last year on the Cat Guy Holiday Gift List, and this year I'll recommend the audio version ($24.49) because it's just as relevant now as it was then. I had lived with cats most of my life when I read this book, and it still moved me. It taught me things I never knew about cats, and it offered a model for my own life — namely, how I interact with Thomas, and how I might help other cats. To any Cat Guy who hasn't read this book, I say you'll be better for having done so. Plus, Jackson Galaxy has a remarkable voice, and he reads this audio version. Now that I think about it, I might get the audio for that fact alone.
Cat Dandy loves the out-and-out weird. This print of cat wearing gas mask? Weird! It's artwork like this 11-by-14-inch print of a charcoal drawing ($10) that helps offset what once was the only cat-art available out there — kitschy figurines and "Hang in There, Baby!" posters.
Whoa whoa whoa. I mean, whoa. Seriously. Dandy Cat? Is this, like, a reversed me or something? It makes me want to get a monocle and add cat ears to my bowler hat. (Yes, of course I have a bowler hat.) This 8.5-by-11-inch print ($6.99) is on a page from a dictionary. The seller says, "We take old books about to be destroyed and upcycle them in order to give them new life." If the medium of print is, as they say, dead, then this is a respectable way to give it new life.
What are your suggestions for the Cat Guy in your life? Or, if you're a Cat Guy, what would you like? What have people gotten for you in the past? Tell me in the comments.
Cat Dandy loves prezzies:
About Keith Bowers: This broad-shouldered, bald-headed, leather-clad motorcyclist also has passions for sharp clothing, silver accessories, great writing, the arts, and cats. This career journalist loves painting, sculpting, photographing, and getting on stage. He once was called "a high-powered mutant," which also describes his cat, Thomas. He is senior editor at Catster and Dogster.