Feral cats are everywhere — even in our own backyards. Last month, some friends of mine were shocked to discover multiple feral-cat colonies lurking around the Kansas City neighborhood where they have lived for years. With the help of the Great Plains SPCA, they've begun a trap-neuter-return (TNR) project, and they've also tamed and are fostering a pair of adorable, bonded kittens.
More than 10 years ago, the five founders of New York City's nonprofit Urban Cat League had a similar experience. They all lived in Manhattan high-rises, and they had no idea that many colonies of feral cats struggled for survival every day in the streets below.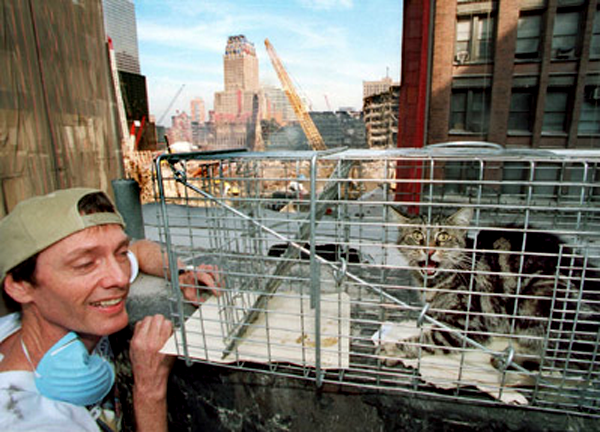 "We were completely unaware that there were so many cats living on street level and hiding in alleyways and behind buildings and in empty lots," says Mike Phillips, one of the Urban Cat League's founders.
With the help of local rescue organizations, such as Alley Cat Allies and the New York City Feral Cat Initiative, the five neighbors did TNR projects on the cats, and they successfully tamed their first group of feral kittens. Feral cats have always been a significant concern in New York City, so Phillips and his friends wanted to raise awareness and help others learn from their experiences. This prompted the formation of the Urban Cat League.
"We decided that other people would want to learn the techniques we had discovered," he says. "So we started teaching workshops and teaching people how to tame feral kittens."
The Urban Cat League is currently in the process of updating their instructional video, Tough Love: Socializing Feral Kittens, which provides step-by-step instructions on how to tame feral cats. The website also provides guidelines. "Cats socialize themselves by choice," the site says. You need to give them incentive (food) to come to you. Eventually, once you've built up trust, you will be able to initiate contact.
"It's a totally non-invasive, completely safe technique," Phillips says. "If anybody gets bitten or scratched, they're doing it the wrong way."
According to Phillips, age is a significant factor in how quickly a kitten will respond to socialization techniques. Kittens older than eight weeks can be harder to tame, and female kittens can be especially difficult; by three or four months, their fight-or-flight instincts go into effect. Despite the challenges, finding homes for feral kittens benefits cats and caretakers alike, as well as overburdened local shelters.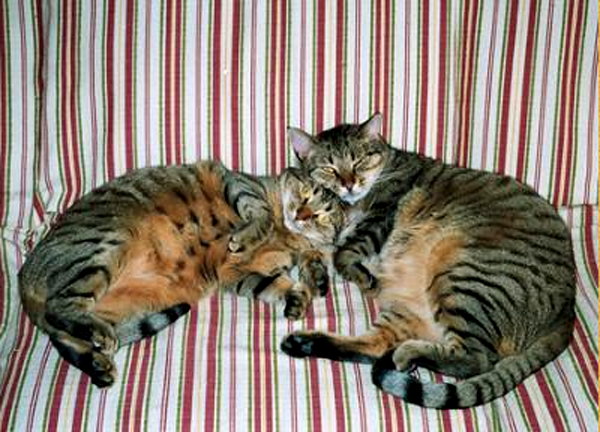 "Taming feral kittens and getting them adopted can benefit the cats on the street by reducing the numbers and improving the community relations," Phillips says. "And sometimes people who never had any compassion or sympathy for feral cats [will adopt] a feral kitten from an outdoor colony and take an interest. It's a good way to educate people."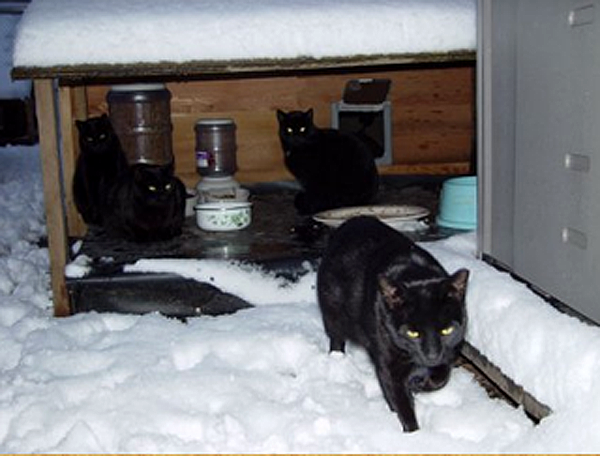 The Urban Cat League does not, however, promote taming feral kittens as the only solution ÔÇô- or even the best solution — to the feral-cat problem. Using TNR and good feral-cat care, Phillips says, "you can take care of cats very well on the street." The Urban Cat League does just that by feeding five colonies in locations that remain non-public, to discourage people from dumping their cats.
They also provide the cats with shelters, many of which are homemade (the website has details on how to build several varieties). According to Phillips, thick, Styrofoam shipping boxes and housing insulation make great shelters, which can then be lined with straw bedding (as opposed to hay, which is edible).
"It's really fun to look in the spring when we change the straw," Phillips says. "There are little nests like hens would make. [Straw is] very effective insulation."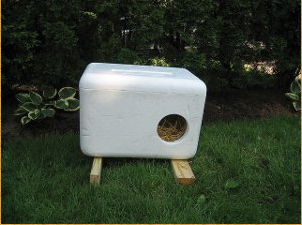 Encouraging people to build (or purchase) winter cat shelters is just one way Phillips reaches out to the community for help. When the burden of caretaking falls on only one or two key people, it can become overwhelming, so Urban Cat League volunteers work together to feed and care for the cats, with several people assigned to each colony.
"The thing about feral cats and cat rescue is that it can be a very lonely business," Phillips says. "I'm always hearing people say, 'I'm all alone in this; I can't get anybody to help me.' Sometimes you have to make the effort to bring people in. Talk to them and include them. In the long run, it can be a very lonely, stressful, burdensome business unless you try and share it with other people."
It can also be busy. The majority of the Urban Cat League's phone calls come from people trying to tame feral kittens. This keeps Phillips on the go; in fact, while we were on the phone, he and Trish, a volunteer, were en route to working with Max and Lila, a pair of five-month-old feral kittens. Urban Cat League volunteers were able to tame them within two months, and they are now ready for adoption.
"I'm looking at Trish, who's sitting on the floor with them, and they're rubbing up against her and are completely tame," Phillips says. "It's funny, because they were calling them the crazies at the adoption facility, because no one could reach in the cage without getting bitten or scratched."
Do you know of a rescue hero — cat, human, or group — we should profile on Catster? Write us at catsterheroes@catster.com.