Some time ago I saw a photo of a gorgeous, expensive triple cat bunk bed and I thought to myself that I could actually build something similar for a fraction of that price for my fur babies and make it fit in with my home's own decor.
I admit I'm no professional, but I have always been addicted to DIYing, and being a "girl" (and one with painful rheumatoid arthritis and fibromyalgia), I am proud to say that I have done just about everything in my own home (except for electrics and plumbing jobs), from assembling flatpack furniture and painting walls to building small cupboards, cutting fitted shelves to size and installing them, putting together my own IKEA inspired bed, and building various pieces of "fur-niture" for my kitties.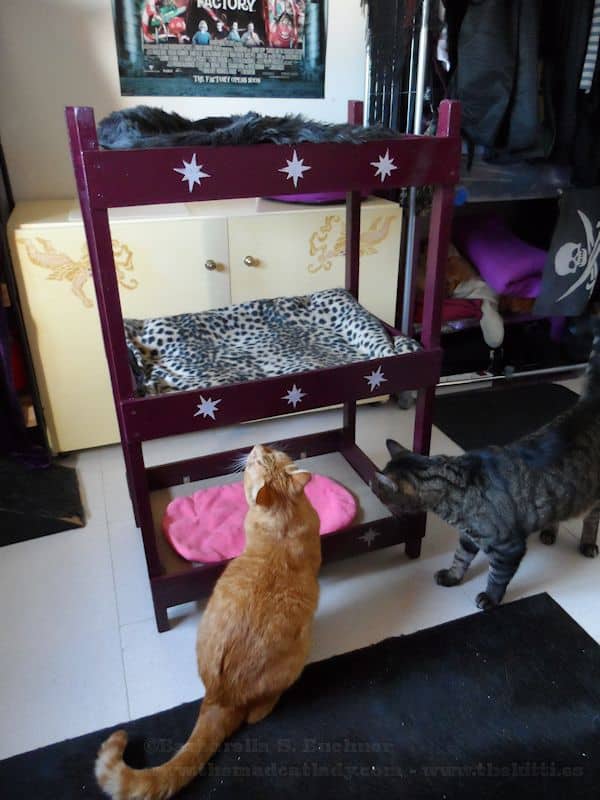 If your DIY skills are intermediate, like mine, you should have no problem with this project, which is low on the difficulty ladder. It only requires a few tools and won't take long to finish. It took me about three or four hours.
Below are the basic instructions and description of what you need to make your own triple kitty bunk bed. The materials cost me approximately $60.
Tools you'll need
1. Saw
Use a handsaw if you have lots of strength and energy. If not, a circular saw is the best type of saw for this, but I only have a jigsaw, so I used that.
2. Electric drill and small drill bit
It's easier to get the screws into the wood if you pre-drill the holes.
3. Screwdrivers and screws
I used 48 of the 3.5 x 25mm size screws and 64 of the 3 x 12mm size.

4. Small metal brackets
18 pieces
5. Hammer, sanding paper, pencil, ruler, measure, and protective felt pads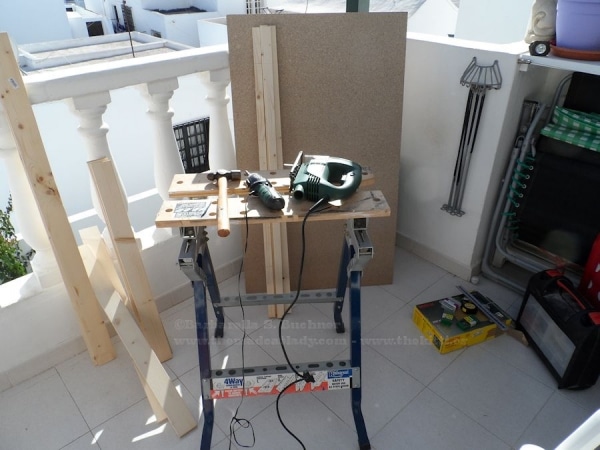 The Wood
1. Pine planks
70 x 10 mm of 2400 mm length (2.40 meters) — you will need three of these (approx. 5.50 meters altogether), to be cut/sawed six times for the front and back slats at 56-cm width, and six times for each of the sides at 36-cm width.
2. Corner posts
These are 30 x 30 mm pine. I cut them to a height of 88 cm, but you can of course make them any height you wish, or so that the bed will fit into a certain space in your home.
3. MDF Sheet
1 cm thick — you need one of 1200 x 600 mm size, to be cut three times, size 49.5 x 36 cm, for the bed bases.
How to make the beds
1. Saw or cut the wood as described above, and sand down all the edges until smooth, so that there are no splinters sticking out anywhere.
2. Take two of the corner posts and lay them out on the floor parallel to each other and lay the first of the 56 cm slats across and drill two holes, right through into the corner post, to ease the 25 mm screws into (see photo). Repeat with the next two 56cm slats — take a look at the photos for approximate vertical spacing between each bunk. Do the same with the other two corner posts and fix the remaining three 56 cm slats to them.
Now you have the front and the back of the frame. The next thing is to fix the 36 cm slats to the sides, using the 25 mm screws. If you follow my measurements above exactly, these will need to be fixed to the inside of the frame (see photo).
For a more flush look, you could fix the side slats to the outside, but this means that the bases would need to have a square shape to exact measurements cut out of each of the corners so they will fit, which I thought would be far too complicated!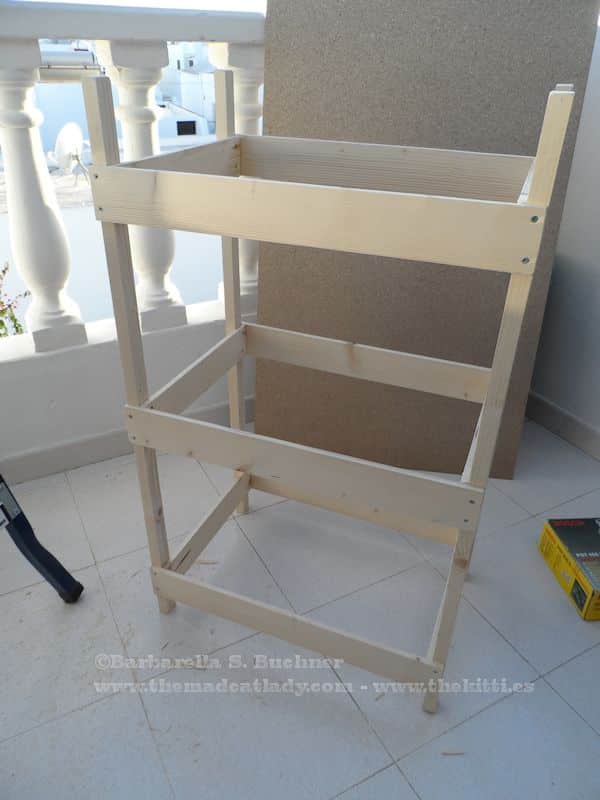 You can now paint the frame in your favorite color, add stencils or stamps, or simply cover it with clear varnish if you prefer the natural wood.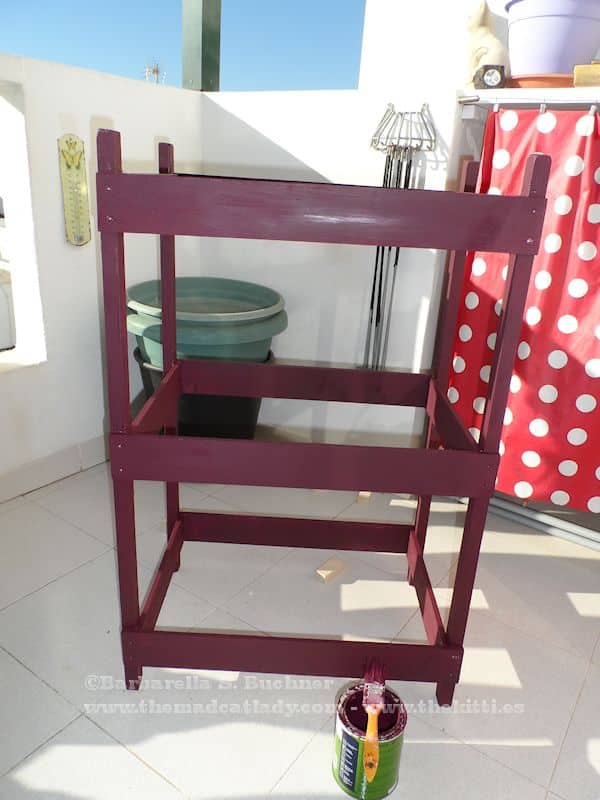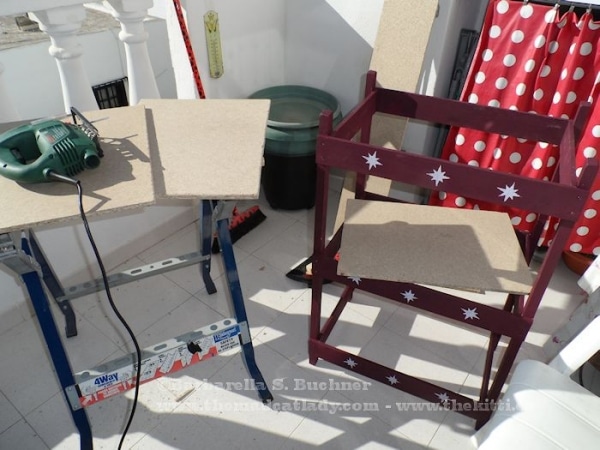 Once the paint has dried, add the brackets (see photo), fixing them with the small 12mm screws. The brackets are what the MDF base of each of the three bunks will sit on.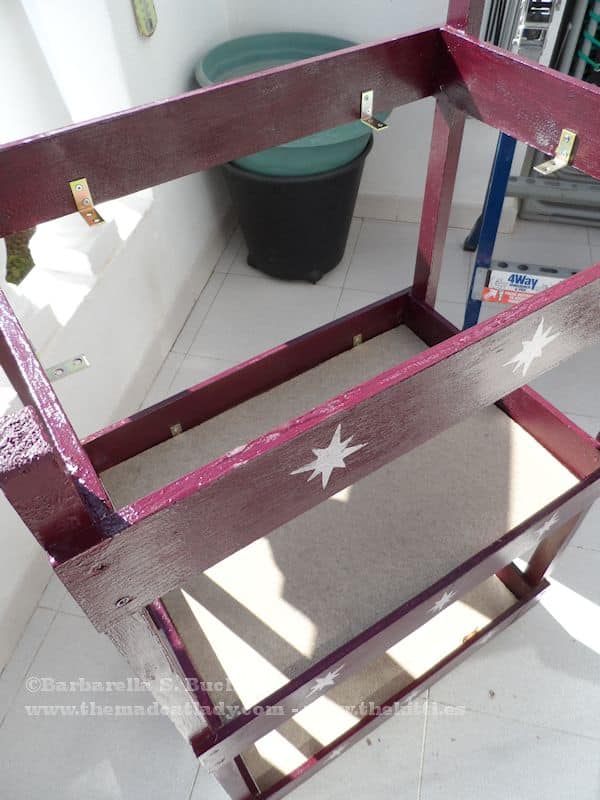 Insert each MDF baseboard to sit on the brackets inside the frame — you might have to force them a little if your dimensions aren't totally exact. I used a hammer to ease each one into place (be careful not to break the MDF where it pushes past the brackets), followed by securing each base board to the brackets with the 12mm screws from the underside for extra strength.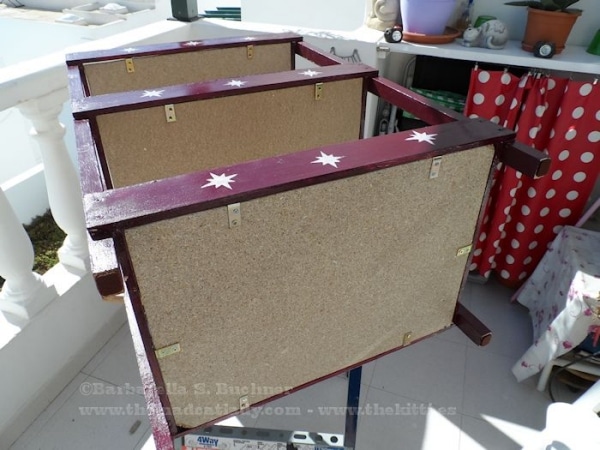 Stick a protective felt pad to the bottom of each post if you have tiles or floorboards. That way, moving the bed across the floor won't be noisy or scratch your floors.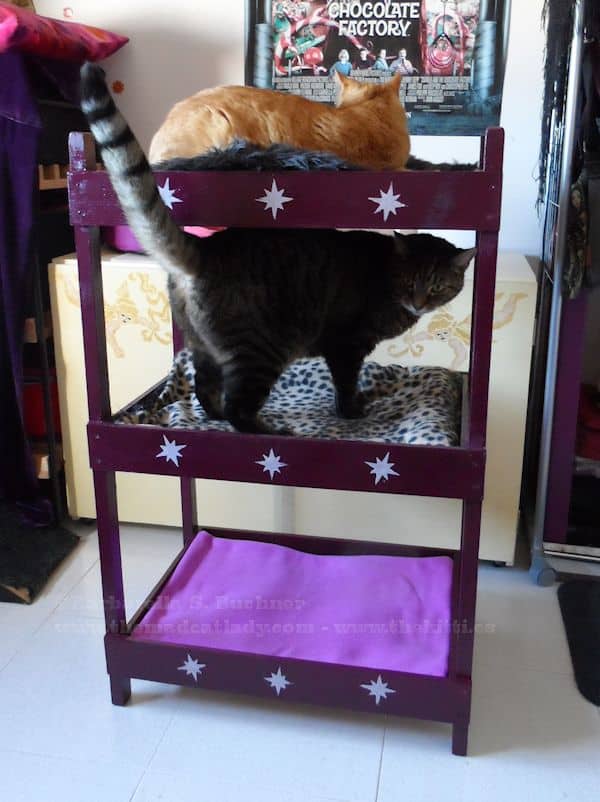 If you have needlework skills (which I don't!) you could buy some foam, cut it to the size of the bunks, and sew some nice cushion covers. I simply put one soft cat bed and two blankets into my bunks to turn them into a lovely, warm and comfy resting place for my three rascals.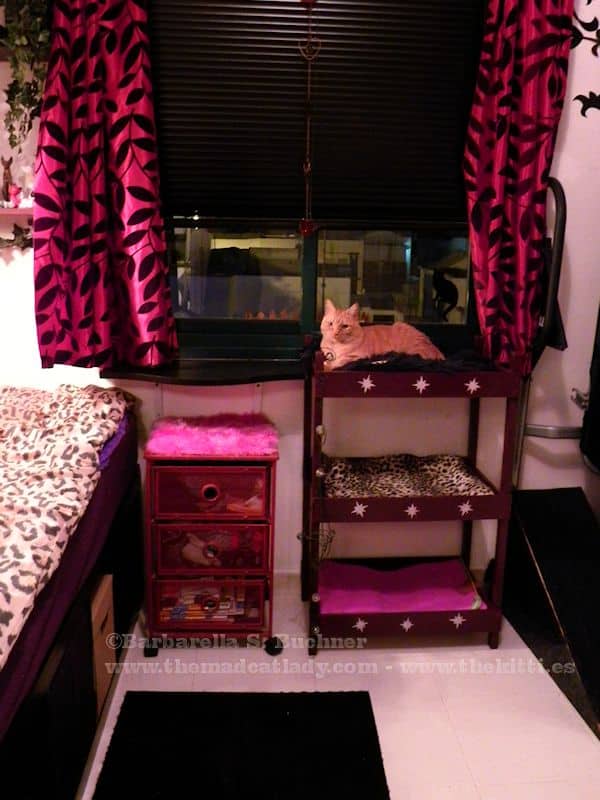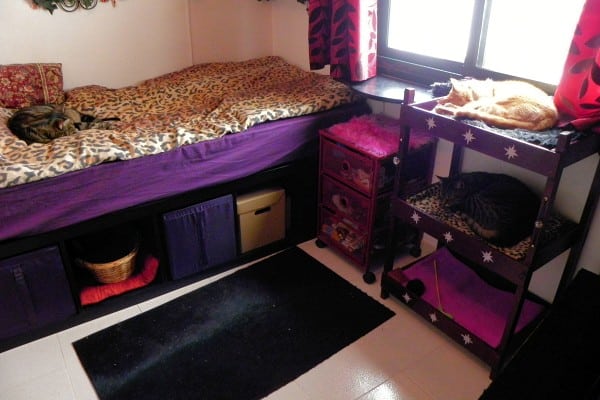 Lastly — add cats. And be prepared for some serious fighting over who gets the top bunk!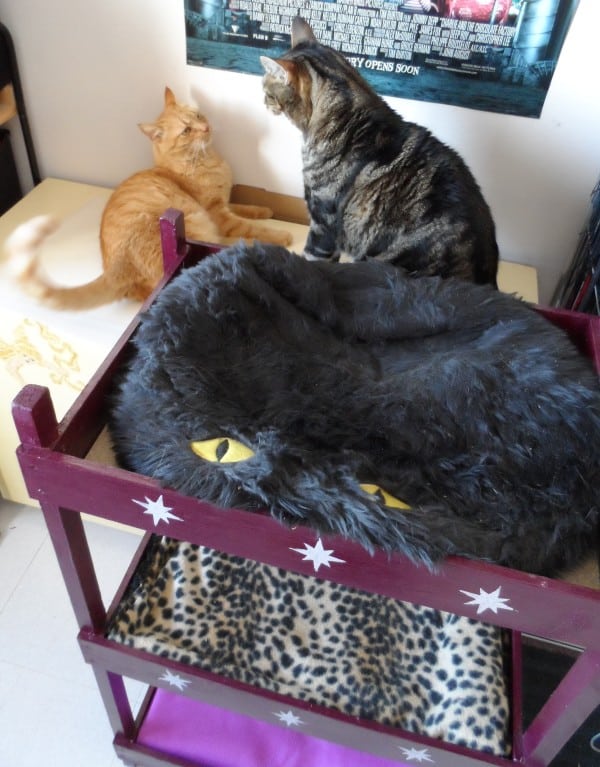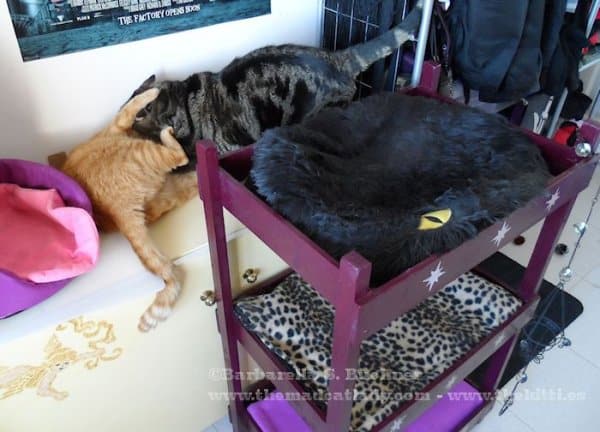 Have you created a similar DIY project for your kitties? Leave your comments and photos below.
Read more Catster DIY:
Learn more about your cat with Catster: