As soon as I saw one of Jess King's ceramic cats, I just had to see more! Her website is a treasure trove of fun, whimsical, one-of-a-kind products like vases, bottle stoppers, and jewelry. She also does commissioned items.
Jess studied illustration at Brighton University and entered a career in surface pattern design for 15 years. Once her daughter was born, she wanted to focus on creating work that meant something to her again. "I wanted to reconnect my art practice to what was closest to me — and that was animals," she says.
After having collected ceramic pieces for many years, she decided to create her own. So, she took some evening classes, bought herself a kiln, and set up her home studio, called Dóttir Studio, which is based near Hitchin in Hertfordshire, United Kingdom. She created lots of different ceramic animals, and one day she made a cat. "It was like a lightbulb moment when creativity comes together and makes something special," she says.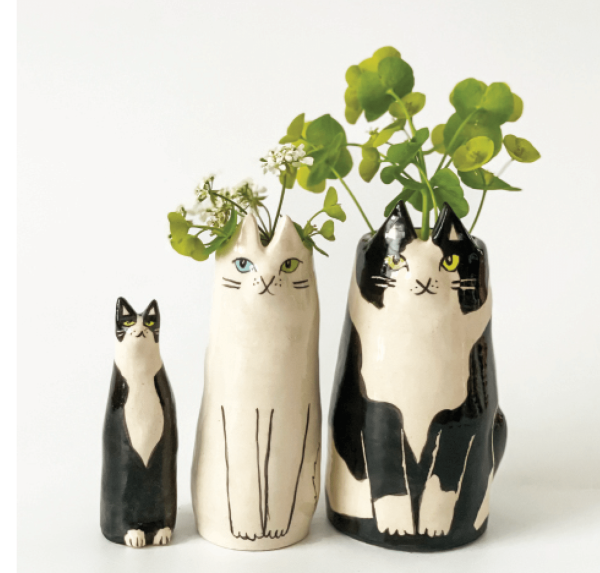 She brings her wonderful cat characters to life by building each piece by hand before carefully illustrating them.
She loves how cats are individuals, with their own personality traits and quirks, and she tries to bring out those personalities in what she creates. "I ask their owners to tell me little things about their pets, so I get to know each one quite well and become very fond of them by the time the piece is finished," she says. "And it means a lot to me to create something that is so precious to the owner."
To see more of Jess' ceramics, visit dottirstudio.com, or check out her Instagram page @dottir_studio.