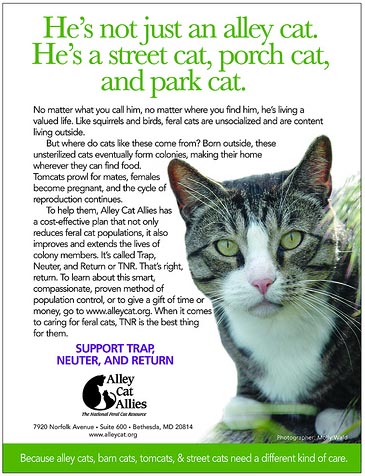 We live on the border of a large open space region in the East Bay hills east of San Francisco Bay. People continually dump cats and kittens in the park, yet the park officials refuse to allow people to feed the ferals or run a trap-neuter-return program. An outlaw group of cat lovers feeds the ferals and traps, neuters and returns as many cats as possible, but they're always at risk of running afoul of the law.
We adopted a feral who was either dumped in the park or raised there as a kitten. He emerged from the forest one morning, cadging food left on the back step. Of course, I began to feed him, then trapped him and delivered him to be neutered and get all of his shots. When he got home from that experience, I thought I'd never see him again, but he didn't hold a grudge for long, and soon returned.
Fortunately, because of his youth we were able to socialize him successfully over the course of many months, and although there's always going to be a bit of feral left in him, he's a cherished member of the family, and I swear, extremely thankful that we let him become part of our household. We've had other feral cats whom we were never able to socialize, but we trap them, neuter them, and give them their shots. They lived long healthy lives as wild outdoor cats.
Many ferals are not so lucky. After years (and sometimes, generations) of living the feral life, few ferals can be socialized. Taking them to a shelter is a death sentence. Many ferals are destroyed upon intake; they are not adoptable within the short timeframe available at shelters, and resources are better used to place cats with the best adoption odds.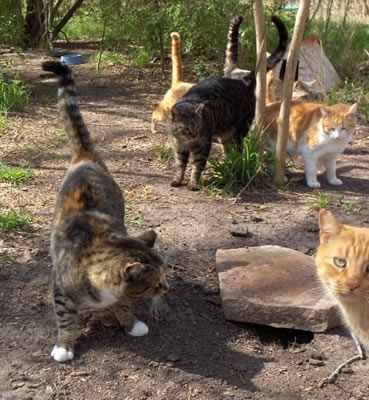 Petfinder provides some quick facts on ferals:
Feral cats may look like the cats on your couch, but they have different needs than the cuddly cats and kittens hoping to find homes here on Petfinder. In honor of National Feral Cat Day, check out these quick facts on feral cats and the approach that best meets their unique needs: Trap-Neuter-Return (TNR)!

Feral cat basics: Adoption is not an option

Feral cats have lived outdoors alongside people for 10,000 years, in every landscape from urban cities to rural barnyards. They are not "homeless" — their home is outdoors!

Feral cats are the same felis catus species as pet cats.

Unlike pet cats or stray cats, feral cats are not socialized to people — so they can't be adopted.

Feral cats live outdoors in social groups called colonies.

Scientific studies have confirmed that feral cats are just as healthy as outdoor pet cats (See more about studies on the health of feral cats here). Since feral cats can't be adopted into new homes, calling animal control is the wrong move for them — nearly 100% of feral cats entering shelters are killed.

Trap-Neuter-Return is the best way to help feral cats!

Trap-Neuter-Return (TNR) is a population-control technique in which cats are humanely trapped, spayed or neutered, vaccinated and returned to their outdoor homes. TNR improves the cats' health and stabilizes the colony while allowing them to live out their lives outdoors.

Trap-Neuter-Return takes into account what is in the best interest of each cat, depending on his or her needs and level of socialization to people.

Socialized cats and kittens are neutered, vaccinated and adopted into homes, while feral cats are re-released.

No new kittens are born and the cats no longer experience the stresses of mating and pregnancy.

Behaviors associated with mating, such as yowling or fighting, stop, contributing to the cats' overall improved health and making them better neighbors.


Someone you know supports Trap-Neuter-Return

From individuals to big companies to even whole cities, all kinds of people practice and support TNR all over the United States and around the world!

Trap-Neuter-Return is the official feral-cat policy of major cities including Chicago, Baltimore, and Washington, D.C.

Colleges and universities including Stanford, Texas A&M, North Carolina State and the University of Florida all boast Cats on Campus TNR programs.

Some of your favorite celebrities support TNR! Portia de Rossi, Angela Kinsey of The Office and comedian Paula Poundstone have all declared themselves "Alley Cat Allies."

Even Disneyland finds harmony with its feral cat population through TNR!

Those are a few big names, but millions of Americans, including your friends and neighbors, care for and about feral cats every day. Join them in celebrating National Feral Cat Day today by spreading the word about feral cats and Trap-Neuter-Return. Happy National Feral Cat Day!

Visit Alley Cat Allies' Petfinder page to see cats available for adoption from our Boardwalk Cats Project in Atlantic City.
A new blog, Vox Felina, was just launched to tackles the issues (and misconceptions) surrounding TNR. It's the brainchild of cat activist Peter Wolfe, who describes why he created Vox Felina:
The impetus for Vox Felina was a series of events (the details of which will be the subject of numerous posts) that revealed (1) the lack of rigorous research related to the efficacy and impact of TNR, (2) the flawed science promoted by many TNR opponents, (3) the unbalancedoften dishonestnature of the feral cat/TNR debate, and (4) the disastrous consequences of these circumstances.
Peter's mission is to "improve the lives of feral cats through a more informed, conscientious discussion of feral cat issues in general, and TNR in particular."
Vox Felina is an excellent starting point to learn about the TNR debate and what you can do to help. Feed-the-Feral groups are constantly in need of cat food, people to help distribute the food, or people to trap cats for neutering. It's the hardest, best work you're ever likely to do.
[PHOTOS: http://rockewarren.com; petfinder.com]