If you visited Room 1 at the Homeless Animal Rescue Team shelter in Cumberland, ME, you'd probably have no idea that some people used to call it the feral cat room. A white longhair girl would come touch your hand with her nose, while a giant marmalade boy would prostrate himself at your feet, purring the entire time. Several others would come closer to check you out.
Just a few months ago, few of these cats would have done anything but hide or maybe hiss at you.
What has made the difference? One woman on a mission to help cats feel safe — and therefore become more adoptable — through the use of flower essences and a special form of therapeutic touch.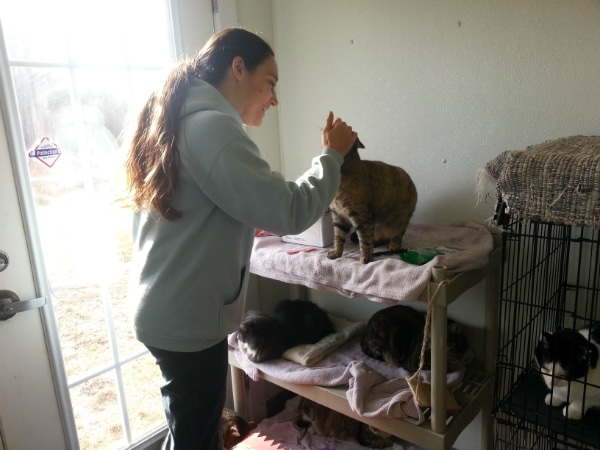 Goldenthal started on her path several years ago, when she got her first animal shelter job at a high-kill facility. Every day, she saw cats being killed because they were shy or showed fearful aggression.
"I'd go in and clean the kennels in the morning, and in the afternoon almost all those cats would be gone," she says. "I was just in shock, devastated that this was happening."
Around the same time, a cat named Tucker entered her life. He was incredibly loving and friendly to Goldenthal, but he showed severe fear aggression toward everyone else.
"I realized that if Tucker had wound up in this shelter, that he would have been killed immediately," she says.
Goldenthal knew she had to do something.
"I've had profound personal experiences with flower essences and homeopathy. Those treatments really helped me around emotional trauma," she says. She tried a product called Bach Rescue Remedy on these fearful cats.
"I knew this would never hurt and could only help," she says.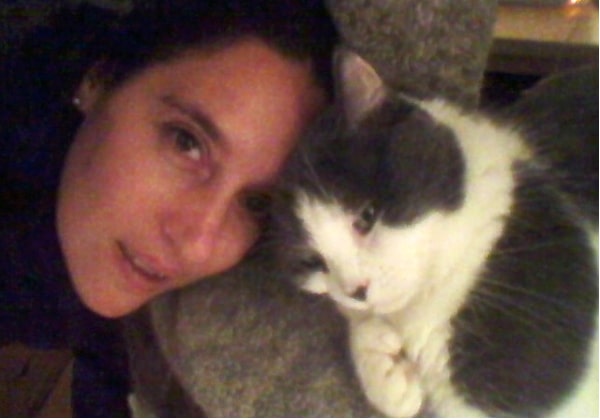 Later, she found a job at P.A.W.S. Animal Adoption Center, a no-kill shelter in midcoast Maine. While she was working there, she read a book called The Tellington TTouch : A Revolutionary Natural Method to Train and Care for Your Favorite Animal, written by Linda Tellington-Jones and Sibyl Taylor. "I was so impressed by her respect and complete compassion for animals," Goldenthal says. "The philosophy is love."
In fact, she found the book so inspirational that she took a two-year TTouch practitioner training course. She also trained as a Bach Flower Remedies practitioner.
P.A.W.S. had several shy or fear-aggressive cats in its care. Goldenthal got funding and permission to run a flower essences program there.
"It wasn't a scientific study, but it worked with the animals, and I saw a lot of good things happening," she says.
About a year ago, Goldenthal moved to southern Maine and began volunteering with the Homeless Animal Rescue Team — or HART — as an adoption coordinator.
"Like most no-kill shelters, HART has a fair number of cats who have been there a long time. They get overlooked because of their behavior issues," she says. "I saw these cats, and I thought that with my experience, I could help."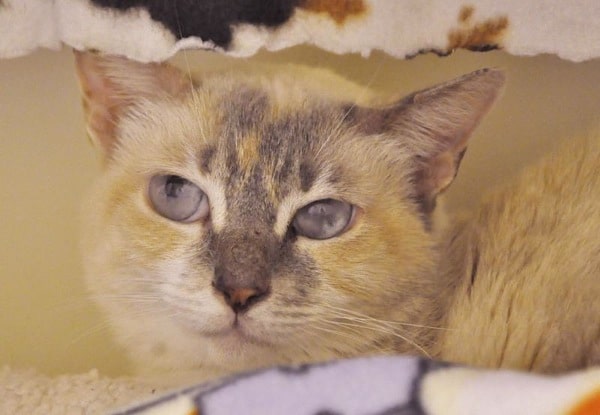 Some of the cats in Room 1 have been at the shelter for as long as 16 years. "Some are true ferals; some were strays; some came from hoarders; but essentially this is a room of cats that run away from you. They're not comfortable with human interaction. I thought I could improve their quality of life and help them be less fearful by using Bach Rescue Remedy to ease their panic and stress."
HART secured funding for Goldenthal's program, and she launched it at the end of October 2012. She began giving the Room 1 cats diluted Rescue Remedy on treats.
"It's not just dropping treats," Goldenthal stresses, "it's about building trust. Everything I do is slow and gentle. I'm quiet, and I invade their space as little as possible. It's a lot about being able to read their body language and respond appropriately."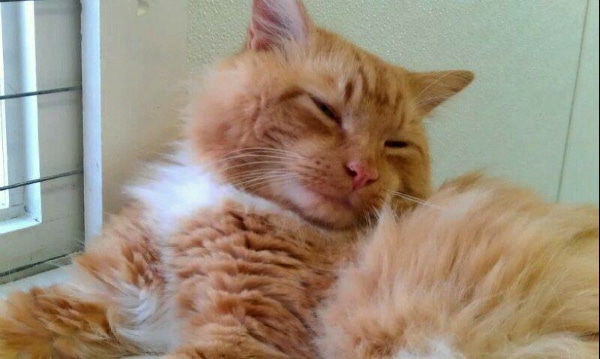 How's the program going so far? Very well.
"There were two cats in Room 1 that you couldn't even touch. They didn't show fear aggression; they didn't hiss — they were just terrified," she says.
After about two weeks, one of the cats, Morgan, started really responding.
"It's like a switch was flipped. I touched his side, and suddenly he remembered what it was like to be touched," Goldenthal says.
Another example is a cat called Birdie.
"Birdie was dropped off at the shelter in a birdcage," she says. "At first she ran away from me; now she runs toward me and asks for attention. And it's not just me, it's all the volunteers. Birdie and Morgan are now adoptable cats."
Since Goldenthal started the program, HART has found adopters for five of the 19 cats who were in that group of shy or fear-aggressive cats, some of whom have been there for at least a year. In the previous 10 months, HART had adopted out only two long-term residents.
Another of Goldenthal's success stories is a cat named Rags. She came to HART in October 2011, and for a year she was unapproachable. She'd sit on a ledge and stare at people, but when they tried to touch her she would scratch and hiss. After a few weeks in the program, Rags began to accept touches, and a couple of months later she found her forever home.
Rags' new daddy was immediately impressed by how well she fit in at her new home. In a recent e-mail he said, "She is super-affectionate and follows me around. The work you've done has certainly paid off."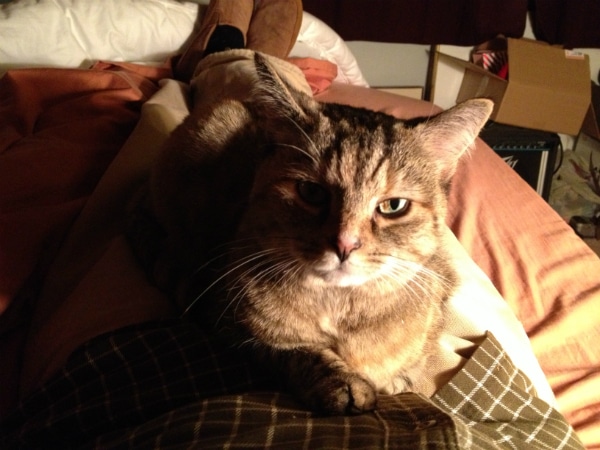 But Goldenthal's program hasn't helped only the cats in Room 1. Every cat in the shelter has benefited from her use of flower essences and TTouch. Although the Room 1 cats get Rescue Remedy alone, other cats in the program receive a combination of essences designed to address their issues.
"Working with them, I give them the treats and do a little bit of TTouch on them," she says. "I get them used to being touched in places they're not used to being touched, which builds their body awareness. For example, shy cats often hold tension in their shoulders, hips, bellies, and tail. I very lightly and gently do tiny little touches in these areas. It helps them to change the posture of their bodies, which affects their emotional state.
"TTouch is all about building trust and respect, and building a relationship with these animals. It's all about meeting them where they are. Very often, less is more."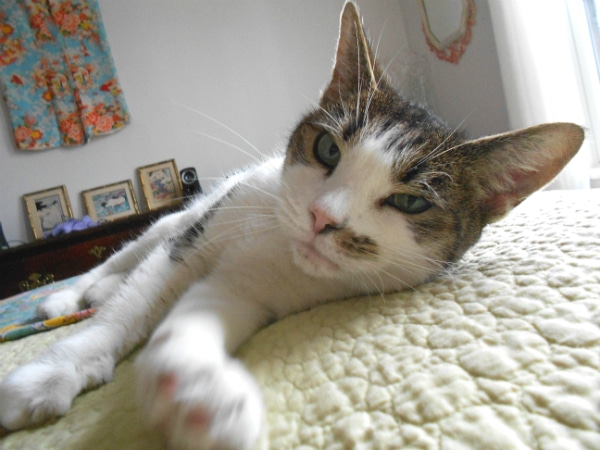 Here's another happy ending: Heidi was surrendered to HART in the spring of 2011. She would seek people out and really wanted to connect, but she'd start to growl and hiss. About a month into the program, she really started coming around; she went from wanting attention, but not being able to enjoy it, to welcoming affection. She was able to overcome her fear and anxiety enough to enjoy human contact. A person met her, fell in love with her, and adopted her.
Heidi's new mom sent an update shortly after she was adopted. "Heidi traveled to Freeport — never made a peep, even fell asleep. Then when out of the travel cage, she almost instantly started purring and relaxing on the rug. She is a different kitty! She is doing great! I am so happy to have her!"
Goldenthal says, "Seeing the differences this program has made in the HART cats has gotten me even more convinced that even getting some sort of simple Rescue Remedy program into shelters is really important."
"HART is a wonderful organization, and people have been really receptive, supportive, and interested in this program. They've been making observations and working with me. The HART community loves their cats, and they'd do whatever it takes to help their cats have good lives. Without their support, it simply wouldn't work."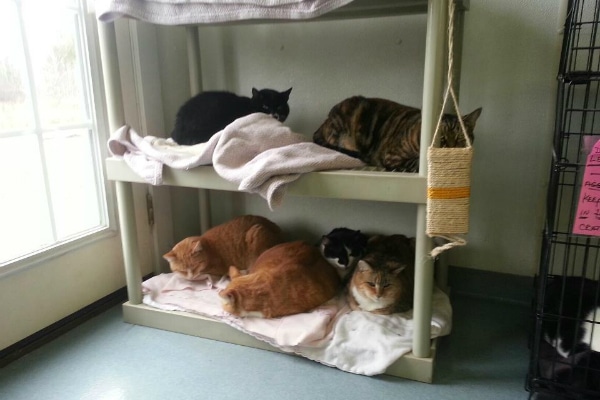 Goldenthal wants to share her results and help as many shelter cats as possible. She's working to create a program that's easy, accessible, efficient, and that would make sense in shelters.
"I've been to a lot of shelters, and I know they're all stressed for time, money, staff, and so on," Goldenthal says. "The thing about a Rescue Remedy program is that it is fast and efficient, and even volunteers could be trained to do it. It can fit with all the issues that shelters have and constraints. There aren't any side effects, and it really does help. Some cats it helps profoundly."
If you work with shelter cats and want to learn more about Goldenthal's program, you can contact her at [email protected]. Sara also has written a short book about her life with Tucker and how he inspired her.
An Important Note: All the cats Goldenthal works with receive regular care from licensed veterinarians. Bach Flower Remedies and TTouch are complementary medicine techniques and are not intended to be used as a substitute for regular vet care.

Do you know of a rescue hero — cat, human, or group — we should profile on Catster? Write us at [email protected].